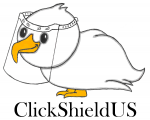 ClickShieldUS | Covid-19 Face Shield Project
This website includes everything about our face shield project, with videos introducing our project and showing how to use our shields, user instructions, express disinfection/cleaning instructions for your shield, ordering information, and more.
Introduction
ClickShieldUS is a not for profit initiative ran at the University of Sussex, supported by staff and student volunteers from the School of Engineering and Informatics. The initiative is also supported by the Higher Education Innovation Fund. We produce and supply Covid-19 CE certified face-shields to organizations and businesses, for the purpose of protection against Covid-19. Our aim is to help in the fight against the pandemic, and we have an initial production target of 10,000 shields. Currently, over 4000 of our shields are already out there!
We believe that personal protective equipment (PPE), should be safe to use, and that purchasing PPE shouldn't add to the already tough financial circumstances that organizations and businesses are experiencing due to Covid-19. Due to our volunteers donating their time for manufacturing the face shields, we are able to sell our shields at an affordable cost, just so that we can cover our material and machine maintenance costs. We believe that offering affordable CE certified PPE is the right way to go, in ensuring that it gets bought, used, and so that our working environments become safer.
Our shields are designed in house by a small team of engineers. They are lightweight, easy to disinfect, reusable, and designed with a clever click fit mechanism, which allows them to be flat-packed—so that they can be stored efficiently and assembled quickly whenever needed. Our shield is also partially recyclable and we are able to offer spare visors for our shields, significantly extending the lifetime of our product and reducing the environmental footprint of our project. The videos below explain more about our shields so have a look!
Videos
| | |
| --- | --- |
| Assembling Your Shield | Replacing the Visor |
| | |
User Instructions
The user instructions can be downloaded from here: ClickShieldUS Product Information Sheet [PDF 527.69KB]. Note that standard copyright terms and conditions apply. Please note that the declaration of conformity will be provided separately upon purchasing the shields.
Express Shield Disinfection/Cleaning Instructions
Please note that the user instructions contain the complete shield cleaning/disinfection information. For convenience, here are the instructions for a common shield disinfection method: The disinfection procedure will depend on the disinfectant used, but as an example: to clean with soap and warm water, rinse the whole shield with water and then apply and rub a generous amount of soap to all parts of the shield with a non-abrasive cloth, sponge, or your hands. Ensure all areas are covered. Then rinse the shield with warm water and allow the shield to dry naturally, or use a non-abrasive cloth to aid drying.
The Team
Our core team, behind the design, CE certification, and the coordination of the manufacturing efforts consists of the following people:
Besides the core team, about 30 fantastic people from all across the University of Sussex came together during the peak of the pandemic to get this project off the ground. Of course, our project would also be nothing if it weren't for our volunteering heroes from the School of Engineering and Informatics. These are the people who help with the manufacturing, and enable us to supply our shields at an affordable cost. So far, our volunteers and the core team have collectively given over a thousand hours of their time to the project. Here is a continually updating list of our heroes:
Mark Puttock-Brown, Michel Sacre, Peiying Sun, Yeru Shang, Seyed Mostafa Fazeli, Emma Fox, Thomas Irps, Ronald Grau, Alireza Sarmadian, Dimuth Ponnamperuma, Alexandre Rodrigues, Yuanyan Zhao, Julie Weeds, Alice Torjussen, Giovanni Contreras Garcia, Grecia Garcia Garcia, Mahdi Amouzadi, Catherine Warden, and Chloe Quinn.
Our Project in the News
Our very first shields produced in April: Read here and here.
Help us Reduce our Environmental Footprint
Note that if your face shield visor gets bent or scratched, we are also able to supply spare visors, which the user can easily replace onto the headband of the face shield. This will extend the lifetime of our product significantly, and it will also reduce the environmental footprint of the project.
Ordering Information and How to Contact Us
We can supply the S1 version of our shield currently (see user instructions or videos for details). By special request, we can also supply the S2 version of our shield in smaller quantities.
Please note that our shields are not for resale. Ideally, we'd like to see our shields help as many people as possible, so please consider your order quantity when placing an order to ensure you only order what is needed.
If you'd like to find out more about our project, or to place an order, please contact us at clickshield@sussex.ac.uk.
Stay safe :)!