The Department of Social Work and Social Care is a creative, outward-looking unit whose members are internationally regarded as trusted experts, pioneers and influencers in our interdisciplinary research, policy and practice fields.
Our research engages with challenges faced by local and global communities, bringing conceptual and methodological rigour and imagination to our core research areas:
Professional practice, innovation and effectiveness
Wellbeing
Childhood and youth
As a small unit we ensure that our research and teaching cross-fertilise, underpinning our reputation for developing resourceful researchers, research-minded professionals, and future leaders. We are committed to the highest standards of research integrity and transparency, including ensuring our work is openly available to those who can benefit from it. Our commitment to equality, diversity and inclusion is embedded in a diverse research culture where researchers can thrive at all career stages.
Research in the Department of Social Work and Social Care sits within the context of the Sussex 2025 Research with Impact strategy including a School-level strategic vision for our research that:
makes a difference to policy, practice and lived experience
is informed by a rigorous, critical and ethical perspective on knowledge production
actively engages with those who have a stake in our work
builds research-capacity, including via co-production.
Our research centres
At the heart of the Department's research environment sit three interdisciplinary research centres – critical intellectual communities embracing our three core research areas. Our researchers are also actively involved in the University's strategic research developments including the Sussex Humanities Lab (SHL) and the Andrew and Virginia Rudd Centre for Adoption Research and Practice.
Our doctoral research culture and community
The Department of Social Work and Social Care is home to a diverse cohort of doctoral researchers, drawn from across the world. Consistent with our areas of research specialism, they can choose pathways in: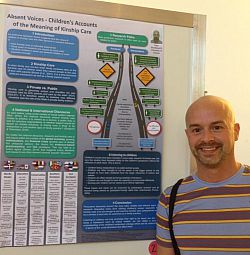 The Department's commitment to interdisciplinarity is further reflected in the number of doctoral researchers involved in cross-school and cross-university supervisions.
The quality of doctoral research in the Department is reflected in the number sponsored by external funders.These include domestic and international organisations, as well as those funded as a consequence of the University's membership of the South East Network for Social Sciences (SeNSS) Doctoral Training Partnership.
Social Work and Social Care doctoral researchers are actively involved in all aspects of its work, including that of its three research centres. Their activities are supported by Social Work PhD convenor, Gillian Ruch (Professor of Social Work),, and by by Director of Doctoral Studies, Charles Watters (Professor of Wellbeing and Social Care).
Caption: Social Work and Social Care PhD Doctoral Researcher, Paul Shuttleworth, won first place at the University's doctoral research poster competition (part of a 'Festival of Docroral Research) in June 2019. Paul's poster, 'Absent Voices: Where Are Children's Accounts Of Being In Kinship Care?' was based around the findings from his thesis literature review.
Find out more about becoming a doctoral researcher within the Department of Social Work and Social Care.