The Department of Social Work and Social Care is a creative, outward-looking unit whose members are recognised internationally as pioneers creating new agendas in emergent research fields, and as trusted experts contributing new knowledge, critical ideas and impactful models for social work and social care research, policy and practice.
Our core research areas are:
Professional practice, innovation and effectiveness
Wellbeing
Childhood and youth
Research in the 'real world'
Our research combines conceptual richness with methodological rigour and imagination – engaging critically with major contemporary local, national and international practice and policy issues. Our portfolio of formative and commissioned research is distinctive in its:
thoroughgoing approach to promoting the discipline of social work and social care
contextualised understanding that combines the 'governed' spaces of social work and related professional spheres with informal practices of the everyday and the agency of social actors
methodological innovation and diversity–ranging from pioneering qualitative, quantitative and mixed longitudinal methods, to multi-method realist evaluations, ethnographic, practice-near, psychosocial, creative participatory and digital methods.
Our research centres
Our researchers are involved in the University' strategic research developments including the Sussex Humanities Lab (SHL) and the Andrew and Virginia Rudd Centre for Adoption Research and Practice . At the heart of the Department's research environment sit three interdisciplinary research centres – critical intellectual communities embracing our three research areas:
New Books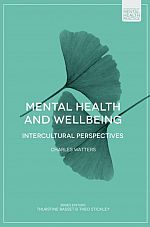 Mental Health and Wellbeing: Intercultural Perspectives (Red Globe Press, 2020)
Author: Charles Watters
Charles Watters' (Professor of Wellbeing and Social Care) new book looks beyond the Western tradition at dynamic intercultural influences on models of mental health and wellbeing. The book has been praised by leading academics and policy makers.
Professor Ilse Derluyn of Ghent University comments "It will fundamentally transform our current and future views on wellbeing and mental health in globalised contexts".
Professor Kevin Fenton, Regional Director at Public Health England comments "It provides novel insights into the impact of population transitions on paradigms and practices that support mental wellbeing, with exciting implications for public policy".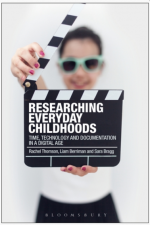 Researching Everyday Childhoods (Bloomsbury, 2018)
Authors: Rachel Thomson, Liam Berriman & Sara Bragg
The story of an innovative and interdisciplinary project exploring children's everyday lives in a digital age. Using a qualitative longitudinal research design, the project followed the lives of fourteen children and teenagers over 12 months, documenting their relationships with digital media. The study involved methodological experimentation with new digital methods of documentation and archiving, as well as innovative ethical approaches for negotiating with children and families how the research data would be used within and beyond the project. Each chapter in the book is authored by different members of the project's research team, presenting key findings around key concepts such as play, protection, gender, technology, schooling and intimacy. The book also provides practical guides for using and adapting the project's research methods. The project was made possible by funding from the AHRC and ESRC and was a collaboration between the Sussex Humanities Lab and CIRCY.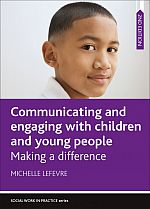 Communicating and engaging with children and young people: Making a difference
(Policy Press, 2018)
Author: Michelle Lefevre
Social workers need to communicate and engage sensitively and effectively with children and young people if they are going to make a real difference to their lives. Yet there is much evidence that such 'direct work' remains one of the most challenging areas of practice, particularly when there are concerns about children and young people's welfare and safety. Framed around an innovative 'Knowing, Being, Doing' model, based on the author's research, this book is designed to enable students and practitioners to develop the capabilities needed for collaborative, relational, rights-based, and child-centred social work.
Our doctoral research culture and community
The Department of Social Work and Social Care is home to a diverse cohort of doctoral researchers, drawn from across the world. Consistent with our areas of research specialism, they can choose pathways in: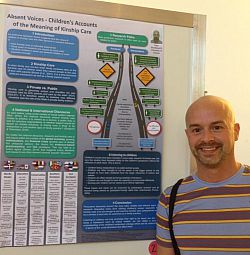 The Department's commitment to interdisciplinarity is further reflected in the number of doctoral researchers involved in cross-school and cross-university supervisions.
The quality of doctoral research in the Department is reflected in the number sponsored by external funders.These include domestic and international organisations, as well as those funded as a consequence of the University's membership of the South East Network for Social Sciences (SeNSS) Doctoral Training Partnership.
Social Work and Social Care doctoral researchers are actively involved in all aspects of its work, including that of its three research centres. Their activities are supported by Social Work PhD convenor, Gillian Ruch (Professor of Social Work),, and by by Director of Doctoral Studies, Charles Watters (Professor of Wellbeing and Social Care).
Caption: Social Work and Social Care PhD Doctoral Researcher, Paul Shuttleworth, won first place at the University's doctoral research poster competition (part of a 'Festival of Docroral Research) in June 2019. Paul's poster, 'Absent Voices: Where Are Children's Accounts Of Being In Kinship Care?' was based around the findings from his thesis literature review.
Find out more about becoming a doctoral researcher within the Department of Social Work and Social Care.
Our research excellence and impact through national and international collaborations
Imagining Resistance
Led by Dr Kristi Hickle (Senior Lecturer in Social Work and Social Care), this project aims to use participatory photography with young people affected by sexual and interpersonal violence to explore the ways in which young people develop resilience through acts of resistance. It seeks to engage theoretically with the concept of resistance and practically with young people's lived experiences. It will ultimately inform intervention services by demonstrating and documenting new and novel ways for engaging marginalised young people in creative practices and, in doing so, bring arts and humanities perspectives into a field generally dominated by social scientific and professional discourses of evidence-based practice, child protection, safeguarding, and risk. It is hoped that the research will contribute to discussions on the wider ethical implications inherent in challenging conventional discourses in safeguarding practices, and seek new creative, participatory ways to tackle intractable problems, such as child sexual exploitation.
Understanding ethnic inequalities
in later life
Over the course of their lives, ethnic minority people have poorer health and wellbeing than the White majority population. Less is known about ethnic inequalities at later stages in the life course. It is well documented that ethnic inequalities in child and adult health are likely to be due to experiences of marginalisation and racial discrimination, and as ethnic minority populations grow older it will become increasingly important to get a more precise and differentiated understanding of the extent of, and the reasons behind, ethnic inequalities in later life. This knowledge will be imperative in planning social and health-related policies and delivering interventions targeted at reducing ethnic inequalities. A new project being led by Dr Laia Becares (Senior Lectrer in Applied Social Science), addresses these gaps in knowledge by using innovative methods to analyse existing Census and survey data to provide information on (i) the nature of ethnic inequalities in health, wellbeing, and socioeconomic circumstances at older ages, (ii) why these inequalities exist, and (iii) whether, how and why they have changed in the past 20 years. Findings from the project will create societal impact by improving ethnic minority people's lives through better understanding of the issues affecting their life chances and healthy ageing.
Teenage time travel
Professor Rachel Thomson's team working on the 'Teenage Time Travel' study propose that old research data can be 'reanimated', ie. re-used to create present value. Focusing on the sexual cultures of young people (in the 1980s and today) the team is combining participatory and archival methods, generating creative outputs (a theatre performance, a quilt, a sound installation and an open-access archive), new pedagogies for youth work and original socio-historical insight. The project transforms social science by building communities of educators, activists and researchers around open-access digital archives, an approach that is critical, sustainable and in tune with the demands of social distancing. An online archive has more information.

Driving forward innovation to address extra-familial risks in adolescence
Professor Michelle Lefevre is leading the Innovate Project, a pan-UK, four year, £1.9 million project funded by the Economic and Social Research Council and led by the University of Sussex, in collaboration with the Universities of Bedfordshire and Oxford and NGOs the Innovation Unit, Research in Practice, and Become. The study explores the barriers and levers to innovation in social care by examining how new practice systems and methods are being developed in six sites around the country which are seeking to address extra-familial risks facing young people - such as child exploitation. The project will look at the processes and outcomes related to three frameworks upon which innovation is being built: (i) Trauma-informed Practice, (ii) Contextual Safeguarding, and (iii) Transitional Safeguarding. The study will inform innovation practice, improve the design and delivery of social care, and enhance service experiences and outcomes for vulnerable young people and their families.
ME-WE (MEntal Health & WEllbeing)
Deputy Vice-Chancellor and Professor of Social Work and Social Policy, Saul Becker, and Research Fellow, Feylyn Lewis (Social Work and Social Care), are leading the "ME-WE" (MEntal Health & WEllbeing) project, funded by the European Union under the Horizon 2020 programme. The project aims to strengthen the resilience of young carers aged 15-17, improve their mental health and well-being, and mitigate the negative influences of psychosocial and environmental factors. The project develops an innovative framework of primary prevention interventions to be tested and adapted in six European countries (Italy, Netherlands, Slovenia, Sweden, Switzerland, United Kingdom) at different stages of awareness and development of services for young carers. Researchers will engage directly with and involve young carers, together with major stakeholders (educators, health and social care professionals, youth organisations, carer organisations) via national Blended Learning Networks, user groups, workshops, and in an International Advisory and Ethics Board. The project will have international impact, improving young carers' mental health and well-being, educational outcomes, transition, employability and social inclusion, as well as creating evidence-based practices, to improve health equity and societal benefits.
Talking and Listening to Children: Putting Kitbag to Work
Over the past two years Gillian Ruch, Professor of Social Work, has been collaborating with the International Futures Forum (IFF), a Scottish charity, to introduce Kitbag, an IFF inspired resource designed to promote children's wellbeing, into social work practice. Social workers in over ten local authorities have begun to use Kitbag in their everyday practice, and Gillian has also obtained funding to provide all the social workers and foster/kinship carers in two local authorities with a Kitbag of their own. A recent, and significant, development is the successful acquisition of What Works Centre for Children's Social Care funding to purchase Kitbags for all the social workers and foster/kinship carers in a further two local authorities. An independent evaluation will accompany this exciting practice intervention. We are thrilled to have this opportunity to see how Kitbag impacts on children and families experiences, social workers/carers practice and the wider organisational culture. So watch this space!
The power of song: Why your doctor should be prescribing choir practice
Charles Watters, Professor of Wellbeing and Social Care led a 'Singing for Wellbeing' event. This exciting event demonstrated the powerful impact singing and, in particular, participating in singing groups can have on people's wellbeing. Academic studies indicated significant benefits if more doctors used community choirs as part of their social prescribing. Attendees learned about Dr Andersen's (GP at Herstmonceux, new study, presented publicly for the first time, which highlights the importance of singing in helping women build a sense of solidarity with other women.