We believe that great teaching is underpinned by great research. The English faculty are highly research active, publishing on a range of topics within and across their disciplines. We research and write on topics of importance to our fields, always aiming to work at the leading edge, and we are not afraid to take risks. See below for a list of recent book publications from faculty working in Literature, Language & Linguistics, Drama and Creative Writing.
Natalia Cecire, Experimental: American literature and the aesthetics of knowledge (Baltimore: Johns Hopkins, 2019)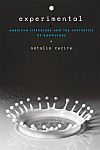 In this bold new study of twentieth-century American writing and poetics, Natalia Cecire argues that experimental writing should be understood as a historical phenomenon before it is understood as a set of formal phenomena. This seems counterintuitive because, at its most basic level, experimental writing can be thought of as writing which breaks from established forms. Drawing upon terminology from the history of science, Cecire invokes the epistemic virtue, which tethers ethical values to the production of knowledge in order to organize diverse turn-of-the-century knowledge practices feeding into "experimental writing." Using these epistemic virtues as a structuring concept for the book's argument, Cecire demonstrates that experimental writing as we now understand it does not do experiments (as in follow a method) but rather performs epistemic virtues.
Hannah Field, Playing with the Book: Victorian Movable Picture Books and the Child Reader (University of Minnesota Press, 2019)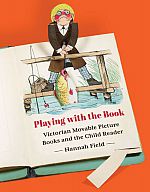 Playing with the Book centres on a beautiful and unusual group of Victorian texts: novelty and movable picture books for young children. In playing with the book's typical format, nineteenth-century novelty picture books raise questions not just about what books should look like, but also about what reading is—particularly when it comes to children's literature and children as readers. Playing with the Book considers these questions by way of a series of case studies of individual formats, as well as an intensive examination of copies of novelty picture books that have survived from the nineteenth century.
Matthew Dimmock, Elizabethan Globalism: England, China & the Rainbow Portrait (Yale, 2019)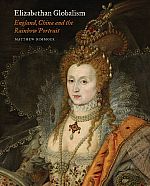 Challenging the myth of Elizabethan England as insular and xenophobic, this revelatory study sheds light on how the nation's growing global encounters—from the Caribbean to Asia—created an interest and curiosity in the wider world that resonated deeply throughout society. Bringing together an eclectic variety of sources including play texts, inventories, and artifacts, this extensively researched volume presents a picture of early modern England as an outward-looking nation intoxicated by what the world had to offer.
Nicholas Royle, Mother: A Memoir (Myriad, 2019)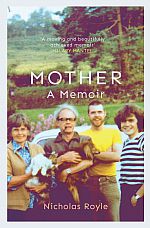 'A tender and graceful study of parents and children, and a finely judged and measured attempt to capture the flitting, quicksilver shapes of what we keep and what we lose: the touch, the tone, the gaze of the past as it fades. It is a moving and beautifully achieved memoir, and a testament to the writer's skill and generosity of spirit.'—Hilary Mantel
Before the devastating 'loss of her marbles', Mrs Royle, a nurse by profession, is a marvellously no-nonsense character, an autodidact who reads widely and voraciously—from Trollope to Woolf, Tennyson to Foucault—swears at her fox-hunting neighbours, and instils in the young Nick a love of reading and of wildlife that will form his character and his career.
In this touching, funny and beautifully written portrait of family life, mother-son relationships and bereavement, Nicholas Royle captures the spirit of post-war parenting as well as of his mother whose dementia and death were triggered by the tragedy of losing her other son—Royle's younger brother—to cancer in his twenties
Richard Adelman, Idleness & aesthetic consciousness, 1815-1900 (Cambridge, 2018)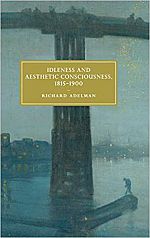 Charting the failure of the Romantic critique of political economy, Richard Adelman explores the changing significances and the developing concepts of idleness and aesthetic consciousness during the nineteenth century. Arguing that hardened conceptions of aesthetic consciousness come into being at moments of civic unrest concerning political representation and that the fin-de-siècle witnesses the demonization of the once revolutionary category of aesthetic consciousness, the book demonstrates that late eighteenth-century positivity around human spirituality is comprehensively dismantled by the beginning of the twentieth century.
Michael Jonik, Herman Melville and the politics of the inhuman (Cambridge, 2018)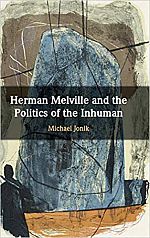 Studies of the writing of Herman Melville are often divided among those that address his political, historical, or biographical dimensions and those that offer creative theoretical readings of his texts. In Herman Melville and the Politics of the Inhuman, Michael Jonik offers a series of nuanced and ambitious philosophical readings of Melville that unite these varied approaches. Through a careful reconstruction of Melville's interaction with philosophy, Jonik argues that Melville develops a notion of the 'inhuman' after Spinoza's radically non-anthropocentric and relational thought. Melville's own political philosophy, in turn, actively disassembles differences between humans and nonhumans, and the animate and inanimate. Jonik has us rethink not only how we read Melville, but also how we understand our deeply inhuman condition.
Lynne Murphy, The Prodigal Tongue: the love-hate relationship between British and American English (Oneworld, 2018)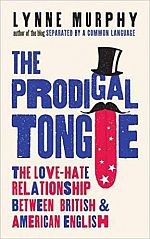 Do you eat mashed potato or mashed potatoes? Are you frowning with your eyebrows or your mouth? Did you need to google mugwump when Boris Johnson laid into Jeremy Corbyn?
British and American English may seem similar, but their differences abound. Contentious cultural wars are waged daily, on both sides of the Atlantic. As an American linguist based in Britain, Lynne Murphy brings a wry fish-out-of-water wit and a keen eye to this great divide. Some Americans suffer from a verbal inferiority complex, while on this side of the pond Brits are gripped by a delusional paranoia that their English is under attack. Murphy puts the mythologies of British and American English to the test, sharing surprising revelations about how our language really works.
Katie Walter, Middle English Mouths: late medieval medical, religious and literary traditions (Cambridge, 2018)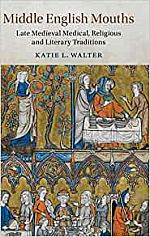 The mouth, responsible for both physical and spiritual functions - eating, drinking, breathing, praying and confessing - was of immediate importance to medieval thinking about the nature of the human being. Where scholars have traditionally focused on the mouth's grotesque excesses, Katie L. Walter argues for the recuperation of its material 'everyday' aspect. Walter's original study draws on two rich archives: one comprising Middle English theology (Langland, Julian of Norwich, Lydgate, Chaucer) and pastoral writings; the other broadly medical and surgical, including learned encyclopaedias and vernacular translations and treatises. Challenging several critical orthodoxies about the centrality of sight, the hierarchy of the senses and the separation of religious from medical discourses, the book reveals the centrality of the mouth, taste and touch to human modes of knowing and to Christian identity.
Jason Price, Modern Popular Theatre (Palgrave Macmillan, 2016)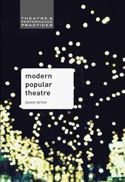 This book offers a concise history of popular theatre since the early twentieth century. Using key popular culture theories and critical perspectives, Jason Price analyses popular theatres across different cultural and political contexts, drawing on a diverse range of international artists and theatre-makers who have worked with popular forms, including Vsevolod Meyerhold, Blue Blouse, Bertolt Brecht, Erwin Piscator, the San Francisco Mime Troupe, the Bread and Puppet Theatre and more.