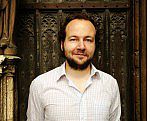 Post:
Professor of Early Modern Studies (English, Sussex Centre for Migration Research)
Other posts:
Director of Student Experience (School of English)
Lecturer in English (Centre for Early Modern Studies)
Senior Lecturer in English (Centre for Early Modern Studies)
Location:
Arts B B235
Email:
M.Dimmock@sussex.ac.uk

Telephone numbers
Internal:
7663
UK:
01273 877663
International:
+44 1273 877663

Research expertise:
download vCarddownload vCard to your mobile
Biography
From Yorkshire to Northamptonshire to rural Lincolnshire, I eventually ended up at the University of Leeds and completed a BA and an MA in the English Department there. A year of work followed, after which I decided to return to academia, and spent three years at Royal Holloway, University of London, studying for a PhD. This was awarded towards the end of 2002, and my thesis explored the ways in which Islam and the Ottoman Empire were understood in early modern English culture - particularly how the 'terrible turk' was represented on the professional stage. Almost immediately upon completing the PhD I took up a Visiting Scholarship at the University of Leiden in The Netherlands. For three and a half cold but productive months I skated on canals, took courses in early Dutch, worked in the National Archives in The Hague, and taught on the MA in European Expansion. Upon my return I continued researching as Visiting Scholar at the Centre for Editing Lives and Letters at Queen Mary, University of London, for a few months in the summer of 2003, after which I took up a position as Lecturer in English Literature at the University of Sussex. I became Professor of Early Modern Studies in early 2013.
A while back I was interviewed on the Radio 3 documentary 'Courting the East', and some time before that I appeared on the Channel Four documentary 'Great British Islam'. More recently I co-curated the 'East-West: Objects Between Cultures' exhibition at Tate Britain - see http://www.tate.org.uk/britain/exhibitions/eastwest/default.shtm - and curated the opening section of the Jamestown-Yorktown 'World of 1607' exhibition, celebrating the 400 year anniversary of the first American colonies - for more details, see http://www.jamestown2007.org. Over the five years or so I have given talks and papers in various capacities at the Globe Theatre, the Victoria & Albert Museum, the National Maritime Museum, Tate Britain, the Universities of Aberystwyth, Basle, Bangor, Berlin, Copenhagen, Leeds, Montpellier, Oxford, Birkbeck, University of London, Queen Mary, University of London, Trinity College Dublin, York and the Max Planck Institute in Florence. I used to live in Brighton, then upgraded to Hove and now have reached the giddy heights of Polegate, on the edge of the South Downs. However I still don't quite have a view of the sea.
I was honoured to deliver the Society for Renaissance Studies plenary at the 'Eastern Resonances' conference at Montpellier in June, and will be co-organising a session at the SAA next year in St. Louis. Along with Julia Schleck and Jyotsna Singh I am a moderator for Serai, a website concerned with the myriad exchanges between early modern Islam and Europe - see http://earlymodernexchange.ning.com/.
Role
Professor of Early Modern Studies
Director of Student Experience
Early Modern English Literature and History, including notions of 'otherness' which concern cultural, racial and religious difference - particularly in reference to Islam.
One of my recently completed research students worked on witchcraft and the book trade with AHRC funding; another studied early modern English perceptions of Persia and sectarian divisions within Islam with a scholarship from the Pakistan Higher Education Commission. Of my current research students, one works on early modern conceptions of 'trash'; another on English perceptions of the Qur'an between 1649 and 1734; and another on the early modern drama collection at Petworth House. I would be very interested to hear from any prospective students who wish to study in these fields.
In the Autmn term of 2013/14 I am teaching and convening the final year undergraduate course 'Special Author: Christopher Marlowe', and the 'Period of English Literature: 1625-1750' course.
Tuesday 11:00-12:00 (Office Hour)
Thursday 12:00-13:00 (Office Hour)
Mail me for an appointment at any other time - m.dimmock@sussex.ac.uk