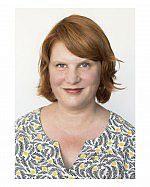 Prof
M.Lynne Murphy
Biography
I hold a B.A. in Linguistics and Philosophy from the University of Massachusetts at Amherst, and an A.M. (master of arts) and Ph.D. in Linguistics from the University of Illinois at Urbana-Champaign.
After leaving Illinois, I held academic posts at University of the Witwatersrand (South Africa) and Baylor University (Texas), before moving to England and the University of Sussex in January 2000.
In my spare time I write a blog on the differences between American and British Englishes, Separated by a Common Language, and a slighter one about lexical relations called Who Shall Remain Antonymous.
In 2016, I was a National Endowment for the Humanities Public Scholar.The resulting book, The Prodigal Tongue: the love-hate relationship between British and American English, will be released in spring 2018 by Penguin USA and Oneworld (UK).
I am very happy to consider applications for doctoral study in my areas of research interest. Please see my Research page for further information.
Role
I am Professor of Linguistics and Director of Teaching and Learning in the School of English. My job incorporates research, teaching and administration.