When you accept our housing offer on-line, you will be accepting the terms and conditions of your tenancy agreement, which means that you agree to pay the rent for the duration of your tenancy. Should you decide to move out of your room during the tenancy period, you will be required to pay the rent until the end of your tenancy agreement, or until you find a replacement, which cannot be guaranteed. More information, including the range of help and support available is provided below.
What is my tenancy agreement?
Your tenancy agreement is a legal document and notes how the University lets to the Tenant the Room together with its contents for the Tenancy Period subject to a number of conditions, which include actions that (i) The Tenant agrees, (ii) The University agrees, (iii) and Other conditions (iv) and termination of tenancy.
A copy of our standard tenancy terms and conditions is available here (21KB, PDF). Some of the key conditions of your tenancy agreement are highlighted below:
Your tenancy agreement will note that you are required to pay your rent for the duration of your tenancy and should you decide to leave your accommodation earlier than the tenancy end date, or if you decide to undertake research overseas, or 'move-out' during your tenancy period or after your assessments, or move into private sector housing, you will still have to pay for the duration of your tenancy unless you or the Housing Office find a replacement full-time Sussex student, not already in residence and acceptable to the Housing Office.
The Housing Office can help too: If you are thinking of leaving your allocated housing, you are very welcome to contact the Housing Office immediately to chat through your thoughts as moving rooms will inevitably cause some disruption to you and it maybe that we can help you resolve any issues you may, for example, have with your flat-mates through mediation and other support. We also operate a swap list with students looking to swap rooms across our on and off campus housing. At various times of the year, the Housing Office also have waiting lists of students looking for housing and may be able to offer other solutions too: all swaps must be agreed with the Housing Office and we place the waiting list in the Housing Office Reception. Please pop in and chat with us, no appointment necessary - our location, contact details and opening hours are noted here.
However, there are no guarantees that you or the Housing Office will find a replacement and it may take some time (e.g. several weeks to months) if a replacement is found as potential new residents will want to view the room and compare with others, meet the flat-mates and make an informed decision. Whilst the Housing Office will try to help you, it is your responsibility.
Your tenancy agreement will note that the Tenant agrees not to assign or sub-let or part possession of the Room or to accept paying guests nor to share possession of the Room without the consent from the University. This means that you cannot let anyone else stay in your room or flat.
Your tenancy agreement will also note that the Tenant agrees to abide by the University's Charters, Ordinances and Regulations, 53KB, PDF.
You must report any problems with your room or flat-mates for example, immediately to the Porter so that they can be investigated in good time. If you move out because of a perceived problem without reporting it first, you will be liable for the payment of rent until the end of your tenancy or until you find a replacement.

If you need more advice, support and guidance, please contact the Housing Office.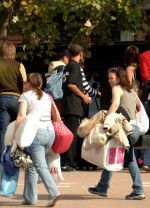 Rent and Tuition fees
Both your tuition fees and rent will be on your Student Account together and all will need to be paid on-time during the academic year in order for you to proceed with your studies.
How much does it cost?
The University operates a system of differential rents across its housing and you can find out more information on our residences pages. When we email you your allocated accommodation, you will be need to accept the terms and conditions of your tenancy agreement to accept your allocation before you arrive. A copy of our standard tenancy terms and conditions is provided on our policies pages.
How long can I remain in my flat?
The tenancy agreement will specify the period of your tenancy. For residents with US for the full academic year, you will normally be granted a tenancy that runs for the period of the academic year: 39 weeks for undergraduates, 50 weeks for postgraduates, and 52 weeks for families. This means that if you have a 39/50/52 week tenancy, are able to reside over Easter and Christmas, and if you have a 50/52 week tenancy over the summer too.
Does my rent include charges for gas, water, Internet and electricity?
All residences have service charges included.