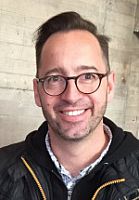 Mr
Adrian Goycoolea
Biography
BFA (School of Visual Arts) MFA (University of Iowa)


Adrian Goycoolea was born in Brazil to Chilean and British parents, and has lived in Rio de Janeiro, Santiago, New York City and the Midwest. Perhaps because of this diverse background, his films often address issues of location and identity, exploring the intersections of personal memory with social and political histories.

His work ranges from short, experimental, single channel pieces to multi-channel art installations, and he has most recently extended his range to short and feature-length fiction films and screenplays as well as documentaries. Adrian has worked as a programmer and publicist at Anthology Film Archives in New York City, and his experimental films and installations have been screened widely.

Over the years, his work has been shown at film festivals such as the Rotterdam International Film Festival and The Moscow International Film Festival, at art galleries including The Artists' Space, Taller Boriqua, La Panaderia, and in locations as disparate as Anthology Film Archives and MTV.

His most recent short film, Uncle Denis? a documentary about his great-uncle Quentin Crisp's relationship to the idea of family and his family's relationship to the idea of Quentin Crisp has screened in the Purcell Room at the Southbank Centre as part of the program Happy Crispmas as well as The London Lesbian and Gay Film Festival, Newfest: The New York LGBT Film Festival, Frameline: The San Francisco International LGBT Film Festival, Image+Nation: The Montreal International LGBT Film Festival, Athen's OutView Film Festival and Inside Out Toronto LGBT Film and Video Festival. The film has been aquired by the BFI National Archive and is distributed through the BFI's Mediatheque as well as the Canadian Filmmakers Distribution Centre.

Adrian is currently editing a feature length documentary entitled, ¡Viva Chile Mierda! dealing with the enduring effects of torture in the lives of Chilean exiles.

This autumn term Adrian is the programme convenor for the Creative Media Practice MA and will teach the core course, Expanded Media: Forms and Practices. On the undergraduate Media Practice programme Adrian will teach the Video Drama group on the 3rd year Project Development course as well as the Documentary Video group of the 2nd year Creative Media course.
Student Consultation
Adrian's office hours for Autumn 2011:
Thursday 11:00 - 12:00
Friday 11:00 - 12:00
Goycoolea, Adrian and Ward, P (2010) Personal effects. [Show/Exhibition]
Goycoolea, Adrian (2010) Still live. [Show/Exhibition]
Goycoolea, Adrian (2009) Uncle Denis? [Video]
Goycoolea, Adrian (2008) Justice one or many. [Video]
Goycoolea, Adrian (2006) The Caravan of Death. [Image]
Goycoolea, Adrian (2006) Valle de la Luna. [Image]
Goycoolea, Adrian (2004) The geographical center of North America. [Video]
Goycoolea, Adrian (2004) The five seasons. [Image]
Goycoolea, Adrian (2003) Self portrait. [Show/Exhibition]
Goycoolea, Adrian (2003) The hideout. [Image]
Goycoolea, Adrian (2001) Instant vacation. [Video]
Goycoolea, Adrian (2001) Lock and Load. [Image]
Goycoolea, Adrian (2000) Quentin. [Show/Exhibition]
Goycoolea, Adrian (1999) Funk street. [Show/Exhibition]
Goycoolea, Adrian (1999) Yo La Tengo live. [Image]
Goycoolea, Adrian (1998) Cinema is Always Beginning: Re-mixed. [Show/Exhibition]
Goycoolea, Adrian (1998) Eat or be eaten. [Show/Exhibition]
Goycoolea, Adrian (1998) Visual motion. [Show/Exhibition]
Goycoolea, Adrian (1998) What are you looking at? [Image]
Goycoolea, Adrian (1998) Event Horizon. [Artefact]
Goycoolea, Adrian and Funk-Taxi 1533, (1998) Image-crash-lifesize. [Image]
Goycoolea, Adrian (1997) Bone marrow transplant. [Image]
Goycoolea, Adrian (1997) Memories of a blind father. [Show/Exhibition]
Goycoolea, Adrian (1996) Empire Strikes Back. [Image]
Goycoolea, Adrian (1995) Circles. [Image]
Goycoolea, Adrian (1995) Flags. [Image]