Welcome to our top ten language department
The Guardian University Guide 2015 ranks us 7th in the UK for modern languages; and in the 2013 National Student Survey:
Spanish at Sussex rated joint 2nd in the UK (overall satisfaction)

German/Italian at Sussex rated joint 5th in the UK (overall satisfaction)
French at Sussex rated in the UK top six for intellectual stimulation (5th=), enthusiastic teaching, accessibility of staff and course organisation (all 6th=).
The Complete University Guide 2015 ranks Italian at Sussex 3rd in the UK.
We offer a range of courses throughout the calendar year in English Language and Modern Languages, open to the public as well as students and staff at the University. The Centre is responsible for undergraduate degrees in modern languages, and English Language Teaching programmes at undergraduate and postgraduate levels. We also recognise that students from disciplines across the University will, as future global citizens, travel, live and work in countries across the world. For this reason we have developed a flexible portfolio of language electives which you can take as part of your degree. You can also study autonomously in our Language Learning Centre, which has a digital language suite and multimedia workstations for the private study of over fifty world languages.
SCLS staff are passionate about all aspects of language, language teaching and language learning. We believe that learning to speak a second or third language provides a window into a culture other than our own, and that cultural awareness and intercultural communication are essential for the promotion of peace and understanding in the world today. In addition, the study of a language gives access to the media, films and literature in the new language, opening up many intriguing paths of discovery. To quote Nelson Mandela: "If you talk to a man in a language he understands, that goes to his head. If you talk to him in his language, that goes to his heart".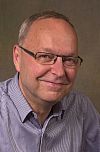 Professor Ray Satchell
Director, Sussex Centre for Language Studies