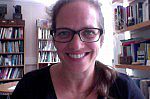 Dr
Kate Lacey
Post:
Senior Lecturer in Media and Cultural Studies (Media and Film, Centre for Material Digital Culture)
Other posts:
Deputy Head of School (School of Media, Film and Music)
Location:
Silverstone Sb 337
Email:
K.Lacey@sussex.ac.uk

Telephone numbers
Internal:
2512
UK:
(01273) 872512
International:
+44 1273 872512
download vCarddownload vCard to your mobile
Biography
My first degree was in European Studies (German and Politics) at Queen Mary College, University of London, spending a year abroad at the Freie Universitaet Berlin. I did my PhD in German History at Liverpool on the history of women's radio in Germany during the Weimar Republic and Third Reich, again studying for a year in Berlin, at the Technische Universitaet. I have worked at Sussex since 1992, teaching media at first in the School of European Studies, then in the School of Social Sciences and Cultural Studies and the School of Humanities and now in the School of Media, Film and Music, where I was Head of Media from 2005-2012. I am currently the Director of Doctoral Studies in MFM.
Role
Deputy Head of School
Director of Doctoral Studies in the School of Media, Film and Music
Convenor of the MA in Media and Cultural Studies
Co-Convenor of the MA in Media Practice for International Development
Co-Convenor of the MA in Journalism and Media Studies
My research focuses on the history and theory of the media, and broadcasting in particular. A main focus has been the interrogation of changing definitions of the public and the private and the interplay of gender politics and media history.
My current research centres on listening in the modern mediated public sphere, asking how listening has changed in relation to successive sound media and how the act of mediated listening figures in modern public life. Listening is explored as an activity in the public sphere, rather than as a code for the passivity long associated with audiences of mass media, with the intent to amplify the specifically auditory roots of the word audience, a word that combines the experiential with the public aspect of mediated culture. My book on the subject, Listening Publics: The Politics and Experience of Listening in the Media Age will be published in April 2013 by Polity.
I have supervised doctoral research on public sphere theory, European media, and emergent media, both historical and contemporary (including dissertations on early cinema in Brighton, the early television industry at Alexandra Palace and the emergence of the internet as a democratic forum), and would welcome research applications in these areas, as well in media and gender studies.
Related work
Member of the Edoitorial Board of The Radio Journal: International Studies in Broadcast and Audio Media.
Founding member of 'The Radio Studies Network' which is devoted to raising the profile of radio within the field of media and cultural studies and the academy more generally.
Member of the Southern Broadcasting History Research Group.
Member of the UK Radio Archives Advisory Committee.
I currently teach the MA modules 'Media Theory and Research' and 'Media, Culture and Communication' and the new second year undergraduate module 'Media, Memory, History'.
I supervise a number of doctoral students, whose work tends to focus on questions of media and the public sphere, the role of the media in processes of democratisation, and the emergence of new media, past and present.
Sohyung Kim, Internet Communities and Political Communication in Korea (co-supervised with Michael Bull)
Catarina Passos, European identity and the management of public (in)formation (co-supervised with Francis McGowan)
Alan D'Aiello, From Handbills to Handhelds: the changing nature of public communication among gay men in Brighton (co-supervised with Andy Medhurst)
Javier Mato, Internet, Journalism and Democracy in Spain (co-supervised with Caroline Bassett)
Munira Cheema, The Production and Reception of gender-based content in Pakistani television (co-supervised with Kate O'Riordan)
Rachel Tavenor,'From Spectacle to Solidarity: visualising social movements in the British media (co-supervised with Adrian Goycoolea)
Former research students:
Christiana Karayianni, The impact of different forms of communication on bicommunal relations in Cyprus (successfully defended 2011) [co-supervised with Anastasia Christou]
Polly Ruiz, Articulating Dissent from the Margins to the Mainstream: The Communicative Strategies of Protest Coalitions (awarded 2010) [co-supervised with Janice Winship]
Jairo Lugo, Democracy, Development and ICTs: A cross-national study of the UK and Venezuela (awarded 2007)
Emma Sandon, From Vision to Mundanity:Television at Alexandra Palace, London 1936-1952: Memories of Production. An Oral History Approach to the Reassessment of the Early Period of British Televison History (awarded 2004)
Garrett Monaghan, The South Coast Bubble: The Emergence of the Moving-Image in Brighton Before 1914 (awarded 2001)
Sae-Eun Kim, Communication, Culture and the Korean Public Sphere (awarded Jan 2001)
Jonathan Peck, In Search of Public Discourse: The internet and the next transformation of the public sphere (awarded 2000)
Student Consultation
My office hours in the Spring term are Mondays at 4pm and Wednesdays at 11-12 in Silverstone 337, or other times by arrangement.
Lacey, Kate (2013) Assassination, insurrection and alien invasion: interwar wireless scares in cross-national comparison. In: War of the worlds to social media: mediated communication in times of crisis. Peter Lang, New York. (In Press)
Lacey, Kate (2011) From radio listening to television viewing in the 1950s: reflections on a blindspot in media history. In: Broadcasting in the 1950s: AHRC Symposium, Grynygog, University of Wales.
Lacey, Kate (2011) Speaking up and listening out: media technologies and the re-sounding of the public sphere. In: Electrified voices: medial technical, socio-historical and cultural aspects of voice transfer, Konstanz, Germany.
Lacey, Kate (2011) Listening overlooked: an audit of listening as a category in the public sphere. Javnost - The Public, 18 (4). pp. 5-20.
Lacey, Kate (2011) Öffentliches Zuhören: Eine alternative Geschichte des Radiohörens. Zeithistorische Forschungen, 2011 (2). ISSN 1612-6033
Lacey, Kate (2010) Paradoxes and paradigms: broadcasting and its publics in the 1930s. In: Broadcasting in the 1930s: new media in a time of crisis, July 6th-9th, 2010, University of Madison, Wisconsin..
Lacey, Kate (2009) Listening overlooked: rethinking media in the public sphere. In: The Listening Project, University of Sydney 9th December 2009.
Lacey, Kate (2009) Ten years of radio studies: the very idea. Radio Journal, 6 (1). pp. 21-32. ISSN 1476-4504
Lacey, Kate (2008) Radio and the ethics of listening. In: European Communications Research and Education Association Conference, Barcelona, Spain.
Lacey, Kate (2008) The public sphere as auditorium. In: Sounding Out 4, 4-6th September 2008, University of Sunderland, UK,.
Lacey, Kate (2007) Noise and the phonographic imagination in modernity. In: Cultural Studies Now, 19-22 July 2007, Docklands Campus, University of East London .
Lacey, Kate (2007) On the listening subject and the subject of listening in the public sphere. In: Society for Cinema and Media Studies Conference, Chicago.
Lacey, Kate (2007) Home, work and everyday life: Roger Silverstone at Sussex. International Journal of Communication, 1. pp. 61-69. ISSN 1932-8036
Lacey, Kate (2007) Radio in the round: the challenges of cultural history. In: The Radio Conference: A Transnational Forum, 16th-19th July 2007, University of Lincoln .
Lacey, Kate (2006) Sounds in body and mind: confrontations with the noise of modernity. In: Sounding Out 3, 7-9 September 2006., University of Sunderland,.
Lacey, Kate (2006) The invention of a listening public: radio and its audiences. In: Mass media, culture and society in 20th century Germany. Palgrave, New York, pp. 61-79. ISBN 9780230008380
Lacey, Kate (2005) Oeffentliches zuhoeren: eine alternative geschichte des radiohoerens. In: Politiken der Medien. Diaphanes, Zürich, pp. 195-208. ISBN 9783935300551
Lacey, Kate (2004) Continuties and change in women's radio. In: More than a music box: radio cultures and communities in a multi-media world. Berghahn Books, New York, pp. 145-164. ISBN 9781845450465
Lacey, Kate (2003) Radiogenie and the public horizon of experience. In: The Radio Conference: A Transnational Forum, University of Wisconsin, Madison 28-31 July 2003.
Lacey, Kate (2002) Radio & political transition: public service, propaganda & promotional culture. In: Radio reader: essays in the cultural history of radio. Routledge, London. ISBN 9780415928212
Lacey, Kate (2001) Radio in the Great Depression: promotional culture, public service, and propaganda. In: Radio reader: essays in the cultural history of radio. Routledge, London, pp. 21-40. ISBN 9780415928212
Lacey, Kate (2001) The mouthpiece of modernity: gender, consumption and the radio in the 1920s. In: Gender, consumption and history, Freie Universitat, Berlin, 2001.
Lacey, Kate (2000) Towards a periodization of listening: radio and modern life. International Journal of Cultural Studies, 3 (2). 279 - 288. ISSN 1367-8779
Lacey, Kate (2000) From Plauderei to Propaganda: on women's radio in Germany, 1923-1935. In: Women and Radio: Airing Differences. Routledge, pp. 48-63. ISBN 978-0-415-22071-2
Lacey, Kate (1999) Langeweile, kitsch und zerstreuung: die modernisierung der hoerkunst (Bored to distraction: the modernisation of the art of listening). In: Radiozeiten: herrschaft, alltag, gesellschaft (1924-1960). Deutscher Rundfunkarchiv, Potsdam, Germany., 218 - 230. ISBN 9783932981449
Lacey, Kate (1997) Feminine frequencies: gender, German radio and the public sphere, 1923-1945. University of Michigan Press. ISBN 978-0-472-09616-9
Lacey, Kate (1996) Driving the message home: Nazi propaganda in the private sphere. In: Gender relations in German history: power agency and experience from the sixteenth to the twentieth century. Duke University Press, Durham, N.C., 189 - 210. ISBN 9780822318965
Lacey, Kate (1994) From Plauderei to propaganda: on women's radio in Germany, 1923-1935. Media, Culture and Society, 16 (4). pp. 589-608. ISSN 0163-4437