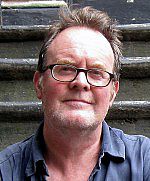 Prof
David Hendy
Post:
Professor of Media & Communication (Media and Film)
Other posts:
Director of Research and Knowledge Exchange (School of Media, Film and Music)
Location:
SILVERSTONE SB 310
Email:
D.J.Hendy@sussex.ac.uk

Telephone numbers
Internal:
3560
UK:
01273 873560
International:
+44 1273 873560

Research expertise:
download vCarddownload vCard to your mobile
Biography
David is a media historian interested very broadly in the role of sound, images, and communication in human cultures across time. He's especially interested in the role of modern 'mass' media - radio, cinema, television, the internet - in shaping popular life and thought in the 19th, 20th and 21st centuries.
He's just completed a Leverhulme Research Fellowship on the theme of Media and the Making of the Modern Mind. As part of that project, he wrote and presented Noise: a Human History, a 30-part series for BBC Radio 4, which was broadcast in 2013. The series traced the role of sound and listening in social life from prehistory to the present-day. His current project is writing The BBC: A Century in British Life, an authorised one-volume history of the BBC, which will be published to coincide with the Corporation's Centenary in 2022.
David studied history at St Andrews and Oxford universities before joining the BBC in 1987 as a journalist and producer. At the BBC he worked on The World Tonight and Analysis on Radio 4. From 1993 to 2012, he taught at the University of Westminster in London.
His first book was Radio in the Global Age (Cambridge: Polity Press, 2000). His second, Life on Air: a History of Radio Four (Oxford: Oxford University Press, 2007) won the Longmans-History Today Book of the Year Award in 2008. In 2013, he published Public Service Broadcasting (Palgrave) and Noise: a Human History of Sound and Listening (Profile). He's contributed to academic journals on subjects such as broadcasting policy, sound, music radio, documentaries, bad language, and experimental modernism, and emotions history, and has published short essays in the Cambridge Literary Review, History Today, Wall Street Journal, Huffington Post and the New Humanist.
David was elected a Fellow of the Royal Historical Society in 2010. He's also been a Visiting Research Fellow at Wolfson College and the Centre for Research in Arts, Social Sciences and Humanities (CRASSH) at the University of Cambridge, Marjorie G. Wynne Visiting Research Fellow in British Literature at the Beinecke Library, Yale University (2010), and Helm Fellow at the Lilly Library, Indiana University-Bloomington, USA (2010). In 2011 he was awarded the James W. Carey Award for Outstanding Journalism by the Media Ecology Association of North America, for his five-part BBC Radio 3 series, Rewiring the Mind.
At the University of Sussex, David is Director of Research for the School of Media, Film and Music. He co-ordinates the Public Culture Hub - a new research group - and 'Media History Lab', a new interdisciplinary reading group. He also leads a new research project on the BBC Oral History archives, in collaboration with the BBC, and is involved in a number of other sound-related artistic and historical projects.
More details can be found of David's various projects at his personal website
Role
Professor of Media and Communications, and Director of Research and Knowledge Exchange (School of Media, Film and Music, University of Sussex).
Community and Business
David broadcasts regularly, both as a contrubutor and writer/presenter. He presented Rewiring the Mind, a five-part series for The Essay on BBC Radio 3, co-wrote a drama, Between Two Worlds, which was broadcast on BBC Radio 3 in 2010, and most recently wrote and presented a 30-part series for BBC Radio 4, Noise: a Human History (2013). He's also contributed to programmes including Front Row, PM, Feedback, Archive on 4, and Archive on 4 in Britain, as well as WNYC in the US, France Culture and RTE. His series Noise: a Human History has been re-broadcast in the US and New Zealand.
David's given public talks at the Prix Italia Festival,Turin; RAI, Rome; the Deutsche-Britische Gesellschaft, Bonn; the Guardian Hay Festival; the Bristol Feswtival of Ideas; the Bath Literature Fwestival; Field Day London; and the Brighton Science Festival.
In 2015, he's been collaborating with the composer Claudia Molitor to create Sonorama, a downloadable soundtrack for the London St Pancras to Margate train journey, with an accompanying exhibition at the Turner Contemporary gallery in Margate. He's also collaborating with the National Trust on a new coastal sounds project, launched in June.
David serves on the Advisory Board for the British Library 'Save Our Sounds' project, which has received £9.8million towards preserving Britain's collections of sound archives. He's also a founding signatory member of the Citizen's Coalition for Public Service Broadcasting.