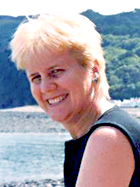 Ms
Lizzie Thynne
Post:
Senior Lecturer in Media and Film Studies (Media and Film, The Centre for Visual Fields, Centre for Material Digital Culture, Centre for the Study of Sexual Dissidence)
Other posts:
Director/Producer (Media and Film)
Location:
Silverstone Edb 322
Email:
L.Thynne@sussex.ac.uk

Telephone numbers
Internal:
2627
UK:
(01273) 872627
International:
+44 1273 872627
download vCarddownload vCard to your mobile
Biography
Lizzie Thynne has worked in the Department of Media and Film since 2001 after joining Sussex from UEL. Her undergraduate career in drama culminated in her appearance as 'Madame' in her own production of Jean Genet's The Maids at York in 1979, where she took her BA in English. Her entry into film was as Education Officer at the Tyneside Cinema in 1988-89 where she devised courses and events around the cinema programme, including for the first UK Lesbian and Gay Film festival. After studying study film and television production as a post-grad at Bristol (1990 - 91), she worked on both factual and drama projects for Channel Four and ITV. She began making her own films, which focussed on how personal narratives are connected to wider political, social and legal changes, for Channel Four's ground-breaking series, Out on Tuesday and Out. She has since exhibited her work in both cinema and gallery contexts, including the National Film Theatre, the Musuem of Contemporary Art, Sydney, Jerusalem Film Festival, the Irish Film Centre, the Lieksa Museum, Finland, Festival International de Films de Femmes, Creteil. She combines teaching, writing and film-making with a particular emphasis on exploring gender, sexuality, identity and representation.
Lizzie's new film ON THE BORDER (58 mins,UK,2012) is a daughter's exploration of her Finnish mother's life prompted by the remnants left in her mother's flat – letters, objects, photographs. Fragmented memories, dreams, and diary entries are juxtaposed with the director's journey to significant places and people in her family's history from during and after the Russo-Finnish war. Her mother, Lea, and her siblings left their home in the disputed border territory of Karelia and her Lea's father was killed in 1941, fighting alongside the Germans against the Soviets. In this hypnotic work of mourning and remembrance, past and present, layers of association, memory and imagining intertwine, as the film evokes the lingering impact of war and exile.
Role
Co-convenor MA Digital Documentary; Co-convenor, Video Documentary in Contemporary History (MA option); Convenor, Documentary Practice, level 3 Media Studies; Tutor, Advanced Media Project.
Lizzie Thynne's interests encompass both text and practice-based research and include the following: documentary, biography, queer studies, photography, surrealism, media industries.
Her current projects continue her interest in life histories and oral testimony. She is working on an auto/biographical film exploring her family's accounts of evacuation and exile and their place in the post-war history of Finland. She is interested in how to represent public and personal memories in ways which address the complexities of relationships between memory, fantasy, writing and image. She is also exploring ethics and intersubjectivity in the relationship between documentary producers and their subjects.
She has published on lesbian representation in film and television, practice-based research and on women's employment in television.
Her recent work in writing and film has focussed on the surrealist photographer, Claude Cahun, 1894- 1954. With the support of an AHRC Research Grant and Jersey Arts, Thynne produced and directed Playing a Part (2004), a biographical film on Cahun and her partner, Moore, which has been widely shown at international film festivals, conferences and museums.
She has been active in the debates around and approaches to practice as research, contributing papers to the AHRC project, Practice as Research in Performance, and many other conferences and seminars on the pursuit of media practice/AV PhDs in the academy.
She welcomes DPhil applicants in any of the above areas, especially for DPhil in Media Practice. Current research students topics include autoethnography, gender and nation and biographical narratives of performance artists.
Lizzie is Course Convenor of the MA Digital Documentary. She also teaches documentary practice, drama production and media theory on the BA Media Practice and Theory and BA Media and Cultural Studies. She has taught courses at Sussex and other universities on Screen Drama, Cultures of Media Production, Women's Cinema and Feminist Theory, Realisms, Hollywood:Industry and Imaginary and Analysing Media Texts.
Student Consultation
Spring Term 2013: My office hours are Monday 12 - 1 or Tuesday 12 -1 or please email me for other times, l.thynne@sussex.ac.uk. Note as I am not full-time my days at the university this term are normally Monday - Wednesday this term.