Yiwu: Trust, Global Traders and Commodities in a Chinese International City
Research Cluster 1: trading networks/communities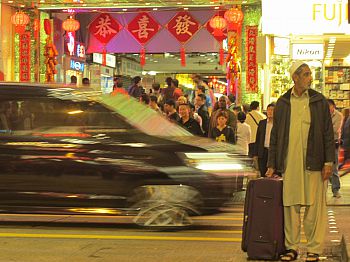 This cluster will explore and compare the capacities, skills, values, and worldviews of trading networks active in Yiwu. It will include focused empirical analysis on:
Afghan/Pakistani trade networks that move commodities, practices, and varying types of social space between Yiwu and West Asia, as well as to Eastern and Western Europe.
Trade networks made up of commercial personnel from the Middle East (especially Iraq and Syria) that are embedded in Yiwu and other Chinese cities.
Networks of Russian and Ukrainian commodity traders involved in the transport of commodities using Black Sea ports to both Ukraine and Russia.
Research Cluster 2: commodities
This cluster will compare the effects that different commodity types have on sociality, identity, economic practice, geographic connectedness, and everyday life. It will include a focused analysis of:
The movement of illicit commodities between China and South Asia through a study of Indian business communities active in Yiwu, the Gulf, and the Indian Ocean littoral.
Vietnamese credit providers in Eastern Europe and their perceptions of money in order to investigate the form taken by currency exchange and credit provision as a profitable business venture.
Research Cluster 3: trading places and contexts
This cluster will assess the importance of policy, history, gender relations, and socio-economic circumstance in affecting the nature of changing trading activities. It will include focused studies of:
Policy and trade: national, local, and municipal policy in China and the role this plays in the domains of migration, technology, and finance, in contributing to making Yiwu the world's node for the low-grade commodity trade.
Trade and infrastructure: the role played by international border regimes (e.g. customs duties and unions, visa regulations, smuggling, ethnic networks) and local authorities in influencing the specific geographies of trading routes will be explored in relationship to particular commodity chains between Yiwu and Russia/Ukraine. The impact of the ongoing conflict between Russia and Ukraine on these commercial routes and its role in the emergence of the new ones will be assessed.
Gender and trade: a study of the trading networks connecting Yiwu and Central Asia will ask how gender shapes the nature of the relationships that form trading routes connecting Yiwu to Eurasia.
Global trade and urban neighbourhoods: a study of the interactions between local and incoming Chinese citizens (Han, Hui, and Uyghur background) and foreign traders in Yiwu.