Maya Unnithan
India, unlike most other countries in the global South, has experienced a rapid shift over the past two decades from coercive, population-based, health programmes, to rights-based ones. State and non-state organisations have been at the forefront of this change.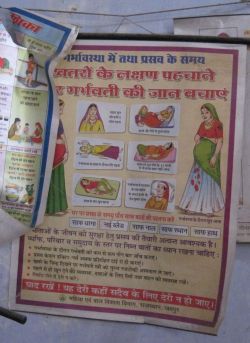 The research is based in Rajasthan, which has amongst the worst reproductive and child health indicators in the country, and takes the form of an empirical and theoretical study tracking the transmission of rights ideas and practices trans-nationally and through to local recipients. It has produced an analysis of how ideas of rights are understood, challenged and deployed by civil society organisations and the state in the context of programmes and policies on sexual and reproductive health.
Key findings
Rights based development programmes such as the National Rural Health Mission demonstrate a shift in civil society-state partnerships inIndiawhereby civil society organisations (CSOs) are constrained from effecting change independently of the state. There is an increasing contribution of CSOs to legislation and policy but less on-the-ground involvement with the delivery of health services. The use of human rights concepts and language enable CSOs to maintain their critical position vis-à-vis the state and in determining the access poor people have to basic healthcare and medicine. Legal activists working in the field of reproductive rights in India are creatively drawing upon and strengthening legal processes such as in public interest litigation and integrating the rights framework into their work.
The research was carried out by Maya Unnithan with Carolyn Heitmeyer, Pradeep Kacchawa, Sumi Madhok and Manju Sharma.
The project was funded by a standard grant from the Economic and Social Research Council (RES-062-23-1609) and was carried out between July 2009 and December 2011.
Readings
M.Unnithan and C.Heitmeyer, 2012., Global Rights and State Activism: Reflections on Civil Society-State Partnerships in Health in NW India. Contributions to Indian Sociology, 46:3
Madhok, S., Unnithan, M, & Heitmeyer, C.,(2011) 'Reproductive Rights, Domestic Violence and the Law'. (In prep)
Unnithan, M., Heitmeyer, C., Kacchawa, P.,(2010)Thinking through Rights-based Development in Health: Institutional approaches to social inequality and gender violence in reproductive, maternal and sexual health (Consultation and dissemination workshop report, Institute of Development Studies, Jaipur, April 9th-10th) - Download pdf
Images - thanks to Carolyn Heitmeyer and Global health rights research team