Research in the Department of Education sits within the context of the Sussex 2025 Strategic Vision: 'A Better University for a Better World'. The Department is internationally recognised for its expertise in producing theoretically informed, empirically driven, policy-relevant research.
We are proud of our reputation as critical educators who approach the world holistically, and we share a commitment to improving educational and social outcomes over the life course and across contexts.
Research in the 'Real World'
Research undertaken in the Department is of immediate policy and practice relevance. We work closely with a wide range of research users and partners, including national governments. We actively support the transfer of research insights into practice, including through our relationships with local stakeholders.
Many of the students enrolled on our undergraduate and postgraduate courses are also supported in developing the skills to pursue their own research agendas. The Department hosts two annual practitioner-research conferences: one for Early Years professionals and another for Teacher Researchers.
Our Research Centres
The Department's four research centres occupy a central place in what is a stimulating, interdisciplinary research environment. Each is built around an area of specialist expertise; together they support and promote the production of rigorous, critically engaged research.
Find out more about the centres - including details of new research and members' achievements - on the Centre's own websites:
Doctoral Research
The Department of Education is home to a diverse cohort of doctoral researchers, drawn from across the world. Consistent with our areas of research specialism, they can choose pathways in: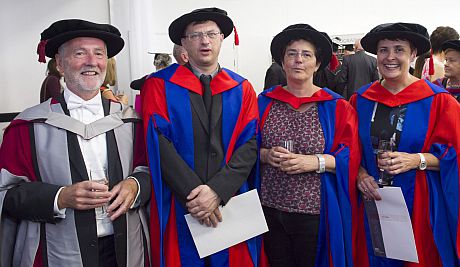 The Department's commitment to interdisciplinarity is further reflected in the number of doctoral researchers involved in cross-school and cross-university supervisions.
The quality of doctoral research in the Department is reflected in the number sponsored by external funders. This includes those funded as a consequence of the university's membership of the SeNSS Doctoral Training Consortium.
Education doctoral researchers are actively involved in all aspects of its work, including that of its four research centres. Their activities are supported by the Education PhD convenor, Dr Jo Westbrook (Senior Lecturer in Education), and also by the Director of Doctoral Studies, Charles Watters (Professor of Wellbeing and Social Care).
Find out more about becoming a researcher within the Department of Education.
News
Recognition for outstanding contribution
Janet Boddy, Professor of Child, Youth & Family Studies in the Centre for Innovation and Research in Childhood and Youth (CIRCY), was elected a new Fellow of the academy of Social Sciences. Nominees are elected only if it is clearly demonstrable that they merit the esteem of their peers for the excellence of their work and their championing of social science. Janet's research focuses on family lives and services that impact on children and families. She also has a long-standing interest in research ethics and governance.


Launch of website to support research on global inequalities
Research by Dr Marcos Delprato (Lecturer in International Education) - affiliated with the Centre for International Education (CIE) - highlights education inequalities from low-income countries by using various quantitative approaches. His new website Spatial Education Inequalities supports more refined geographic assessments of educational inequalities.
More about us
The Department of Education's Research Lead is Dr Louise Gazeley.
The School's Academic Lead for Impact is Dr Kristine Hickle.
Strategic oversight of all aspects of research in the Department is shared by the Directors of Research and Knowledge Exchange: Professor Gillian Hampden-Thompson, Professor Janet Boddy and Professor Rachel Thomson.
We welcome enquiries from visiting researchers, aspiring doctoral researchers and potential research collaborators.