The Department of Education is internationally recognised for its expertise in producing theoretically informed, empirically driven, policy-relevant research.
Research in the 'Real World'
Research undertaken in the Department is of immediate policy and practice relevance. We work closely with a wide range of research users and partners, including national governments. We actively support the transfer of research insights into practice including through our relationships with local stakeholders.
Many of the students enrolled on our undergraduate and postgraduate courses are also supported in developing skills to pursue their own research agendas. The Department hosts two annual practitioner-research conferences: one for Early Years professionals and another for Teacher Researchers.
We are proud of our reputation as critical educators who approach the world holistically, and we share a commitment to improving educational and social outcomes over the life course and across contexts.
Research in the Department of Education sits within the context of the Sussex 2025 Strategic Framework: 'A Better University for a Better World'.
Our research centres
The Department's four research centres occupy a central place in what is a stimulating, interdisciplinary research environment. Each is built around an area of specialist expertise; together they support and promote the production of rigorous, critically engaged research.
New Books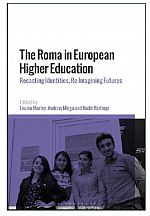 The Roma in Higher Education: Recasting identities, Re-Imagining Futures (Bloomsbury Academic, 2020)
Edited by Louise Morley, Andrzej Mirga & Nadir Redzepi
"Today, between 10 and 12 million Roma live in Europe, comprising the continent's largest ethnic minority. However, only 1% participate in higher education. Although the Roma are widely dispersed across Europe, and beyond, they face similar social, political, and economic challenges throughout the continent. A major site of struggle has been access, attendance and achievement in the education sector for Gypsies, Roma and Travellers (GRT). This groundbreaking text explores the Roma in higher education, a topic of great importance since higher education is considered to be a significant pathway out of poverty and to social mobility."

"Why are participation rates so low? What are the barriers and what are the enablers? This edited collection brings together authors from diverse national and organisational locations including academics, activists and policymakers from Canada, Chile, Finland, Greece, Hungary, Macedonia, Poland, Romania, Serbia, the UK, and the USA. They share and critically analyse contemporary knowledge on research, policies, practices and interventions to promote Roma participation in higher education in a range of European locations. They cover key topics including the representation of Roma communities as living on the margins, but also racism, anti-Gypsyism, Romaphobia, hate crimes and discriminatory practices. The book offers insights into how to fight discrimination and re-distribute higher educational opportunities without objectifying the Roma or representing these rich and diverse communities merely as powerless victims."
________________________________________________________________________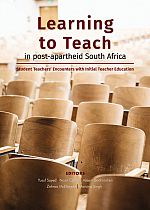 Learning to teach in post-apartheid South Africa: student teachers' encounters with Initial Teacher Education (African Sun Media, 2018)
Editors: Sayed, Yusuf; Carrim, Nazir; Badroodien, Azeem; McDonald, Zahraa; Singh, Marcina
This book provides the first longitudinal study of the experiences of initial teacher education of students in South Africa. It redresses the dearth of knowledge about the quality and efficacy of initial teacher education in South Africa, regionally and globally. It highlight student teacher's preparedness to teach and how they navigate and mediate bureaucratic structures and demands that impact their teaching.
________________________________________________________________________
Troubling Muslim Youth Identities: Nation, Religion, Gender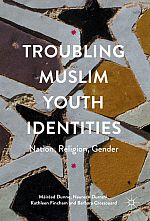 (Palgrave Macmillan UK, 2017)
Authors: Máiréad Dunne, Naureen Durrani, Kathleen Fincham and Barbara Crossouard

This book explores the production of Muslim youth identities, with respect to nation, religion and gender in Pakistan, Senegal, Nigeria and Lebanon. As Muslim-majority, post-colonial states with significant youth populations, these countries offer critical case studies for the exploration of the different grammars of youth identities, and 'trouble' the perceived homogeneity of Muslims in local and global imaginaries. The authors offer rigorous and detailed accounts of the local, situated and contingent ways in which educated youth with more than ten years of education articulate their identities and sense of belonging, and the book reflects on the importance of affect, belonging and affiliation in the construction of youth narratives of identity as well as highlighting their political and contested nature.
Our doctoral research culture and community
The Department of Education is home to a diverse cohort of doctoral researchers, who come from around the world. Doctoral education is an important way in which we can contribute to research capacity development, both domestically and in the Global South. Consistent with our research specialisms, our doctoral researchers can choose pathways in:
The Department's commitment to interdisciplinarity is reflected in the number of doctoral researchers involved in cross-school and cross-university supervisions. The quality of doctoral research in the Department is indicated by the number who are sponsored by external funders. Alongside the Commonwealth Scholarship Commission and various international bodies, this includes those funded as a consequence of its membership of the South East Network for Social Sciences (SeNSS) Doctoral Training Partnership.
Education doctoral researchers are actively involved in all aspects of its work and are included in its four research centres. Their activities are supported by the Education PhD convenor, Dr Julia Sutherland (Senior Lecturer in Education), and by the Director of Doctoral Studies, Charles Watters (Professor of Wellbeing and Social Care).
Caption: Christine Wanjala, a Doctoral research graduate at the 2019 Graduation ceremony
Find out more about becoming a doctoral researcher within the Department of Education.
New Research Projects
Building Resilience in Crises through Education
Conflict and crises adversely impact the delivery of quality education for social justice. In this context, the Building Resilience in Crises through Education (BRiCE) project led by Professor Yusuf Sayed funded by the EU seeks to add to the knowledge and practice base about effective interventions to provide equitable and quality education. The consortium led by Plan UK in partnership with a research team led by the University of Sussex, working with Gambella University in Ethiopia, and the Puntland and Development Research Centre in Somalia, seeks to provide an empirically grounded research account of the learning experiences of refugees and IDPs and teacher professional development in Ethiopia and Somalia. By building a careful and nuanced account of the experiences and context of education provision, the research aims to enhance national and global dialogues about strategies to increase access to quality education in conflict-affected and fragile contexts.
This collaborative research project led by Dr Barbara Crossouard (Reader in Education) and Máiréad Dunne (Professor of Sociology of Education), funded by The British Academy focuses on the intersection of work and education in the livelihoods and imagined futures of young rural women in two countries in sub-Saharan Africa, South Africa and Nigeria. Through its use of creative participatory methodologies, it aims to support female youth in reconceptualizing young women's work and develop an agenda for social change. The project aims to produce findings of relevance to youth activists, feminist groups, policy makers and international organisations concerned with addressing the Sustainable Development Goals.
Internationally Mobile Female Scholars
Professor Louise Morley and Yasser Kosbar (CHEER Research Fellow) are working with GESIS (Leibniz-Institut für Sozialwissenschaften, Köln, Germany) on a Humboldt Foundation-funded project that aims to attract more excellent women scientists to the Humboldt Network. Within the framework of this study, the mobility culture and specific aspects of the scientific careers of women scientists will be addressed. The Centre for Higher Education, Equity and Research (CHEER) will be producing dossiers on Algeria, Morocco, Nigeria, Tunisia, South Africa and the UK.
Developing quality education and social cohesion in Jordanian schools
This mixed methods research led by Dr Linda Morrice (Reader in Education and Migration) and funded by Queen Rania Foundation examined access to quality education and how schools can promote social cohesion among Syrian and Jordanian students. The research contributes directly to the Centre for International Education (CIE)'s work on the role of education in conflict affected areas, and on improving equitable access to education for all. It highlights the importance of quality education and pedagogical approaches which foster social cohesion and wellbeing among refugee and host community students, and the support needs for teachers to implement these approaches in practice.
Recognition of outstanding contribution
Janet Boddy, Professor of Child, Youth & Family Studies in the Centre for Innovation and Research in Childhood and Youth, was elected a new Fellow of the Academy of Social Sciences. Nominees are elected only if it is clearly demonstrable that they merit the esteem of their peers for the excellence of their work and their championing of social science. Janet's research focuses on family lives and services that impact on children and families. She also has a long-standing interest in research ethics and governance.
New website to support research on global inequalities
Research by Dr Marcos Delprato, Lecturer in International Education at the Centre for International Education (CIE), highlights education inequalities from low-income countries by using various quantitative approaches. His new website supports more refined geographic assessments of educational inequalities.