Education and development in the Global South and the diaspora is the main focus of CIE. Our aim is to undertake research and provide a knowledge hub, insights and findings related to the concerns of lower income countries in different parts of the world seeking to enhance their development. Over the last 20 years, CIE has grown to become one of the largest and most highly rated academic groups of its kind in the UK, with a reputation as a leader in its fields of study and as a centre of excellence.
CIE offers a friendly, supportive and challenging environment in which to debate development issues, theoretical perspectives and methodological positions related to education and development. Its staff support the MA in International Education and Development and approximately 30 doctoral candidates on the PhD in Education course.
From 2015, we are running a 60 credit undergraduate Pathway in International Education & Development taken as four 15 credit modules that provide an excellent grounding in the field for any student across the University to complement your main degree. These modules can also be taken individually as one-off electives. See Frequently asked questions for details about electives and pathways and when and how to register for them.
Don't Miss ...
South Africa Discussion Group hosted by CIE & the Centre for African Studies
Date: Monday 6 March
Time: 1-2.30pm
Venue: Room 119, IDS
Speaker: Hayley MacGregor, IDS Fellow
Title: Chronic Lifelong Conditions: Challenges for health policy and reengineering primary health care in South Africa
__________________________________________________________
See all CIE events taking place during the spring term: CIE Spring Events 2017 [PDF 151.17KB]
CIE at Winter Graduation 2017
Check out the latest CIE Annual Report and Newsletter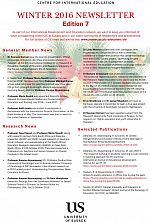 CIE Winter Newsletter: 2016 [PDF 1.45MB]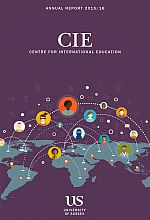 CIE Annual Report: 2015/16 [PDF 7.86MB]