Education and development in the Global South and the diaspora is the main focus of CIE. Our aim is to undertake research and provide a knowledge hub, insights and findings related to the concerns of lower income countries in different parts of the world seeking to enhance their development. Over the last 20 years, CIE has grown to become one of the largest and most highly rated academic groups of its kind in the UK, with a reputation as a leader in its fields of study and as a centre of excellence.
CIE offers a friendly, supportive and challenging environment in which to debate development issues, theoretical perspectives and methodological positions related to education and development. Its staff support the International Education and Development MA and approximately 30 doctoral candidates on the Education PhD course.
Undergraduates may want to consider complementing their studies with additional 'elective' modules (15 credits each) or 'pathways' (60 credits) in International Education and Development. Details can be found under Customise your course.
MAIED students visit UNESCO, Paris
A group from the International Education and Development MA (MAIED) visited UNESCO headquarters in Paris over the Easter holiday (26 March 2018).
The visit included three presentations explaining the background and aims of UNESCO, education in crisis, teacher development, and UNESCO's role in bridging the humanitarian and development divide.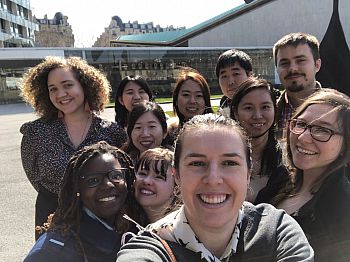 The Sussex students thoroughly enjoyed interacting with UNESCO staff and the topics covered, particularly as the latter offered an insight into the practical application of what they are learning on their course, as well as into potential career choices post-graduation.
The group also met the NGO-UNESCO liaison committee to learn more about the role that civil society organisations play in promoting the work of UNESCO.
Thanks to some spring sunshine, the vsist culminated in a picnic in front of the Eiffel Tower.
Featured publication
Delprato, Marcos and Chudgar, Amita (2018): 'Factors Associated with Private-Public School Performance: Analysis of TALIS-PISA link data'. International Journal of Educational Development. (Accepted)