Outplacement
Job Search Essentials Career Transition programme. A guide to your Job Search Essentials Career Transition programme with LHH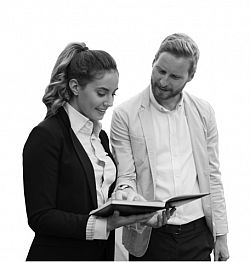 Welcome to LHH, we are the UK's leading career transition company working closely with the University of Sussex to make sure that you have the skills, resources and confidence to find a new role quickly and effectively.
With over 50 years' experience in outplacement, and working with over 30,000 people in the UK each year, we can help you think about your next career move and get you to your new future faster (our analysis shows 50% faster than going it alone). This is a chance for you to take a step back and think about what you really want. Are you thinking about jumping straight back into the same kind of work, or have you wondered about a different career? Or maybe starting your own business? You may be reflecting on retirement options or considering retraining for a career shift.
Everyone choosing voluntary severance will be entitled to their own career transition programme, which will help them to identify and secure their next career move, by providing expert advice and guidance on creating a standout CV and LinkedIn profile, job search, self-employment or transitioning to retirement through talking to our consultants and accessing webinars, online tools, platforms and resources.
Video transcript

Hi my name is Jonny Bartlet. I'm your representative from LHH, the career transition provider to the University of Sussex. This video is to give you a brief introduction to who we are, the services available as part of this program, and finally, how it works in getting started.

So, firstly, LHH is the UK and global leader in career transition services. This is also known as outplacement. We specialise essentially in helping you to take the next step in your career whatever that might be, whether that's going into a similar type of role and organisation, going into something completely different - perhaps needing to retrain in the process - it could also mean exploring other types of employment such as part-time work, interim, starting your own business or becoming an independent contractor.

We can also help you to smoothly transition into retirement as well. The services available as part of this program are in a three-month package and within that time you will receive access to the following: first you'll get access to our specialist consultants who can help you with your CV and Linkedin.

They'll be able to provide you advice on those two things to help get you off to the best possible of starts in your search. You will also have access to our career consultants who will be on hand to provide career advice and support with the service, and you'll be able to ask them questions when you wish throughout the program.

You will also have unlimited access to our live webinars that will be running throughout the programme on a huge range of different topics relating to the different directions you can go into - and these will be run by our specialist consultants. So there's a huge amount of opportunity there to explore lots of different options. You will also have premium access to our Career Resource Network which is our online portal. There are a huge range of different types of resources there such as on-demand videos, guides and different types of tools such as our interview simulator or CV builder. You will also be able to access premium databases such as an business information database and learning platforms such as LinkedIn learning. You will also get access to the Digital Talent Exchange which is a platform that we created to help make connections to to hiring organizations. So that will help to facilitate those connections. When your program ends you will still get access to the vast majority of the on-demand services on the portal so there will still be some continued support. Getting started with the service is very straightforward.

Should your application be accepted and you go ahead with voluntary severance, then your HR team will give you further information about the service and when it will get started. I will also be running some live webinars which will give you further information about the service and give you an opportunity to ask any questions that you might have. When it comes to the point that you are refered across to us, we will then reach out to you directly to let you know about the service and give you the opportunity to take up the support after this point you will have six months in which to commence your full program. At the end of the six months we will automatically start your program if you haven't already taken it up. So I hope this is being helpful to you. As I mentioned, we'll give you more information as time goes on and I look forward to working with some of you in the near future. All the best.

Take care.
How it will work

Following your request to take up career transition support, you'll be informed by HR colleagues when you've been referred to LHH. You can begin your three month programme at any time during the following six months.
LHH will contact you directly and provide you with information to contact us to sign up.
Programme summary

Consultant on call
You will receive telephone support from a team of expert career transition consultants. Supporting with questions about your job search and guidance with your programme resources.

Attend virtual classrooms and webinars
Join a huge range of virtual sessions designed to increase your job search skills and prepare you for the job market. Other sessions include advice on self-employment, retirement, using social media and advice on dealing with change and building resilience.

CV and LinkedIn profile development
Help with creating your market-ready CV.

Connections to roles
Access to unpublished job leads and connections to roles through LHH's Digital Talent Exchange platform.

Access to the Career Resource Network
A career portal with recorded webinars, online tools to undertake self-assessments, build a CV from scratch, practice interview technique as well as premium databases and platforms such as LinkedIn Learning with access to over 15,000 e-learning modules and training opportunities through General Assembly. Available throughout your three month programme.

Alumni access
After your programme ends, you will receive continued lifetime access to LHH portal with on-demand resources.
Helping you pursue any career path
Helping you pursue any career path
similar job
career shift
entrepreneur / self-employment
retrainng / education
retirement options
portfolio career
exploring all options.


Where are you now?

want something different
want stability
need a break
don't know what you want
change and fear of the unknown
too many options

Building awareness

Taking stock.
Assessment links (CRN).
Career decisions.
Values and anchors.
Satisfiers and dissatisfiers (CRN).
Transferable skills.
SOAR/STAR stories.
Managing your career transition.

Creating your Marketing toolkit

Exit statement.
Positioning statement.
CV.
LinkedIn.
Target marketing list.
Personal branding.

Implementing your search

Research.
Networking conversations.
Job market awareness.
Personal Resilience and Mindfulness.
Interview prep (CRN interview centre).
Job search work team.

Managing the transition

Interviews.
Negotiation.
Career focus and evaluations.
First 90 days.
Ongoing careers management.
Continuing professional development (CPD).

Workshops, seminars and webinars
Support for every need.
Core workshops

Navigating Change
Managing Your Career Transition
Your Job Search Roadmap
Values and Anchors
Financial Planning
Career Decision
Managing Resilience
Networking
Personal Branding
LinkedIn (Basics)
LinkedIn (Professional)


A PDF describing each item will be published soon.

Job search

CV Fundamentals
Marketing Plan
Working With Recruiters
Successful Interviewing
Vocal Confidence
Body Language
Top 40 Interview Questions
Video and Telephone Interviews
Negotiating Offers
Social Media for Career Management
First 90 Days


A PDF describing each item will be published soon.

Alternative careers

Portfolio Careers
Interim Management
Managing Later Life
Financial Planning for Later Life


A PDF describing each item will be published soon.

Self-employment

Starting Your Own Business: Part 1
Starting Your Own Business: Part 2
Starting Your Own Business: Consulting, Contracting and Freelance
Social Media for Starting Your Own Business
LinkedIn for Starting Your Own Business


A PDF describing each item will be published soon.

Tools and soft skills

Procrastination
Mind Mapping for Beginners


A PDF describing each item will be published soon.

Wellbeing

Introduction to Mindfulness
Managing Sleep with Mindfulness
Managing Energy with Mindfulness
Managing Stress with Mindfulness
Taking Care of You with Mindfulness


A PDF describing each item will be published soon.

Networking events

Career Explorer
Creative and Media Networking Group
Creative and Media Networking Group
Cross Sector Networking Group
Financial Sector Networking Group
HR Sector Networking Group
Manufacturing/Supply Chain
Energy Transition and Utilities
Marketing Sector Networking Group
Pharmaceutical Sector Networking Group
Retirement Networking Group
Sustainability and Environmental Social Governance
Technology Sector Networking Group


A PDF describing each item will be published soon.

LHH Career Resource Network (CRN)
A career portal with the tools and information candidates need to succeed.
Easy login using LinkedIn or Facebook.
Live and on demand webinars.
Research tools that target opportunities.
Gamification.
Support choices of career tracks.
Millions of job openings.
Professional courses to build skills.
Mobile apps and job notifications.

Connections to job opportunities
LHH provides many opportunities to link to employers
The Digital Talent Exchange
Individuals will be made visible to hiring managers through our proprietary Digital Talent Exchange. As well as housing all LHH candidate profiles, it provides access to our entire universe of job postings and the unique information our teams gather on each organisation we establich a relationship with.
Ella- AI powered career agent
Ella is an artificial intelligece powered Digital Career Agent thatn helps people create a profile in minutes and then immediately starts emailing daily job leads to them based on their criteria. She also stores the preference of hiring managers and sends them relevant candidate info as soon as it's available.