Full news listing
University of Sussex Marathon runners raise £34,000 to fight disease
More than 100 runners from the University of Sussex took part in the Brighton Marathon and 10K events on 9 April, raising nearly £34,000 to help fight disease.
Staff, students and alumni ran to raise money for the Preventing Podo campaign, which supports the University's research into podoconiosis (or 'podo') – a debilitating disease that affects millions of people in the world's poorest regions.
The money will fund the work of Professor Gail Davey and her colleagues at Brighton and Sussex Medical School (BSMS), the global hub for research into the condition.
Podo causes sufferers' legs and feet to swell up, meaning that they are unable to work and face being ostracised from society, yet the illness is entirely preventable and treatable.
Professor Davey joined other Sussex runners in the 10K event, crossing the finish line in 48.24 minutes. She said: "I had great fun, and the turnout was brilliant – I was thrilled to see so many runners wearing Preventing Podo T-shirts."
She wore a special costume during the event to highlight her cause – a giant foot. She explains: "The money we've raised will help us to provide appropriate footwear to podo sufferers, as well as teaching them how to treat the disease themselves."
The fastest Marathon runner in the Preventing Podo team was Sussex graduate Callum McGregor, with a finish time of 03.06.42 hours.
The fastest 10K runner was Ben Loxton from the University's Development and Alumni Relations Office, who finished in 46.51 minutes.
Ben said: "Taking part in the 10K race for Preventing Podo was an amazing experience. Knowing you're running for such a worthy cause is incredibly motivating, and the crowd, volunteers and other runners made it something really special."
Sussex's fundraising efforts were supported by Brighton's Small Batch Coffee Company, who fielded three of their own runners on the day.
Alan Tomlins, one of the co-founders of Small Batch, as well as the company's Head of Digital and Marketing Nick Barlow and barista Aaron Green all took part in the 10K event.
Alan and Nick first met 16 years ago as students at the University of Sussex and Nick explains that it meant a lot to be supporting his alma mater for this particular campaign.
"Podo affects people across the globe but very often in coffee growing regions and particularly in Ethiopia, the home of coffee.
"Alan has travelled to Ethiopia quite a few times to buy coffee and it's somewhere that's close to our heart, so we jumped at the chance to work with Sussex to help prevent podo."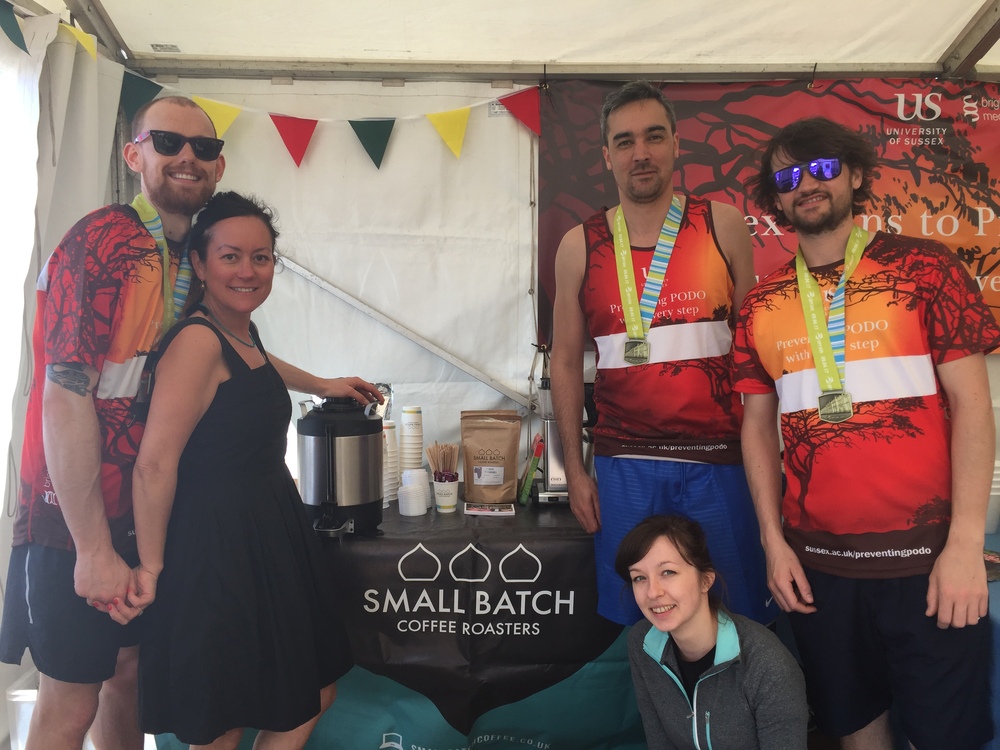 The team from Small Batch, including (L-R) 10K runners Aaron Green, Nick Barlow and Alan Tomlins.
Alan, Head of Coffee at the company, added: "The race went better than expected, and I ran a personal best, which I'm happy about!
"This is a cause that really relates to what we're doing with Small Batch. It's fantastic that we can work with Sussex researchers who are at the cutting edge of treating this disease."
Elsewhere, more than 40 volunteers from the University of Sussex operated a water station at Mile 14 of the Marathon, handing out refreshing drinks to runners.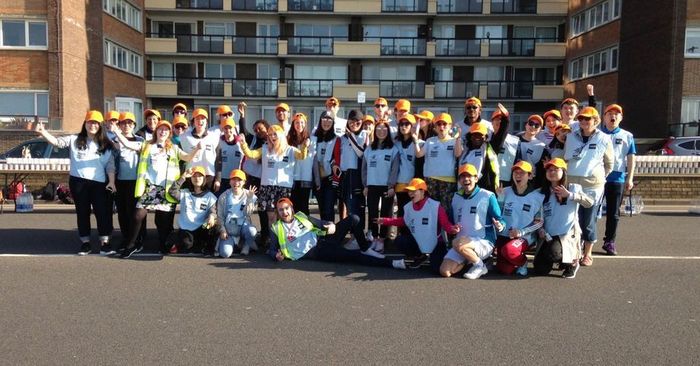 More than 40 volunteers from the University of Sussex helped out at a water station at the Brighton Marathon.
Charlie Stringer, a volunteer at the water station, commented: "It's been quite emotional watching all the runners going round the course.
"It was lovely to see everybody so enthusiastic – both runners and the people helping out – and it's a really good thing to be a part of."
The Preventing Podo campaign is aiming to raise a total of £50,000, enough to provide treatment for 3,300 podo sufferers for a whole year. If you've been inspired by our University of Sussex runners and volunteers, click here to lend your support.
---