Our students and staff consistently push the boundaries of their fields through new discoveries, and have their achievements recognised with awards and project prizes.
Recent Achievements
Student Phoebe Valentine wins Junior Research Associate poster competition
Phoebe Valentine was awarded the top prize for her research poster "How to Measure a Coffee Splat" in the Junior Research Associate (JRA) poster competition. The judging panel noted that the poster 'made a brave decision to present a theoretical problem in such a way as to engage both experts and the wider audience, via coffee, often a key source of fuel for researchers'
The JRA Scheme offers undergraduate students the opportunity to work on an eight-week research project over the summer months. Participants work alongside academic supervisors and PhD mentors, produce valuable outputs, and contribute to cutting-edge research across academic disciplines.
The scheme culminates in a research poster competition where students showcase their work and celebrate the end of their research projects. Eighty Sussex undergraduates took part this year, representing all nine Schools and BSMS.
From blackboard to food bowl - how mathematics is helping to feed the growing global population
Working alongside a team of biologists, mathematicians Dr Konstantin Blyuss and Dr Yuliya Kyrychko helped to develop a chemical-free and organic-friendly alternative to pesticides that increases crop yields by up to 60 per cent.
Among the most urgent challenges facing the world today is how to feed our growing global population. And with the climate crisis increasingly triggering unpredictable weather patterns affecting crop production, it is clear that this is a problem we must tackle.
It's a source of hope, therefore, that two mathematicians have successfully modelled an environmentally friendly and pesticide-free way to boost crop production. Dr Konstantin Blyuss and Dr Yuliya Kyrychko worked alongside biologists at the National Academy of Sciences of Ukraine to design a chemical-free way to curtail the crop-killing activity of parasitic worms called nematodes.
Their modelling helped develop natural biostimulants that significantly increase crop yields, and are compatible with organic farming. These biostimulants are now used by major organic farming businesses in Ukraine.

Visit Mathematics Research to find out more.
BSc Mathematics student Rachel Dickerson wins the MacQuitty Prize for the Sciences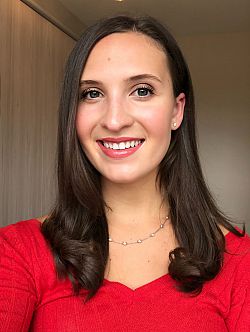 The MacQuitty prize is awarded each year by Dr Jonathan MacQuitty (Sussex PhD 1979) to the highest performing undergraduate student studying mathematics, biology, technology, science or psychology. Inspired by the generosity of his own family to support him through his doctoral studies, Dr MacQuitty's prize of £10,000 aims to give the winning student financial flexibility as they enter their postgraduate career, whatever that may be. The prize money can be spent in any way they wish, whether it be to start a business, to donate
to charity, to travel, to continue their education or to pursue a passion.
"I feel extremely privileged to be the winner of the MacQuitty Prize for the Sciences. It is an honour to be a part of such a legacy. Whilst I was completing my A-levels, my dad passed away suddenly, leaving behind just me and my mum. At that time, I thought a university education was out of the question for me. Luckily, my mum encouraged me to still pursue an academic path and the University of Sussex has been such an amazing place to do that. I have loved studying maths and it has helped me start fresh. I never imagined that I would achieve as much as I have and receiving the MacQuitty prize has taught me to believe in myself. Thank you to Dr Johnathan MacQuitty for such a generous contribution which I will use for training that will enable me to become an educator myself."
Find out more about our
prizes for undergraduate Mathematics students
.
Our mathematicians are helping to predict which areas will flood next
Predicting which areas of land will flood is a tricky business. And it's a challenge which is going to become more urgent as our planet experiences more erratic weather patterns caused by the climate crisis. Fortunately, mathematicians are helping us to meet this challenge.
Dr Omar Lakkis
, a Reader in mathematics at Sussex, has been working with environmental assessment company Ambiental – which provides advice to government agencies and the insurance industry – to improve its predictions of where flooding would occur.
Lakkis says he was was keen to help Ambiental find a solution."Flooding is devastating. And in the UK, it is the greatest natural hazard we face. In other countries, people endure earthquakes, hurricanes, tornados or wildfires. For us, flooding poses real peril.
"A UK Government report found that flooding, and managing it, costs the UK about £2.2 billion each year. So accurately predicting where flooding occurs is important both commercially and also to the individuals in those places."
Lakkis is now looking at solving new challenges, such as how to predict the impact of rainfall patterns, vegetation cover and climate-change related shifts of patterns on flood risk.
He concludes: "As a mathematician, I like to think that I'm contributing to the world. Often in mathematics, we're happy to be able to solve a problem, like a Rubik's cube. We solve it; we're happy. We often do maths because it's fun. We like the challenge because it's difficult not because it's useful. But often solving a maths problems turns out to be also useful.
"I'm very much concerned about our planet and the climate crisis. I cycle to work, I compost food waste – all of these practical things. But until now, I've not used my mathematics to improve our life and our prospects. So it was rewarding to be able to use sophisticated mathematics - which I've spent many years learning and improving for something so useful as dealing with the weather."
Visit Mathematics Research to find out more
Sussex Teaching Award for Dr Mick Taylor

Teaching Fellow Dr Mick Taylor won a Sussex Teaching Award for "better world" for his fantastic work engaging in the local community with The Hummingbird Project.

Founded as a grassroots organisation in Calais, The Hummingbird Project are a charity working locally across Sussex with young refugees & campaigning nationally. Based in Brighton since 2017, they provide a range of services developed around the needs of young people. Mick is their Education Lead and has been running weekly education support sessions, which offer young refugees 1-1 and small group maths and English support from specialist teachers.

Mick was presented with his award at the University of Sussex Education Awards. Acclaimed broadcast journalist Clive Myrie hosted the lively ceremony at the Attenborough Centre for the Creative Arts, where 17 trophies were presented to the winners.

Mathematicians recognised by the National Academy of Sciences of Ukraine

Two Sussex mathematicians were recognised for their scientific achievements by the National Academy of Sciences of Ukraine.

At a Day of Science event held in May 2019 in Dnipro, Ukraine, Dr Yuliya Kyrychko and Dr Konstantin Blyuss were awarded Letters of Gratitude by the Prydniprovsky Scientific Centre of the National Academy of Sciences of Ukraine and of the Ministry of Education and Science of Ukraine.

This award, which is the highest award that can be given by the Scientific Centre, recognises significant long-standing contributions to a particular branch of science.

The Day of Science is an annual event organised by the National Academy of Sciences of Ukraine in its regional scientific centres and major cities.

Professor Anatolii Bulat, the President of the Prydniprovsky Scientific Centre and the Full Member of the National Academy of Sciences of Ukraine, highlighted in particular the scientific achievements of Dr Kyrychko and Dr Blyuss, as well as their contribution to developing research collaborations with the Prydniprovsky region of Ukraine.

Dr Kyrychko received the award "for her substantial scientific contribution to the development of theory of delayed differential equations and their applications to modelling engineering and biological systems".

Dr Blyuss was recognised "for his substantial scientific contribution to the development, analysis and practical applications of mathematical models of biological systems, and, in particular, RNA interference".

Breakthrough for Dr Blyuss on non-toxic pest control which doesn't harm bees

Dr Konstantin Blyuss, Reader in Mathematics has been working with biologists at the National Academy of Sciences of Ukraine and has developed a chemical-free way to precisely target a parasitic worm that destroys wheat crops.

This breakthrough method of pest control works with the plant's own genes to kill specific microscopic worms, called nematodes, without harming any other insects, birds or mammals.

Dr Blyuss said: "With a rising global population needing to be fed, and an urgent need to switch from fossil fuels to biofuels, our research is an important step forward in the search for environmentally safe crop protection which doesn't harm bees or other insects."

An estimated $130 billion worth of crops are lost every year to diseases caused by nematodes.

Targeting the harmful nematodes with chemical pesticides is problematic because they can indiscriminately harm other insects.

There are naturally occurring bacteria contained in soil which can help protect plants against harmful nematodes, but until now there has not been an effective way to harness the power of these bacteria to protect crops on a large scale.

Dr Blyuss and his colleagues have used 'RNA interference' (RNAi) to precisely target a species of nematode that harms wheat.

Dr Blyuss explained: "A nematode, as all other living organisms, requires some proteins to be produced to survive and make offspring, and RNA interference is a process which stops, or silences, production of these."

The team has developed a method to 'silence' the harmful nematode's genes by using biostimulants derived from naturally occurring soil bacteria. The biostimulants also 'switch off' the plant's own genes that are affected by the nematodes, making it much harder for the parasite to harm the crop.

The gene silencing process is triggered when biostimulants, which are metabolites of bacteria occurring naturally in the soil, are applied to wheat. The biostimulants can be applied either by soaking the seeds or roots in a solution containing the biostimulants, or by adding the solution to the soil in which the plants are growing.

Dr Blyuss said: "By soaking the seeds of the plant in the solution of biostimulants, the plant becomes a 'Trojan horse' for delivering special compounds produced inside the plants to the nematodes, which then kills them. We've targeted the specific genes of the nematode, so we know this won't affect other creatures."

The biostimulants only affect specific nematode and plant genes, and do not harm other species of insects. And because they are naturally occurring, rather than made of chemicals, they could potentially be used by organic farmers to make organic food more affordable in future.

Dr Blyuss' mathematical modelling explains how RNA interference works in plants and shows the most effective way to apply the biostimulants to keep the crop safe from the harmful nematodes.

The team's experiments show that soaking the seeds of the plants in the biostimulant solution increases the chances of the plants surviving by between 57 to 92%. The technique also reduces the level of nematode infestation by 73 to 83% compared to plants grown without biostimulants.

Explaining the research, Dr Blyuss said: "By using mathematical models, we learned how biostimulants are absorbed by wheat plants, so we now know the best way to deliver them. We've also looked at how the RNAi develops inside the plants and nematodes, how the plant is able to switch off specific genes involved in the process of nematode parasitism, thus stopping infestation, and how parts of RNAi from plants, when ingested by nematodes, cause their death by silencing some of their essential genes.

"These insights were combined with advanced experimental work on developing new strains of soil bacteria and extracting their metabolites, as well as with state-of-the-art molecular genetics analyses, to develop a new generation of environmentally safe tools for control of wheat nematodes.

"Some people are wary of genetically modified plants, so it's important to be clear that that is not what this is. Biostimulants effectively act as an 'inoculation' against nematode infestation. They achieve their effect by mobilising plants' internal machinery to produce compounds that protect plants against nematodes, while simultaneously causing nematode death.

"The plants produced using biostimulants have much better crop yields and higher resistance to pests, but they are no different from other plants that have been artificially bred to have some useful characteristic. Moreover, the biostimulants themselves are truly natural, as they are nothing else but products of bacteria already living in the soil. "

The breakthrough is published in a paper in the journal Frontiers in Plant Science. Dr Blyuss's collaborators in Ukraine, who come from three different research institutes, were Professors Victoria Tsygankova (Institute of Bioorganic Chemistry and Petrochemistry), Liudmyla Biliavska and Galyna Iutynska (Institute of Microbiology and Virology), Alla Yemets and Yaroslav Blume (Institute of Food Biotechnology and Genomics).

Prof Galyna Iutynska, who led the experimental work on development of biostimulants, said: "This work is very exciting because our biostimulants are obtained from products of naturally occurring soil bacteria, which are not genetically modified. The importance of this is that unlike chemical pesticides, these biostimulants can also be used to protect a variety of agricultural crops against parasites in the context of organic farming, which is a particularly challenging problem. Furthermore, these biostimulants can replace chemical pesticides or significantly reduce their use, thus limiting potential negative impact on the environment."

The next steps are to develop more advanced mathematical models of how biostimulants with multiple components can be taken up from the soil by both seeds and roots; and to identify which of the most recently identified genetic targets in the nematode are most effective.

Professor Dave Goulson from the University of Sussex's School of Life Sciences, and a global expert on declining bee populations, said: "There is growing awareness that the heavy use of conventional pesticides in farming is causing great harm to biodiversity, resulting in pollution of soils and waterways with harmful toxins. We urgently need to find alternative, sustainable means to control crop pests."

Dr Blyuss's work was supported by the interdisciplinary Data Intensive Science Centre at the University of Sussex (DISCUS).

Mathematics undergraduate student awarded coveted scholarship by Brighton technology company

Brighton-based global technology company, Paxton, awarded its scholarships for 2019.

As a sign of its commitment to investing in the local community and in young talent, the company offered scholarships to four students from the University of Sussex and the University of Brighton.

They each received £10,000 towards their university fees, plus a three-month paid work placement at Paxton where they took part in technology research projects that formed the final year project of their degree course.

Mathematics student Connie, 19, from Haywards Heath, said: "I genuinely couldn't believe it! I will class this as one of my greatest achievements of my three years at uni. The scholarship will give me first hand experience in the tech industry, which will be great for teaching me further applications of my degree."



Based in Brighton, Paxton designs and manufactures intelligent security systems enabling controlled access to buildings like residential blocks, schools, gyms, hospitals and high-prestige facilities such as Manchester United's Old Trafford stadium and Sky Deutschland.

The Paxton Scholarship is open to students studying engineering and product design-related courses.

In 2019, the programme was expanded to include an additional place and was also open to the University of Sussex for the first time.

The students were selected after attending an open day at Paxton's state-of-the-art-technology centre in November, an assessment day and interview.