We focus on how animals and plants evolve and interact with their environments.
We have an established reputation for collaborative and interdisciplinary approaches to teaching, research and impact.
Our Biological Sciences research (as submitted to UoA 05 – Biological Sciences) was assessed overall to be 35% 'world leading' (4*) and 59% 'internationally excellent' (3*). In particular, over 90% of research outputs, 100% of impact cases and 100% of our research environment were assessed as 3* or 4* in the most recent Research Excellence Framework (REF 2021).
Our areas of interest

Much of our teaching and research covers the following:

How changes in developmental gene networks lead to evolutionary novelty
The role of natural selection in molecular evolution
Cooperation, conflict and organization in social insect colonies
Mechanisms underlying animal behaviours, including navigation, visual perception, escape behaviour and collective decision-making
Ecology of animal and plant communities including tropical rain forests, temperate grasslands, pollinators and individual species
Assessing the effectiveness of conservation interventions and informing conservation policy for biodiversity and ecosystem services

Who we work with

We have strong ties with other research groups at the University of Sussex, such as Neuroscience and Informatics. We also collaborate with scientists in a wide range of external organisations including the Mammal Society, Bumblebee Conservation Trust and UN Environment World Conservation Monitoring Centre. We also have formal links with Royal Botanic Gardens, Kew.

Current funding comes from a range of sources including UK Research Councils, the European Union, the Royal Society, charities, foundations, governments and industry..

Where we work

Our research and teaching takes us across the world: From Spain to Scotland and Ecuador to Egypt, we run a number of overseas fieldtrips every year.

We also work closer to home: We are situated in the Brighton and Lewes Downs UNESCO Biosphere, next to the South Downs National Park and close to Brighton's coast. A perfect location to study British wildlife.

Our facilities

Constant environment rooms
Greenhouses
Facilities for chemical analysis of contaminants
Molecular lab
Ant room
Apiaries

Our courses
Contact Us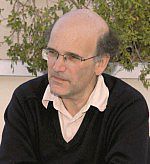 Professor Daniel Osorio
Head of Department
E: D.Osorio@sussex.ac.uk
T: 01273 877440