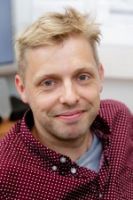 Prof
Paul Graham
Biography
During a Psychology degree I became interested in Artificial Intelligence, specifically the prospect of capturing aspects of biological intelligence by mimicking insects. This led to a PhD at Sussex with Prof Tom Collett, where we have studied spatial cognition in ants. Following my DPhil I completed BBSRC, Leverhulme and RCUK postdocs before becoming a Reader in 2012.
Role
Reader, Evolution Behaviour and Environment, School of Life Sciences
Community and Business
I am a firm believer that, as a University, we should engage with the public - especially schools. Consequently a key departmental role is as a provider of workshops for schools visits, I am also the organiser of the Biology Experience Days for Year 12s.
I have regularly represented the University at the Brighton Science Festival and have also presented at the prestigious Royal Society Summer Science Festival.
Further details of outreach resources can be found here.