Sussex Research Hive
Apply to be a SAGE Research Hive Scholar 2016-17

The Library, in partnership with the Doctoral School and SAGE Publications, is offering three SAGE Research Hive Scholarships to support the Research Hive and the needs of the research community at Sussex. Each scholarship attracts a fixed bursary of £3,250 for a ten month duration: from the start of September 2016 to the end of June 2017.
Find out more at: www.sussex.ac.uk/doctoralschool/internal/applyhivescholar
The Sussex Research Hive is the Library's designated area for researchers, open to all doctoral researchers and research staff. It provides private study areas, bookable meeting rooms and space for discussion and collaborative work.
SAGE Publications have given funding to support both the Research Hive and the Library's innovative work in engaging with the research community at Sussex. Further information is available from the University's press release.
Three Research Hive Scholars support the area, engaging with researchers at Sussex to find out what they want from their community, and planning events in response. Events for 2015-16 include regular Shut Up and Write sessions and a continuation of the popular, peer-led Doctoral Discussions seminar series. Follow the Research Hive on Twitter and read their blog to find out about the latest events and when the Scholars are available.
As part of their roles, the Research Hive Scholars evaluate use of the space and make recommendations for its future development. Please send any feedback about the areas to the Scholars: researchhive@sussex.ac.uk.
Sussex Research Hive Scholars 2015-16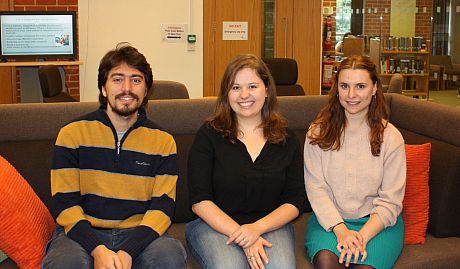 Felipe Antunes de Oliveira

I am a second year Doctoral Researcher at the School of Global Studies – Department of International Relations. My research challenges mainstream theories of development, focusing specifically on the false promises of neoliberalism and neodevelopmentalism. I am very interested in Latin American history and culture, as well as contemporary critical theories of International Relations and Global Political Economy. As a Hive Scholar, I am keen to meet other PhD students from different subject areas and exchange research ideas, or simply chat about PhD life in Sussex. You will normally find me reading in the Hive by the end of the day. At Friday evenings I am always up for a pint.

Cathrin Yarnell

I am a second year PhD student in Art History, interested in the collaborative work of the 20th century French artist André Masson. My research focuses especially on the illustrated books that were the products of Masson's recurring collaborations with the writers Louis Aragon, Georges Bataille, and Michel Leiris. Of particular interest is the extent to which Masson adapted (or refused to adapt) his style to reflect the goals of the writers with whom he was working, as well as the commercial demands of their publishers.

I also work as a Factory Project Cataloguer at the V&A once a week. As a Hive Scholar, I'm really looking forward to helping other doctoral students at Sussex connect with one another, and with the resources available on campus. Please feel free to get in touch if you would like to have a chat, or have any thoughts on how we can better support our research community!

Katherine Da Cunha Lewin

I am a third year PhD researcher in the department of English. My research focuses on the contemporary novel and the work of Samuel Beckett, Don DeLillo and J. M. Coetzee. I am interested in images of emptiness, fullness, and movements inward, considering what questions these formulations ask about the signification of the contemporary novel. I am interested in developing the support networks for PhD students to foster a positive and productive environment on campus. I am from and based in London, so am particularly interested in helping out those students who may not always be able to make it to campus and finding new ways of connecting people.
Hive calendar of events