Sussex Research Hive
The Sussex Research Hive is the Library's designated area for researchers, open to all doctoral researchers and research staff. It provides private study areas, bookable meeting rooms and space for information discussion and collaborative work.
SAGE Publications have given funding to support both the Research Hive and the Library's innovative work in engaging with the research community at Sussex. Further information is available from the University's press release.
Three Research Hive Scholars support the area whilst engaging with and fostering the research community at Sussex. The Scholars are on hand in the Hive to talk about the support available to researchers and to find out what users want from their research community. These hours are advertised in the Research Hive and on the events calendar at the bottom of this page.
As part of their roles, the Research Hive Scholars evaluate use of the space and make recommendations for its future development. Please send any feedback about the areas to the Scholars: researchhive@sussex.ac.uk.
Follow the Research Hive on Twitter and read their blog to find out about the latest events and when the Scholars are available.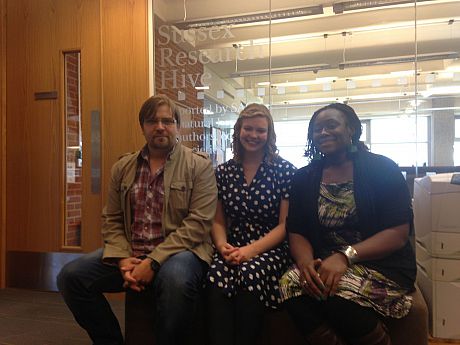 Rachel Gimson
Hello! I am a third year full time law PhD student. My research assesses the role of the defendant in crimes that unfold in the media and considering the impact of this on their due process rights. I also teach undergraduate land law, for my sins. Feel free to come find me or stop me if you see me, I am always looking for new friends!
U. Ejiro O. Onomake
I am in my last year of the PhD programme in the anthropology department; my research examines the agency of Nigerians in relationships between Chinese and Nigerians in business and educational settings. Before coming to Sussex I worked in both private and public sectors and lived in in the United States, Japan and China. As a Hive scholar it is my pleasure to serve as conduit between researchers across campus as well as link between researchers and sources that can help you as throughout your careers. I look forward to seeing you around campus and in the Hive.
Jack Zeniewski
When I was born in Toronto in the early eighties I could not walk, talk or even brush my own teeth. I have come a long way since. I have made ads for ten years while also directing and producing a number of films. Now I am doing a PhD about the convergence of advertising and documentary film. Who would have thought it?