Marking the conclusion of Tim Hopkins' five-year AHRC Fellowship in the Creative and Performing Arts, CROMT hosted a two-day programme of exhibitions, discussion and performance-in-progress reflecting on uses of digital media in relation to opera.
Creativity Zone, June 22/23 2012
("Astonished and somewhat terrified" - Sir Arthur Sullivan's recorded response to a demonstration of the new Edison phonograph in 1888).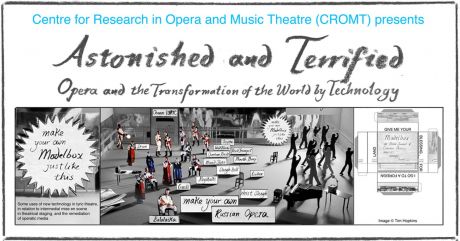 The Poet faces a choice: his writing or getting his dead lover back. He dreams of the Underworld where he meets the characters of his past and his imagination. He must choose between love and creativity.
This new opera was worked on during Autumn 2011 and Spring 2012 towards a full scoring for a cast of five singers and ensemble (The New Music Players) with live electronics. Composed by Ed Hughes.