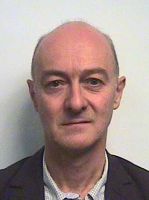 Prof
Nicholas Till
Post:
Director and Leverhulme Research Fellow (Centre for Research in Opera and Music Theatre)
Other posts:
Professor of Opera & Music Theatre (Centre for Research in Opera and Music Theatre, Music)
Location:
SILVERSTONE EDB 216
Email:
N.Till@sussex.ac.uk

Telephone numbers
Internal:
8693
UK:
01273 678693
International:
+44 1273 678693

Research expertise:
download vCarddownload vCard to your mobile
Biography
I am a historian, theorist and practitioner working in opera, music theatre and related cross-disciplinary arts.
I studied History and Art History at Cambridge (BA/MA), and then worked professionally in theatre for fifteen years. I was awarded a doctorate in music by the University of Surrey in 1999 for my book Mozart and the Enlightenment (1992). In 2004 I joined the Music Department at Sussex from Wimbledon School of Art in London, where I was Course Leader for the MA in Scenography, and also taught history, theory and practice in theatre, visual art, film and video, also having taught theatre studies at Queen Mary, University of London.
During my career as a theatre and opera director I worked for most of the main UK opera companies, and was also responsible for a number of independent premieres, including the first UK productions of Viktor Ullmann's Terezin opera The Emperor of Atlantis (Imperial War Museum, 1985) and Cavalieri's sacred drama La rappresentatione di anima e di corpo of 1600 (London International Opera Festival, St Martin in the Fields, 1989). I have worked as a writer and director of new works for the English National Opera Studio, Royal Opera Garden Venture, Stuttgart Opera, Festival Rhizome Rennes, DMCE Paris, etc. I have also worked as a director of community and education projects in music, opera and theatre for Glyndebourne Opera, National Theatre, Barbican Centre, Royal Opera, English National Opera, etc. In 1986 I mounted what is now recognised to have been the first large-scale devised community opera project in the UK, commissioned by two London boroughs and presented in Covent Garden Piazza with 200 performers. I have also published widely about the theory and practice of education and community arts.
I have worked extensively as a broadcaster for radio and TV, contributing to review programmes such as Front Row and Nightwaves, writing and presenting talks, features and documentaries for Radios 3 and 4, and acting as consultant and presenter for the TV documentary 'The Great Composers: Mozart" (Omnibus, BBC 2, 1997).
Since 1998 my artistic activities have included work as co-artistic director of the experimental music theatre company Post-Operative Productions, working in both performance and audio-visual installation. The work of Post-Operative Productions was discussed on the BBC Radio 3 arts programme Nightwaves in 2003, and in 2004 the company was shortlisted for the Samuel Beckett Award for experimental theatre. Our 2007 installation 'The National Taste' was commissioned by English Heritage for Picture House at Belsay Hall in Northumberland, along with works by the Brothers Quay, Mike Figgis, and John Byrne and Tilda Swinton.
My theatre work is discussed in two chapters entitled 'Per un teatro post-operistico. Adorno, Badiou, Till'' and 'Nicholas Till e l'(anti)manifesto' in Francesco Ceraolo's Registi All'Opera: Note sull'etstetica della regia operistica, published by Bulzoni (Rome) in 2011, which includes a complete translation into Italian of my 2004 manifesto for a post-operatic music theatre entitled "I don't mind if something's operatic, just as long as it's not opera".
I have taught at institutions such as the Royal College of Music, Britten-Pears School Aldeburgh, Cal Arts (Los Angeles) and Stanford University. In 2001 I was Visiting Professor in Opera at UCLA (Los Angeles), in 2006 I gave the Neumann Lectures at the University of Richmond in Virginia, and in 2014 I was a visiting professor at the University of Malta and the University of Amsterdam.
I am editor of The Cambridge Companion to Opera Studies, published in October 2012. 'In both the clarity of its organization and the uniformly high standard of the individual essays, this is an outstanding collection.' Times Literary Supplement
I am Director of the Centre for Research in Opera and Music Theatre, and I hold the first Chair in Opera and Music Theatre in the UK.
Between 2009-2012 I was Director of Doctoral Studies for the School of Media, Film and Music. Between 2012-2015 I held a Leverhulme Major Research Fellowship to undertake research for a book on early opera and early modernity.From January 2016 I will be Director of Research for the School of Media, Film and Music.
Mozart and the Enlightenment. Extracts from reviews.
'To his remarkable study of Mozart and Mozart's operas he brings not only musical sensitivity and knowledge, but also wide reading and research into the history and culture of the 18th century. His study of the Enlightenment exemplifies the Enlightenment's own project of trying to unify the fragmented world of knowledge, and see the world as a whole... Brilliant and searching, the depth of Till's research into the cultural context of the operas, and the originality of his interpretations, ought to banish for ever some of the sillier and shallower descriptions of these works. An exceptional book that illuminates both the composer and his epoch.' Anthony Arblaster, The Guardian.
'An erudite mix of music, history, philosophy, biography, sociology, and even depth psychology adding up to a triumphant study of Mozart's supreme masterworks...Few books provide such a satisfying exploration of the thoughts and feelings from which great art is born. The subtlety and richness of Till's argument cannot be conveyed by precis: A feast for the intellectually adventurous.' Kirkus Review, USA
'A dazzling tapestry of history and interpretation...The attraction of this book is that it situates Mozart the man within the cross-currents and contradictions of 18th-century thought without ever losing sight of Mozart the artist, who held it all together in immaculate, seductive synthesis.' James H. Johnson, Times Literary Supplement.
'One of the most substantial reconsiderations of the man and his music to have been published for some time... The panoply of scholarship Mr Till unfolds in his analysis of the relationship of words to music, bringing in most of the Enlightenment philosophers and writers, is awe-inspiring, as is his knowledge of the reforms of the Emperor Joseph II and the whole contemporary Viennese scene.' Michael Kennedy, Sunday Telegraph.
'This is a masterly and wonderful book. It is born out of a deep love for Mozart the phenomenon, the human being, the creator. His spiritual and social context is brought to life in a wonderfully painstaking but never dull way; one full of imaginative insight. His creative fire, which often seems in biographies like a sort of cometary flash from nowhere is made to seem comprehensible as part of his age and time but not explainable in terms of it. It is a book that demands work and effort but so much the better for that. Truly excellent.' S.Moore, Amazon Customer Review.
'On third reading, this book reveals yet more riches; seemingly inexhaustible. There is hardly any aspect of culture that is not drawn in perceptively to form a context for Mozart's genius and character and in order to illumine his work and career... One cannot really review so wonderful a book as this, only offer a thank you to Nicholas Till and stand in awe before the enormous work and thoroughness and the inspiration which his labours mediate.' 'Starlight'. Amazon Customer Review.
'This is one of the best books I've ever read. It is endlessly fascinating, and eminently readable'. 'Magid', Googlebooks review.
Role
Professor of Opera and Music Theatre.
Director of The Centre for Research in Opera and Music Theatre
Director of Research and Knowledge Exchange, School of Media, Film and Music.
Community and Business
I regularly give talks at opera, theatre and music events in the UK and Europe, and contribute frequently to TV and radio arts programmes.