After a long hibernation, the Gardner Centre is being brought back to life as the Attenborough Centre for Creative Arts, an interdisciplinary arts hub for the University of Sussex and the wider community.
The University's strategic plan, Making the Future, which will guide the University to 2018, defines Sussex values to include Excellence, Interdisciplinarity, Engagement, Challenge, Partnership and Professionalism.
These values will be manifest in pursuit of the goals laid down by plans for the Attenborough Centre for Creative Arts, which include innovative research and scholarship, inspirational teaching and learning, enhancing the student experience and engaging with the community.
The Centre will build on and enhance interdisciplinary research and teaching, which are core to the University of Sussex's mission. It will bring together researchers and students from many areas – drama, music, creative writing, media, cultural studies, art history, business studies, philosophy, cognitive science, design and engineering – to engage with a wide range of artistic methods, mentors and projects.
A dynamic and exhilarating cultural focus for our campus and wider community will be created by giving faculty and students space to pursue research; housing residencies for artists; engaging with festivals; hosting conferences, workshops and exhibitions; staging music, live performances, film and media events; and encouraging learning through creative and experimental activity.
The Centre is named in honour of our former Chancellor, Lord Attenborough, and as a memorial to his daughter and Sussex alumna, Jane Attenborough, a leading arts professional, who tragically died in the Boxing Day tsunami of 2004. Theatre director Michael Attenborough, likewise an alumnus, sits on the Centre's International Advisory Group.
The Centre will build on the legacy associated with Lord Attenborough of liberal values, radical action, empowerment, and a passion for the humanities animated through performance, film and media.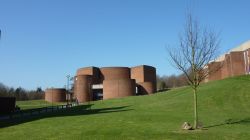 Internal Construction Begins!
Photos of the removal of the auditorium floor, February 2014
Stage D Photos
Attenborough Centre model images