Ion Quantum Technology at Sussex
Welcome to the web page of the Ion Quantum Technology group at the University of Sussex, Brighton, UK. The group is headed by Prof. Winfried Hensinger. Our aim is to develop new quantum technologies, in particular, the ion trap quantum computer. For this purpose our research focuses on applied experimental quantum information science and development of new scalable methods to build ion trap arrays and the next generation of large scale entanglement. We are in the process of constructing a quantum simulation engine and a large-scale trapped-ion quantum computer. Another research area is the development of quantum sensors. The group is part of the UK Quantum Technology Hub on Networked Quantum Technologies and the UK Quantum Technology Hub for Sensors and Metrology. The group is part of the Sussex Centre for Quantum Technologies.
More information about our research, grouped by different target groups, can be found in the Research Section. Here you can find videos, explanations, interviews with current students and other useful information.
You can also go on a Virtual Lab Tour exploring our labs and the technology we develop. A good summary of our research in quantum computing can be found here.
The Frontier of Computing
General News
Researchers from the University of Sussex and Universal Quantum have demonstrated for the first time that quantum bits (qubits) can directly transfer between quantum computer microchips and demonstrated this with record-breaking speed and accuracy. This breakthrough resolves a major challenge in building quantum computers large and powerful enough to tackle complex problems that are of critical importance to society.
Science News
We show how one can make use of a wide range of quantum control methods to raise fidelities and robustness of two-qubit gates with trapped ions.
The paper was published on 27 September 2022 in Journal of Physics B: Atomic, Molecular and Optical Physics.
Manuscript: Quantum Control Methods for Robust Entanglement of Trapped Ions.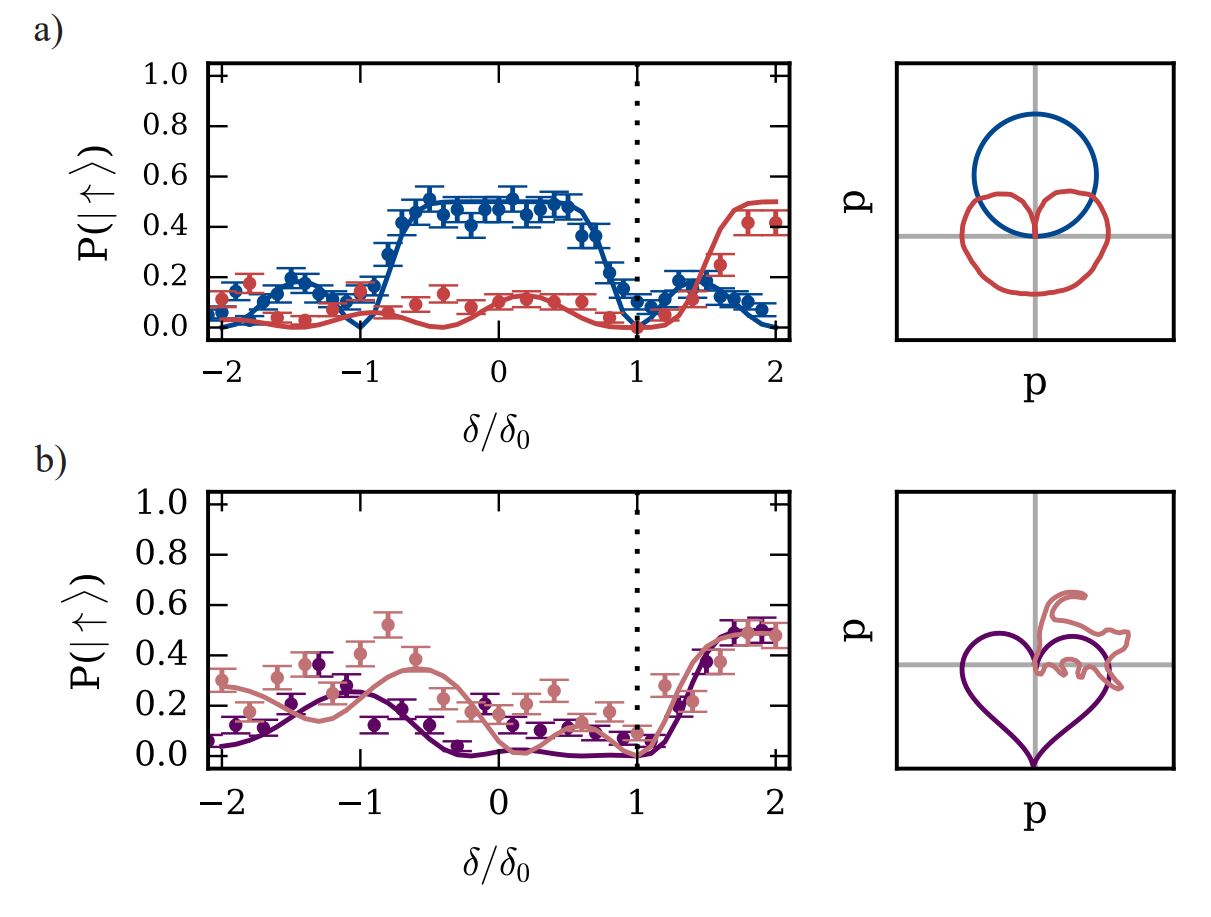 We present the demonstration of a quantum matter-link in which ion qubits are transferred between adjacent QC modules. Ion transport between adjacent modules is realised at a rate of 2424 1/s and with an ion-transfer fidelity in excess of 99.999993%. Furthermore, we show that the link does not measurably impact the phase coherence of the qubit. The realisation of the quantum matter-link demonstrates a novel mechanism for interconnecting quantum computing modules. This achieves a key milestone for the implementation of modular quantum computers capable of hosting millions of qubits. Published on 8 February in Nature Communications.
University of Sussex Press Release
Manuscript: A High-Fidelity Quantum Matter-Link Between Ion-Trap Microchip Modules
We have determined how a quantum computer could break the encryption of Bitcoin and simulate the FeMo-co molecule, a crucial molecule for Nitrogen fixation. We show that in certain situations, architectures with considerably slower code cycle times will still be able to reach desirable run times, provided enough physical qubits are available. Four years ago, we estimated that a trapped ion quantum computer would need a billion physical qubits to break RSA encryption equating to a size 100m2. With innovations across the board, the size of such a quantum computer would now just need to be 2.5m2.
The paper was published on 25 Jan 2022 in AVS Quantum Science.
Manuscript: The Impact of Hardware Specifications on Reaching Quantum Advantage in the Fault Tolerant Regime
Press release: Sussex Scientists Reveal how Quantum Computing can Break Bitcoin and Help Tackle World Hunger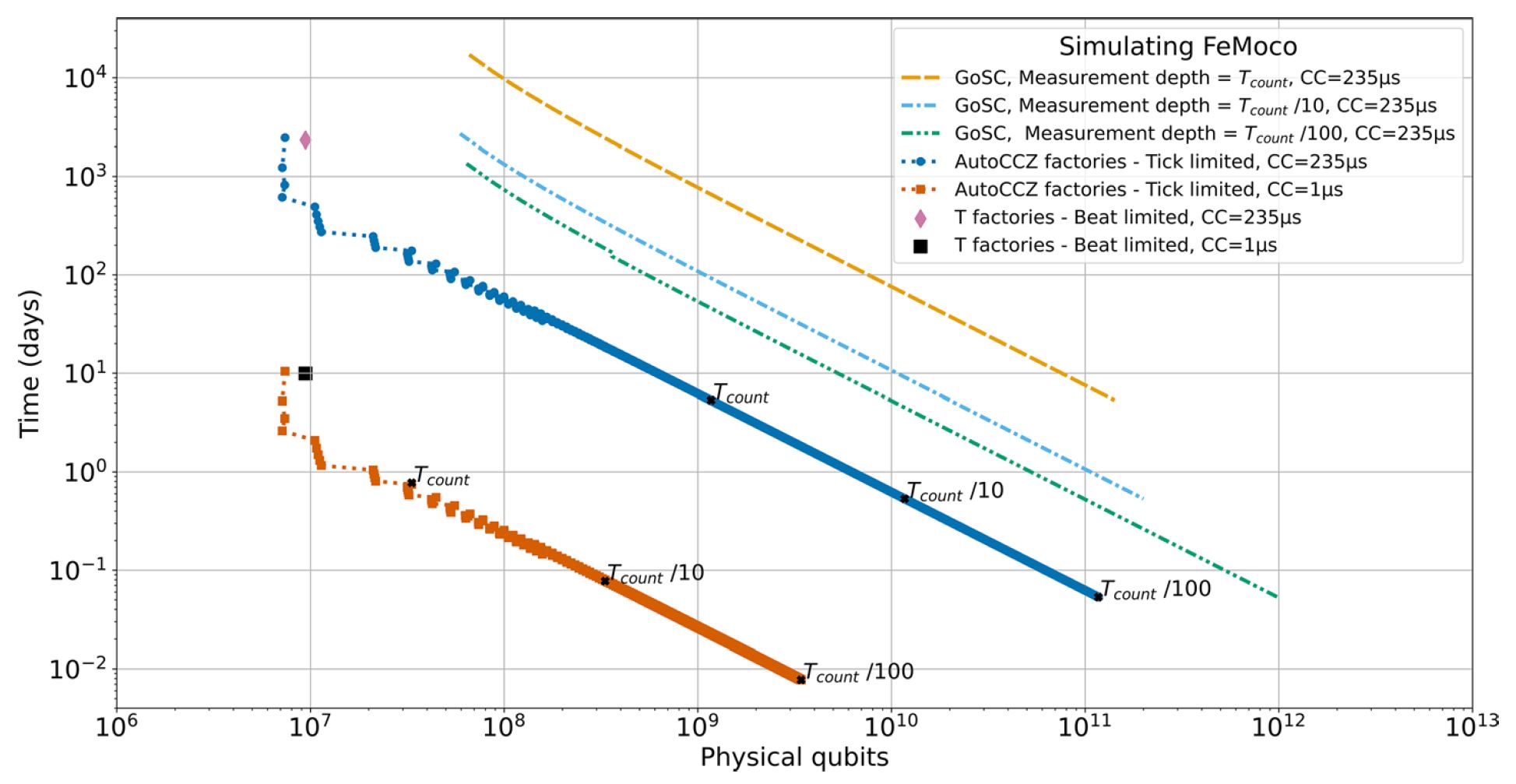 We propose a new microwave gate which uses the intrinsic J-coupling of ions in a static magnetic gradient. The gate is virtually insensitive to common amplitude noise of the microwave fields and enables high fidelities despite qubit frequency fluctuations, while the J-coupling interaction's inherent robustness to motional decoherence is retained. Errors far below the fault-tolerant threshold can be achieved at high initial temperatures, negating the requirement of sideband cooling below the Doppler temperature.
Manuscript : Robust Entanglement by Continuous Dynamical Decoupling of the J-Coupling Interaction
Microfabricated ion-trap devices offer a promising pathway towards scalable quantum computing. Addition of on-chip features, however, increases the power dissipated by components such as current-carrying wires and digital-to-analogue converters (DACs). Presented here is the development of a modular cooling system designed for use with multiple ion-trapping experiments simultaneously enabling efficient cooling to 70K while provide significant and scalable cooling power.
Manuscript: A Scalable Helium Gas Cooling System for Trapped-Ion Applications
Ion trap microchips form the core of many quantum technologies, in particular, the trapped ion quantum computers. We provide an overview of state-of-the-art microfabrication techniques, as well as various considerations which motivate the choice of materials and processes. Finally, we discuss current efforts to include advanced, on-chip features into next generation ion traps. Our paper has been published in Nature Review Physics, June 2020.
Manuscript: Engineering of Microfabricated Ion Traps and Integration of Advanced On-Chip Features
Building a practical quantum computer with large numbers of qubits will require quantum gates that are robust in the presence of fluctuations in operational parameters. In addition, motional heating of trapped ions will lead to a reduced entangling gate fidelity. (more…)
We introduce a powerful technique to transform all existing two-level quantum control methods to new multi-level quantum control methods. We illustrate the technique by coherently mapping between two different qubit types with error well below the relevant fault-tolerant threshold, creating another important tool towards constructing a large scale quantum computer. (more…)
We unveil the first industrial blueprint on how to build a large-scale quantum computer. The work features a new invention permitting actual quantum bits to be transmitted between individual quantum computing modules in order to obtain a fully modular large-scale machine. The work is published in Science Advances. (more…)
We describe a new approach for trapped-ion quantum computing based on the application of global radiation fields and voltages applied to individual gate zones. Using this technique we demonstrate a two-qubit quantum gate producing a maximally entangled state with fidelity close to the fault-tolerant threshold. This quantum gate also constitutes a simple-to-implement tool for quantum metrology, sensing and simulation. (more…)
Article on the principles and operation of microfabricated ion traps including material considerations, a guide to the appropriate fabrication design, details of different fabrication processes and a summary of previously realized structures, published in Contemp. Phys. (14 Sept. 2011).
Single ytterbium ions are trapped in an experimental setup particularly designed for the development of advanced ion trap chips. This setup allows for rapid turn-around time, optical access for all type of ion trap chips and up to 100 electric interconnects. The particular ion trap used features an ion – electrode distance of 300 microns and we observed an ion life time of more than 1 hour.
September 06
Measurement of motional decoherence scaling for an ion trap with moveable electrodes, demonstrated significant suppression of patch potential heating, demonstrated ion trap with 23 microns ion-electrode spacing in experiments at the University of Michigan published in Physical Review Letters.
Efficient photoionization of neutral atoms with pico- and nanosecond pulses for loading ion traps.
Experiments carried out at the University of Michigan reporting first two-dimensional shuttling operations including corner-turning and swapping two ions inside a T-junction published in Applied Physics Letters.
Integrated ion chip experiments at the University of Michigan published in Nature Physics.