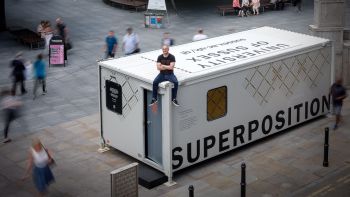 The University of Sussex won both gold and silver at the national HEIST Awards for education marketing in Manchester on Thursday 12 July.
In the category of 'best community/business engagement campaign', the University's delivery of a powerful public engagement event for Quantum Technology received a gold award.
In August 2017, Sussex staff invited members of the public to join them in an innovative pop-up lab in London's Spitalfields Market to learn about the University's cutting-edge work to build the world's first large-scale practical quantum computer..
The project was led by Head of Campaigns, Sarah Ross, in conjunction with Professor of Quantum Technologies, Winfried Hensinger.
Sarah said: "This project was a brilliant creative collaboration with Professor Hensinger and his team, as well as many other colleagues from across the University. I'm really pleased that everyone's work on the project has been recognised at the HEIST Awards."
Judges cited the 'innovative and creative' project as a 'fantastic example of how research can be commercialised and a great project to get the subject of Quantum Physics to the heart of the financial centre.'
Sussex's community festival project was also shortlisted in this category.
The University's 'Let's change things' campaign won silver in the category of 'best undergraduate student recruitment initiative'.
The 'powerful and effective marketing campaign' incorporated new confident messaging, distinctive design and photography, and more focused targeting of potential students – including on public transport and at competitor open days. It received praise from judges for demonstrating real results and a wider impact beyond recruitment.
The campaign was led by Head of Marketing, Katy Hiles. Katy said: ""These awards are a reflection of what we are already capable of as a division. It makes me feel immensely proud of us all, and really ambitious for our future."