Welcome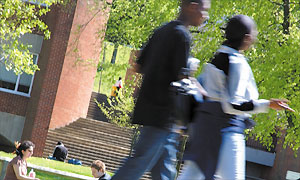 Welcome to the University of Sussex Online postgraduate application system. Thank you for choosing to apply to the University of Sussex for your postgraduate programme.
Applying for one (or more) programmes at the University of Sussex involves carrying out a number of steps. The system will guide you through each of these steps, which you do not have to complete all in one go. You can save your progress and come back to complete further stages by logging in using your email address and password.
In order to keep track of your application, we need to first set you up with an account. Please use the "Sign Up" feature at the bottom of the screen to set up your account. You will be required to enter some basic information, including your email address and to choose a password. We will then send you an email to the address you entered, so that we can validate your account. When you have clicked on the validation link (sent to you in the email), you will be able to log in to the application system using the "Login" box below.
Login
If you are a returning applicant, please enter your email address and password. You need to click on the Login button to proceed.
Forgot your password?
Are You A New User?
If you would like to apply to the University of Sussex for a Postgraduate programme, your first step should be to complete the sign up form.
This will create an account which will allow you to track your application through its various stages.
Contact onlineapplications@sussex.ac.uk, if you require additional help or would like to comment on our online application service.