Every year, the Development and Alumni Relations Office organises a programme of events, at home and abroad, for our alumni, supporters and wider community to create new opportunities for you to keep in touch with us and each other.
Organising your own reunion?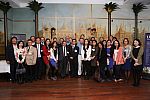 Organising a reunion with your former class mates is the perfect way to get back in touch and celebrate your student days!
We appreciate that organising a reunion can seem quite daunting, so the Sussex Alumni Relations team is here to help and put you in touch with your fellow graduates.