How do nervous systems sense the world and generate behaviours? How do circuits of neurons process information? And how can we treat diseases that interfere with these processes? Answering these questions is a challenge that involves disciplines from molecular biology to engineering and psychiatry to computer science.

At the University of Sussex, there are over 50 research groups working on these questions, and this community is represented by Sussex Neuroscience. Our aim is to further world-class research that will help us understand the nervous system in both health and disease.
Tom Baden wins Eppendorf Award for Young European Investigators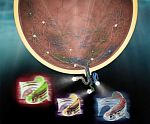 Dr Tom Baden, School of Life Sciences, has won the 2017 Eppendorf Young Investigator Award for his outstanding contribution to our understanding of circuits and synaptic computation in the retina.
One award is presented each year to a European researcher under the age of 35 who has made an exceptional contibution to biomedical science, based on molecular biology methods.
Tom recently joined Sussex Neuroscience as a Senior Lecturer in Neuroscience. His work examines visual information processing of natural inputs. "We are excited to provide a functional roadmap of how light entering the eye and impinging on millions of photoreceptor neurons ultimately results in a highly processed and parallelised representation of the visual world to be sent to the brain," says Tom. "I am deeply honoured by this award, which recognises a long-standing team effort." The award ceremony will take place in Heidelberg on June 22nd.