BEng (Hons), 3 years, UCAS: H300
Typical A level offer: ABB-BBB
Subject overview
Why engineering?
Science and technology have the potential to benefit society – engineers realise this potential. Society depends on the reliability and continued development of engineering systems, which is why the role of the engineer is so important.
There is a wide range of sectors employing engineers, covering critical areas such as transport, sustainable power generation and distribution, healthcare, communications and manufacture. These diverse sectors will appeal to you if you like to know how things work and want to make them work better – faster, more quietly, more cleanly, more efficiently – and if you like the challenge of real, practical problems and finding innovative solutions to them.
Why engineering at Sussex?
We offer degrees in automotive, computer, electrical, electronic and mechanical engineering. Our courses are based on a common first-year core, offering you the flexibility to change degrees if you wish.
Engineering at Sussex was ranked in the top 20 in the UK in the Complete University Guide 2015.
You will be taught and supervised by research-active academics: we were rated 14th in the UK for 'General Engineering and Mineral and Mining Engineering' research in the 2008 Research Assessment Exercise (RAE). 95 per cent of our research was rated as recognised internationally or higher, and 60 per cent rated as internationally excellent or higher.
All of our engineering courses are currently accredited by professional institutions under licence from the UK regulator, the Engineering Council, and either the professional Institution of Engineering and Technology (IET) or the professional Institution of Mechanical Engineers (IMechE).
We have strong links with industry, which you benefit from through industrial advisors on our curriculum, industrial support for our research, and sponsored prizes and projects.
Laboratory and project work use industry-standard computer-aided design software and circuit design, simulation and virtual instrumentation systems.
Our Year 4 MEng students are able to undertake a substantial interdisciplinary project, which mimics work in industry. For example, producing an entry for the Formula Student competition – a unique experience bringing together a team of specialists in all engineering disciplines.
For information about industrial placement opportunities during your studies, refer to Department of Engineering and Design: Student placements and Professional placements.
MEng or BEng?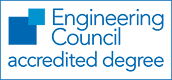 All of our engineering courses are currently accredited by professional institutions under licence from the UK regulator, the Engineering Council. For more information, visit the Engineering Council.

All our electrical, electronic and computer engineering courses are currently accredited by the professional Institution of Engineering and Technology (IET). Completion of an MEng course ensures that you have met the full educational requirements for chartered engineer status. For more information, visit The Institution of Engineering and Technology.

All our mechanical and automotive engineering courses are currently accredited by the professional Institution of Mechanical Engineers. Completion of an MEng course ensures that you have met the full educational requirements for chartered engineer status. For more information, visit the Institution of Mechanical Engineers.
The fourth year of the MEng courses has specialist technical modules that reach a higher level than the final year of the three-year BEng. The MEng is for those who wish to become chartered engineers and to aim for leadership positions as early as possible in their careers.

The three-year BEng courses are for those looking for a good grounding in engineering to equip them for a range of careers and who either want to get into industry quickly or to take a more technical approach after graduation with a specialist MSc course – which can also lead to chartered engineer status.

The four-year MEng courses have higher entry requirements but BEng students who make good progress are offered the opportunity to transfer into MEng courses up until the end of Year 2.
Course content
Mechanical engineering is one of the broadest of all engineering disciplines. It is concerned with the design and manufacture of products and with the conversion, control, transmission and storage of energy in machinery, transportation and power plants. A mechanical engineer's work will often be supported by computer techniques for design, drawing, modelling and simulation. We offer industry-standard software so you can develop your skills in this area. Typical examples of coursework exercises include the use of a computer simulation to analyse the stresses and strains in a given structure, or the production of a 3D-rendered image of a design for the purposes of modelling and manufacture.
Many mechanical systems are now controlled by, or interfaced with, electronic systems. There is an increasing demand for engineers who understand enough of both disciplines to be involved in the design of hybrid systems, for instance a car with an electronic engine management system. This course provides both the specialist mechanical modules and the fundamental electronic and computing knowledge that will enable you to lead multidisciplinary teams in the future.
From a broad base in Years 1 and 2, you can choose to specialise through your options in Year 3 in either practical topics, such as engine technology and heat transfer applications, or theoretical topics, such as computational fluid dynamics and finite element analysis. An extended individual project in Year 3 allows you to integrate everything you have learned with the project management skills you have developed to investigate a mechanical engineering topic of your choice in real depth.
We continue to develop and update our modules for 2014 entry to ensure you have the best student experience. In addition to the course structure below, you may find it helpful to refer to the Modules tab.
Core content
Year 1
Year 1 ensures that you have a good grounding in the fundamentals of engineering and the flexibility to transfer between courses if you wish. Topics include electrical circuits and devices • electromechanics • engineering mathematics • mechanics and properties of materials • programming for engineers • thermodynamics. In addition, you study a project-based module focusing on either electrical/electronic engineering or mechanical/automotive engineering, as appropriate
Year 2
You continue to develop your mathematics knowledge and are introduced to the principles of signal processing and feedback control. You also study the key professional skills required for accreditation – project management, technical communication, risk and professional ethics
The specialist modules cover topics such as finite element modelling • fluid mechanics • power cycles • structural mechanics. An interdisciplinary workshop-based module, bringing together engineers and product designers, introduces you to the techniques of design, manufacture and prototyping
Year 3
The major component of Year 3 is a two-term individual project with associated training in project planning and management. In addition, each course offers a range of core modules and options, allowing specialisation in the relevant subject areas. In electrical engineering, these include control engineering • electrical drives • electrical power systems. In electronic and computer engineering, they cover computer networks • digital communications • high-frequency circuits and devices • micro-processor systems • sensor systems. In mechanical and automotive engineering, you undertake a design and manufacture group project culminating in a presentation to judges from industry. In addition, you can study topics in computational fluid dynamics • dynamics of machines and vehicles • engine technology heat transfer • sensor systems
How will I learn?
Engineering at Sussex is based on strength in the practical application of engineering principles. The Department has been congratulated by external reviewers on the use it makes of team-based project work.

There are many ways to acquire skills – from taught sessions (such as lectures and problem classes) and laboratory assignments to projects and independent and computer-based learning. In addition, the first-year and foundation-year timetables include one-hour small-group tutorials.

Individual topics are offered for third-year projects, arising from the extensive industrial and scientific research in the Department, from industrial contracts, and from student suggestions. National businesses and professional institutions sponsor prizes for the best projects each year.

As members of a general engineering department, our Year 4 MEng students are able to undertake a substantial interdisciplinary project often linked with an industrial organisation.

For more information, visit Studying at Sussex.
What will I achieve?
If you work hard, you will earn a well-respected degree, opening the door to the career you want and equipping you to succeed in it. In particular, you will acquire:
a thorough understanding of, and the ability to apply, the mathematical and scientific concepts required to become an engineer
the ability to analyse and design conceptual and practical solutions to engineering problems
the ability to employ industry-standard computational tools and computer-aided design packages
an understanding of business management skills and techniques required to manage projects and balance risks, costs, reliability and environmental impact
research skills that provide a framework for innovative and creative thinking in order to generate and test systems and designs. You should be able to analyse resulting data and determine their validity using computational tools and packages
interpersonal, communication and teamworking skills you will need as you progress along your chosen career path.
Please note that these are the modules running in 2014.
Electrical Circuits & Devices
15 credits
Autumn teaching, Year 1
Topics covered on this module include:
DC circuits: Ohm's law
Kirchhoff's laws, node and mesh analysis
Thvenin's theorem, Norton's theorem, superposition principle
AC circuits: inductance (L) and Capacitance (C)
sinusoidal steady-state, phasors
Energy dissipation and storage
Frequency response of R-L, R-C and R-L-C circuits, resonance
Transient response of R-L, R-C and R-L-C circuit
Operational amplifiers: inverting,non-inverting and differential amplifiers
integrators and differentiators
simple filters
Semiconductor devices: diodes, junction transistor as a switch, Boolean algebra, Karnaugh maps, Combinational logic
Simple circuit applications: rectifiers.
Electromechanics
15 credits
Spring teaching, Year 1
Topics covered by this module will include: magnetic fields of currents and coils; magnetic materials; magnetic circuits; induced EMF; inductance; transformers; magnetic forces, permanent magnets and electromagnets; moving-coil devices; DC motors; and AC machines and 3-phase systems.
Engineering Maths 1A
15 credits
Autumn teaching, Year 1
The module will be taught using the Helping Engineers Learn Mathematics (HELM) resource.

The module will include thorough revision of A level Maths topics, particularly:
differential calculus
integral calculus
algebraic manipulation of functions
vectors
matrix algebra, including determinants
eigenvalues and eigenvectors
Then new material:
complex numbers
further differentiation, integration, partial differentiation
curves and functions.
Engineering Maths 1B
15 credits
Spring teaching, Year 1
Line, surface and volume integrals
power series expansions
first-order and second-order ODEs with constant coefficients
differential vector calculus - div, grad, curl, other coordinate systems
multiple integrals.
Engineering Mechanics
15 credits
Spring teaching, Year 1
This module will cover:
Force, moment of a force: static equilibrium, plane trusses, centroid, friction, introduction to statically indeterminate systems, superposition and introduction to buckling.
Kinematics of particles: linear motion of a particle, curvilinear motion and characteristics of the motion in various systems of reference.
Kinematics of rigid bodies: translation, rotation about a fixed axis, plane motion and characteristics of a general motion.
Kinetics of particles and rigid bodies: application of Newton's second law, moments of inertia, impulse-momentum equation, angular momentum, impact, work-energy equation, dynamics of a rigid rotating about a fixed axis and dynamics of a rigid in plane motion.
Vibrations of single degree of freedom systems
Engineering Thermodynamics
15 credits
Spring teaching, Year 1
Fundamental Concepts: Fluid properties, work, heat, temperature, properties of a gas from the ideal gas law.
1st Law of Thermodynamics: The equivalence of work and heat, concepts of thermodynamic systems and boundaries, internal energy, enthalpy. Applications to non-flow and steady flow processes, an introduction to thermodynamic cycles, Bernoulli's equation.
2nd Law of Thermodynamics, entropy and the concept of reversibility and the Carnot cycle.
General Thermodynamic relations (Maxwell)
Application of thermodynamic principles to simple engine cycles (Otto, Diesel & Joule).
Properties of vapours with specific reference to the use of the steam tables. Application to simple Rankine and refrigeration cycles.
Properties of mixtures with specific reference to the measurement of humidity.
Dimensional Analysis. Buckingham's theorem and derivation of some basic dimensional groups (e.g. Reynolds number and skin friction coefficient).
Heat Transfer: use of the basic laws for simple problems in conduction, convection and radiation.
Global Design Challenge
0 credits
Spring teaching, Year 1
This module provides you with an opportunity to participate in the Engineers without Borders (EwB) Challenge. You work in interdisciplinary teams of 5 or 6 to develop design solutions from project briefs provided by EwB. Project briefs will address real-world, sustainable development projects proposed by EwB partner organisation embedded in communities around the world. In this way, you are brought into contact with novel problems from real communities and are required to consider both the technical and cultural dimensions of a design problem in arriving at an appropriate solution.
The module is project-based with weekly, facilitated workshop sessions and further support from EwB UK. As part of the 'Challenge', teams attend dedicated, weekly 2 hour workshop classes during which they are expected to work through and complete a range of structured activities, from initial choice of project brief through appropriate research to development of a design concept fulfilling the brief. Trained project mentors facilitate the workshops to help teams through the process and to ensure that they meet progress goals. Assessment is based on the quality of a short, group presentation and group portfolio put together during the workshops. The best projects may be put forward to the national EwB Challenge final.
The module is pass-fail and does not contribute to student credit.
Materials and Manufacturing Processes
15 credits
Autumn teaching, Year 1
This module will cover topics including:
Approaching engineering problems from first principles: the practice of formulating and modelling a problem and applying relevant concepts to describe and study system behaviour; and critical evaluation of solutions to engineering and design problems
Introduction to materials and material science: principal characteristics and applications of plastics, metals, composites, ceramics and natural materials; and historical and recent developments in material science with respect to design and engineering applications
Introduction to atomic and macroscopic level properties of materials: key chemical, electrical, mechanical, thermal, environmental and manufacturing properties of materials; how material properties arise from atomic level interactions; and atomic bonding, the basic force/separation curve and the development of the stress/strain relationship
Introduction to behaviour of materials under load: introduction to forces and basic types of loading cases; stress and strain curves; mechanics of materials under axial tensile and compressive forces stress concentrations; and introduction to design stresses and factors of safety
Selection of materials: basic methods of material selection and use of software in material selection
Engineering failures typical failure mechanisms of materials such as fatigue, creep, crack growth and corrosion; and case studies of engineering failures with respect to material selection and design
Introduction to manufacturing processes: casting, moulding, forming, machining, joining, rapid manufacturing and 3D printing; correct machine shop working practice and related health and safety considerations; practical lathe or milling exercise to understand feeds and speeds, operation, parting off, surface finish, tool selection and cutting fluids/coolants; engineering tolerances; and cost of manufacture and materials and related design considerations
Programming for Engineers
15 credits
Autumn teaching, Year 1
This module introduces you to the following topics:
compiling and linking
constants, variables, data types and conversion
operators and expressions
program structure and pseudocode
selection and repetitive statements
functions
recursion
pointers
arrays
characters and strings
data structures
file input/output
well-designed programs and testing (software engineering)
introduction to programming paradigms
C and MATLAB (procedural)
MATLAB - Simulink
LabVIEW (graphical programming)
concept of object-orientated programming (C++, Java).
Computer Aided Design and Modelling
15 credits
Spring teaching, Year 2
This module covers:
computer-aided design: construction of geometry in two dimensions and three dimensions and solid models
solid model creation, including parts thro' to assembly and engineering drawing creation
projection onto 2D display screen or paper hard-copy
tools for standard features
solid modelling: basic (primitive) features, combinations and modifications of features
production of drawings to relevant drawing standard, BS 8888 2006
a group design project.
3D modelling and analysis
communication between CAD software
meshing
solvers
verification and validation of solutions
structural modelling
introduction to finite element analysis
finite element analysis software
case studies and application studies.
Design for Manufacture (Level 5)
15 credits
Autumn teaching, Year 2
Engineering Fluid Mechanics
15 credits
Autumn teaching, Year 2
This module covers:
Fundamentals: historical perspectives, fluid properties, concept of pressure
fluid statics: force on submerged surfaces, buoyancy
concepts in fluid flow behaviour:

motion of a fluid particle, mass continuity, laminar and turbulent flow
momentum equation, Navier Stokes equations for simple 2D fluid flow
turbulence and the time averaged equations
steady flow energy equation and its application
applications of the momentum equation to the impingement of a jet on a surface
application to simple wind turbine theory

boundary-layer theory and applications:

velocity profile, skin friction and form drag, dimensionless groups
pipe flow networks, frictional resistance of moving bodies, lift and drag on aerofoil sections

potential flow: stream lines and the stream function for various simple flows (and combinations), the Kutta Joukowski law
compressible flow:

isentropic flow behaviour, total and static quantities, the speed of sound
normal shock wave theory
flow in a convergent-divergent nozzle, compressible flow in a uniform duct with friction, isothermal flow with friction, compressible flow with heat transfer

flow-measuring devices
bulk flow:

Venturi meter, orifice plate, rotameter, vortex and turbine flowmeters
Point measurement: Pitot static tube, hot wire, LDA and PIV.
Engineering Mathematics 2
15 credits
Autumn teaching, Year 2
Polynomials with real coefficients, and roots of polynomials; Continuous-time signals; integrators. Solution of simultaneous equations. Second order differential equations, linear homogeneous, and non-homogeneous; initial and boundary value problems. Laplace transforms and associated theorems; Convolution. Solution of ODEs via Laplace Transforms; The numerical solution of ODEs. Simulating differential equations, phase plane for a second order system.
Vector calculus: grad, div and curl; line, surface and volume integrals; theorems of Gauss and Stokes. Laplace's equation, Poisson's equation, Wave equation. Fourier series and Fourier transforms. Probability: random variables, distribution and density functions, expectations; rms. Normal distribution, Central Limit Theorem. Estimation of parameters: moment and maximum likelihood methods, confidence intervals. Regression: least squares fit, correlation. Quality control: acceptance sampling, reliability, failure rates, Weibull distribution.
Principles and Applications of Strength of Materials
15 credits
Autumn teaching, Year 2
This module will cover:
Internal forces in solids and stress and strain
Biaxial stress and thin-walled pressure vessels
Plane stress and the relationship between stress and strain
Elastic failure criteria
Stress measurement
Beam bending theory, shear force and bending moment diagrams, stresses and deflections in bending, strain energy in bending, indeterminate beams and fundamentals of stiffness method
Buckling
Springs and strain energy in torsion
Dynamic loading
Thick wall cylinders and rotating discs
Elementary plastic design
Professional and Managerial Skills
15 credits
Spring teaching, Year 2
This module covers the technical communication, project and financial management skills, and the understanding of the importance of ethics required of professional engineers. In addition, it encourages a holistic view of the engineering degree programme and how it fits the graduate for their future career. Teaching and learning methods include; specialist lectures on technical communication and careers planning, supported by Study Direct resources and online exercises; lectures and workshops leading to a management group project based on a computer based simulation; and lectures and seminars based around case studies on the application of ethical principles.
Topics covered include:
Technical reports and presentations
Project planning and management
Gantt charts
Financial management and control, cost management, application to projects
Financial models and return on investment
Risk management
Professional ethics
Health and safety
Preparing CVs, Career development
Systems Analysis and Control
15 credits
Spring teaching, Year 2
Step and impulse response of first and second-order systems via Laplace transforms; Transfer functions; Block diagrams. Polynomial and pole zero representations. Frequency response; modelling of simple mechanical and electrical systems; Simple Filters. Control objectives and feedback systems; open loop and closed loop transfer functions; use of Matlab. Error transfer functions; steady state errors; errors to inputs and disturbances, pole-zero diagrams, root locus methods; Bode and Nyquist diagrams; stability via Routh-Hurwitz and simplified Nyquist criterion; gain and phase margins; introduction to PID.
Thermal Power Cycles
15 credits
Spring teaching, Year 2
The module will focus on developing the skills required to analyse heat engine performance (e.g. efficiency, power output, work and heat input) from cycle data.
Steam Power (Rankine) Cycle: beginning with a simple cycle and adding more refinements (feedheating, economiser etc.). Application to electrical power generation where the heat source is supplied by: i) fossil fuel and ii) nuclear fuel.
Reciprocating (Internal Combustion) Engine Cycles: beginning with the ideal Otto and ideal Diesel cycle and then considering the actual cycles that real engines use. The use of engine test beds to generate data for research and development.
Gas Turbine (Joule or Brayton) Cycle: simple, then add intercooler, heat exchanger and reheater. The use of gas turbines for aircraft propulsion (turbojet and turbofan) also the application of gas turbines to electrical power generation. Latest developments with concentrated solar energy as a heat source.
Cooling towers and air conditioning systems.
Refrigeration and heat pump analysis.
Hybrid systems: CHP, steam turbine with gas turbine
Business and Project Management
15 credits
Autumn teaching, Year 3
This module addresses wider business and project management issues that affect the technological and engineering environment. Some of these issues include: principles of strategic management, project management and planning, the business environment, auditing and control, organisational structure, business legislation, resource management, global markets and supply, and forecasting.
Design for Manufacture
15 credits
Autumn teaching, Year 3
This module presents the detailed aspects of the design process including marketing, specification, conceptualisation, embodiment, manufacture and sales. This involves study and practice of: the practicalities of specification, concept generation, concept selection, detailed design, tolerancing, manufacture methods, process capability, types of production and project planning. Skills in machine element selection and design are developed by undertaking a substantial design project. Emphasis is placed on robust design, product development cycle and the design of components to international standards. This module will also involve: group working and project management; CAD, solid modelling, use of CAD tools; problem based learning; and design reviews.
Dynamics of Machines & Vehicles
15 credits
Autumn teaching, Year 3
Topics include: kinematic analysis in two and three dimensions; dynamic equations of motion for rigid bodies in two dimensions (applications toplane mechanisms); equations of motion for a rigid-body in 3D; gyrodynamic effects on rotors; balancing of rotating and reciprocating machinery; response of linear SDOF systems to general loading (superposition); discrete model types; model construction via Equilibrium/Alembert's Principle, virtual work, and Lagrange equations; discrete dynamic equations for linear MDOF systems; orthogonality relations for normal modes; principal coordinates; forced vibration analysis of systems with proportional damping; superposition principles and frequency response functions for damped 2-DOF systems; Rayleigh's principle; vehicle axes systems; basic tyre mechanics; vehicle traction: acceleration and braking; ride and handling principles; steering and steady-state cornering: stability and control of vehicle roll; and crash dynamics.

Heat Transfer
15 credits
Spring teaching, Year 3
This module will cover topics including:
Fundamentals: revision of the basic laws of and simple concepts in, conduction, convection and radiation
Conduction: 1D steady state conduction in plane and radial geometries, heat transfer from extended surfaces and simple time-dependent heat conduction.
Numerical methods in conduction: finite difference approximations, implementation of boundary conditions, 2D steady state and 1D time dependent problems, and direct and indirect solution methods.
Principles of convection: modes of convection, the convection coefficient and how to obtain it, dimensionless groups, the average Nusselt number and the Reynolds analogy.
Applications of convection: flat plate laminar and turbulent flow, pipe flow, free convection from vertical and horizontal surfaces
Radiation: the Stefan-Boltzmann law, radiative properties, view factors, black body and grey body analysis, andombined radiation and convection
Individual Project
45 credits
Autumn & spring teaching, Year 3
The Individual Project in Year 3 is a major component of your degree and builds upon all of your modules to date to explore in depth an engineering problem in the area of your degree. It is designed to give you experience of the full cycle of an engineering project, from initial planning to final presentation, and involves management, resourcing, planning, scheduling, documentation, and communication. You will interact with a range of skilled people, complete work within budget and available resources, and by an agreed deadline. The project will involve the design, development and testing of a system and will include construction and measurement (for hardware projects) and code development and testing (for software projects). It will demand creative thinking, self-organisation and research skills. You will typically spend 18 hours per week for two terms on the project and it is assessed by an interim report at the mid-way point, a final technical report (dissertation) and a 20 minute oral presentation. You must keep a record of your work throughout the project in a dated logbook, which is handed-in with the final report. The project is supervised by a single member of faculty, who takes on the role of technical director along with a second (minor) supervisor who provides occasional guidance and, in some cases, complimentary expertise.
Electrical Drive Systems
15 credits
Spring teaching, Year 3
Topics will normally include the following:
Electrical drive systems: fundamentals (translational and rotational motion, power rating and classes of duty, 4-quadrant operation, torque/power limits, a note on closed-loop control of drives, electrical and mechanical transformers)
DC drives: brushed and brushless, and introduction to their control issues
AC motors: examples of motor drives (eg induction motors), and introduction to their control issues (emphasise model-based control characteristics, involving nonlinearity)
Servomotors and stepper motors: principles and their control
Examples of modern electrical drives in engineering applications.
Engine Technology
15 credits
Spring teaching, Year 3
The aims of this module are to introduce the operating principles and new technologies of various combustion engines, such as piston engine and gas turbine engine with emphasis on gasoline and diesel engines for driving road vehicles. The main contents comprise:

Introduction to the operating process including gas exchange, fuel delivery, combustion and energy release processes, pollutant formation and control, heat transfer and friction.

Analysis of engine performances including volumetric efficiency, combustion efficiency, thermal efficiency, mechanical efficiency, power output, fuel consumption and emissions.

Demonstration to subsystems (valvetrain, fuel injection, combustion system, cooling system, lubrication, turbocharging and supercharging system, ERG and aftertreatment) and their design and operating parameters.

Briefly introduction to other power plant systems for road vehicles, such as power plants for Hybrid Electric Vehicle (HEV), plug-in Electric Vehicle (EV), Fuel Cell Vehicle (FCV), etc.
Fundamental Computational Fluid Dynamics
15 credits
Spring teaching, Year 3
Topics covered on this module include:
Flow governing equations
spatial discretisation
temporal discretisation
boundary conditions
turbulence modelling
grid generation
analysis of flow problems using the commercial software package ANSYS Workbench.
Sensor Systems & Applications
15 credits
Spring teaching, Year 3
Sensor technologies are evolving at a rapid pace and are core to the drive for increased energy efficiency. You will gain a systems level understanding of a broad range of technologies and be provided with the knowledge and skills required to specify and design sensor systems. You will discuss specific sensor technologies in the context of their application to a range of areas including healthcare, security, control, materials characterisation and HCI.
You will cover the following topics: Transducers and sensors, operating principles; low noise systems; signal processing, hardware & DSP; intelligent sensors; wireless sensors; specific sensor technologies, hall effect, magneto-resistance, piezoelectrics, electromagnetic, ultrasonic, microwave, solid state, MEMS, radiation sensors, gas, chemical, biological sensors.
The University is expanding the range of opportunities it offers to undertake placements as part of your studies. Placements provide you with the opportunity to gain new perspectives, experience and skills that employers are looking for.
Voluntary placements
Some subject areas offer you an opportunity to choose to undertake a placement (for one full year) that you can apply for once you have started your course here. Normally, full-year placements occur between the second and final year of a course. It is University policy that students on a year-long placement (usually 40 weeks) should normally receive payment for their work. For voluntary placements, the University organises and manages the process through which students apply for and undertake placements. To support you, our Careers and Employability Centre runs an eight-week Placement Preparation Programme.
Research placements
Some courses in the sciences – such as the MChem in Chemistry (research placement), the MPhys in Physics (research placement) or the MSci in Zoology (research placement) – offer research placements for high-performing students, where you spend the summer vacations throughout your studies working in research groups at Sussex, giving you the opportunity to get involved in research from the very start of your studies. You receive a stipend to cover living expenses during your summer vacation placement each year.
Integrated placements
Some subject areas require you to take a professional/industrial placement as an integrated and pre-defined part of a course. Normally, full-year placements occur between the second and final year of a course. Other subject areas offer opportunities for students to gain work experience, focused on a particular topic, as part of some taught modules.
Key facts
enhance your employability: more than 80 per cent of employers surveyed said they actively sought graduates who had studied abroad (QS Global Employer Survey Report 2011)
one of the best-supported study abroad programmes in the UK

develop an international perspective at an overseas university in Asia, Australia, Europe or North, Central and South America
Career benefits of studying abroad
Studying abroad makes you stand out from other students when entering the job market. Following a period living and studying abroad, you will return with increased confidence and independence, adept at problemsolving and decision-making. You will have made a new network of friends and may have improved your current language skills or learnt a new language. Employers highly rate these skills as they can be applied in today's global career paths.
Sussex recognises the value of language skills in preparing its students to become global citizens: as well as our dual-language courses (vist the Languages subject area), we offer students in most subjects the opportunity to take language electives as part of their single-honours courses (visit Sussex Choice: make the most of your course).
After studying abroad, some of our graduates have gone on to careers as translators • sales and marketing professionals • international recruitment consultants • Refugee Projects co-ordinator for the British Red Cross abroad • a CNN presenter • international mortgage administrators • teachers of English in Venezuela, Spain, Germany, Japan and France.
We offer a huge range of destinations across Asia, Australia, Europe, and North, Central and South America.
Erasmus+

We offer one of the best-supported European study abroad programmes of any UK university. Pioneered independently by Sussex in the 1960s, our study abroad scheme is supported by the European Commission through Erasmus+. Students on this programme usually benefit from nonmeans- tested grants.
Visit British Council: Erasmus
Study abroad duration and destinations
If you are taking a course with an American Studies component, a dual-language course, or one of our joint courses involving a language, you spend Year 3 of your four-year course abroad. Students from most other courses can apply to do a study-abroad period during their degree.
View our course listings at Undergraduate study
American Studies students study at one of a range of universities across North America. Language-degree students study at a university in Europe (or La Réunion or Québec, Canada, for French, and Latin America for Spanish) where their language of study is spoken. Language students can also apply to the language assistant scheme managed by the British Council for their year abroad.
Visit British Council: Language assistants
A growing number of overseas universities now have courses taught in English, which enables Sussex students without the necessary language skills to study abroad. Students can also take Erasmus Intensive Language Courses in-country before their term starts.
The University is increasing the opportunities for students to go on short-term non-credit-bearing Summer Schools overseas. In 2013, a number of students benefitted from summer programmes in China and Hong Kong.
For more information on study abroad opportunities, email sussexabroad@sussex.ac.uk
Entry requirements
Sussex welcomes applications from students of all ages who show evidence of the academic maturity and broad educational background that suggests readiness to study at degree level. For most students, this will mean formal public examinations; details of some of the most common qualifications we accept are shown below. If you are an overseas student, refer to Applicants from outside the UK.
All teaching at Sussex is in the English language. If your first language is not English, you will also need to demonstrate that you meet our English language requirements.
A level

Typical offer: ABB-BBB

Specific entry requirements: A levels must include Mathematics

International Baccalaureate

Typical offer: 32-34 points overall

Specific entry requirements: Higher Levels must include Mathematics, with a grade of 5 or 6.

For more information refer to International Baccalaureate.

Access to HE Diploma

Typical offer: Pass the Access to HE Diploma with at least 45 credits at Level 3, of which 30 credits must be at Distinction and 15 credits at Merit or higher.

Specific entry requirements: Successful applicants will normally need A level Mathematics, grade B, in addition to the Access to HE Diploma.

For more information refer to Access to HE Diploma.

Advanced Diploma

Typical offer: Pass with at least grade B in the Diploma and grade A in the Additional and Specialist Learning.

Specific entry requirements: The Additional and Specialist Learning must be an A-level in Mathematics.

For more information refer to Advanced Diploma.

BTEC Level 3 Extended Diploma

Typical offer: DDD

Specific entry requirements: Successful applicants will need to achieve Distinction in the unit in Further Mathematics for Technicians within the BTEC Level 3 Extended Diploma in Engineering. Ideally applicants will have A level Mathematics, grade B in addition to the Diploma. GCSE (or equivalent) Mathematics with at least grade B is essential.

For more information refer to BTEC Level 3 Extended Diploma.

European Baccalaureate

Typical offer: Overall result of at least 75%

Specific entry requirements: Evidence of existing academic ability at a high level in Mathematics is essential (normally with a final grade of at least 8.0).

For more information refer to European Baccalaureate.

Finnish Ylioppilastutkinto

Typical offer: Overall average result in the final matriculation examinations of at least 5.5.

Specific entry requirements: Evidence of existing academic ability at a high level in Mathematics is essential.

French Baccalauréat

Typical offer: Overall final result of at least 12.5/20

Specific entry requirements: Successful students will need to be taking the science strand within the French Baccalauréat with a final result of at least 12/20 in Mathematics.

German Abitur

Typical offer: Overall result of 2.0 or better

Specific entry requirements: Successful applicants will need a very good final result in Mathematics (at least 12/15) at a high level.

Irish Leaving Certificate (Higher level)

Typical offer: AABBBB-ABBBBC

Specific entry requirements: Highers must include Mathematics, grade A.

Italian Diploma di Maturità or Diploma Pass di Esame di Stato

Typical offer: Final Diploma mark of at least 81/100

Specific entry requirements: Evidence of existing academic ability at a high level in Mathematics is essential.

Scottish Highers and Advanced Highers

Typical offer: AABBB-ABBBB

Specific entry requirements: Highers must include Mathematics, grade A. Applicants should also have an Advanced Higher in Mathematics (grade B).

For more information refer to Scottish Highers and Advanced Highers.

Spanish Titulo de Bachillerato (LOGSE)

Typical offer: Overall average result of at least 7.5

Specific entry requirements: Evidence of existing academic ability at a high level in Mathematics is essential.

Welsh Baccalaureate Advanced Diploma

Typical offer: Pass the Core plus at least BB in two A-levels

Specific entry requirements: A levels must include Mathematics, grade B.

For more information refer to Welsh Baccalaureate.
English language requirements
IELTS 6.5 overall, with not less than 6.0 in each section. Pearson's Test of English (Academic) with 62 overall with at least 56 in all four skills.
For more information, refer to alternative English language requirements.
For more information about the admissions process at Sussex:
Undergraduate Admissions,
Sussex House,
University of Sussex, Falmer,
Brighton BN1 9RH, UK
T +44 (0)1273 678416
F +44 (0)1273 678545
E ug.enquiries@sussex.ac.uk
Related subjects
Fees and funding
Fees
Home/EU students: £9,0001
Channel Island and Isle of Man students: £9,0002
Overseas students: £17,0003
1 The fee shown is for the academic year 2014.
2 The fee shown is for the academic year 2014.
3 The fee shown is for the academic year 2014.

Funding
An unlimited number of scholarships of £2,000 are available. These will be awarded on entry to students who firmly accept our offer of a place by the UCAS deadline and achieve A*AA or above at A level, excluding General Studies.
The funding sources listed below are for the subject area you are viewing and may not apply to all degrees listed within it. Please check the description of the individual funding source to make sure it is relevant to your chosen degree.
Careers and profiles
The career of an engineer is richly rewarding in terms of personal satisfaction, status and salary. According to the Association of Graduate Recruiters, engineers are now among the top earners of the graduate population and are one of the most likely groups to fast track into management positions.
Career opportunities include employment in sectors such as communications, aerospace, transport, marine or space exploration, environment, marketing, the supply chain, robotics, security and defence, the power industry, and health and medicine.
Our recent graduates have taken up a wide range of posts with employers including: design engineer at Delphi Diesel Systems • hardware design engineer at Optisense Ltd • research and development engineer at itmsoil • graduate engineer at hurleypalmerflatt • production systems engineer at Gemini Data Loggers UK Ltd • development engineer at Eschmann Equipment • graduate analyst at the Royal Bank of Scotland • manufacturing engineer at Lola Group • project engineer at Allen Gears • design engineer at Nissan Technical Centre Europe • development engineer at Delphi • trainee electrical engineer at Max Wright Limited • IT consultant at Aron Willis IT Consultants • programmer at PeoplePlanner • electrical engineer at CBG consultants • research and development engineer at Dyson • design engineer at BP • engineer at Tesla • mechanical engineer at Network Rail.
Specific employer destinations listed are taken from recent Destinations of Leavers from Higher Education surveys, which are produced annually by the Higher Education Statistics Agency.
Careers and employability
For employers, it's not so much what you know, but what you can do with your knowledge that counts. The experience and skills you'll acquire during and beyond your studies will make you an attractive prospect. Initiatives such as SussexPlus, delivered by the Careers and Employability Centre, help you turn your skills to your career advantage. It's good to know that 92 per cent of our graduates are in work or further study (Which? University).
For more information on the full range of initiatives that make up our career and employability plan for students, visit Careers and alumni.
Contact our School
School of Engineering and Informatics
The School of Engineering and Informatics brings together the areas of mechanical and electrical engineering with informatics, in particular computer science and artificial intelligence, and product design.
Department of Engineering and Design
The Department of Engineering and Design has expertise in electronic and mechanical engineering, with significant emphasis on design. It offers high-quality teaching and world-leading research in an exciting and supportive learning environment.
How do I find out more?
For more information, contact:
Department of Engineering and Design,
University of Sussex, Falmer,
Brighton BN1 9QJ, UK
E enquiries@enginf.sussex.ac.uk
T +44 (0)1273 678743
F +44 (0)1273 877873
Department of Engineering and Design
Visit us
Campus tours
Not able to attend one of our Open Days? Then book on to one of our weekly guided campus tours.
Mature-student information session
If you are 21 or over, and thinking about starting an undergraduate degree at Sussex, you may want to attend one of our mature student information sessions. Running between October and December, they include guidance on how to approach your application, finance and welfare advice, plus a guided campus tour with one of our current mature students.
Self-guided visits
If you are unable to make any of the visit opportunities listed, drop in Monday to Friday year round and collect a self-guided tour pack from Sussex House reception.
Jonathan's staff perspective

'Sussex provides world-leading teaching and excellent academic facilities, with a vibrant student life in a fantastic location. All of this meant that I left Sussex with a unique set of experiences and a degree that has prepared me for my future.
'Joining Student Recruitment Services at the University has enabled me to share my experiences of Sussex with others. Coming to an Open Day gives you the opportunity to meet our research-active academics and our current students, while exploring our beautiful campus. But don't worry if you can't make an Open Day, there's plenty of other opportunities to visit Sussex. Check out our Visit us and Open Days pages or our Facebook page to find out more.
'I've loved every moment of my time at Sussex – these have been the best years of my life.'
Jonathan Bridges
Graduate Intern, Student Recruitment Services