Guide to university study
Learn to think independently, question assumptions and explore the world around you. At Sussex, the latest research – on topics ranging from corruption to dark energy – informs our teaching.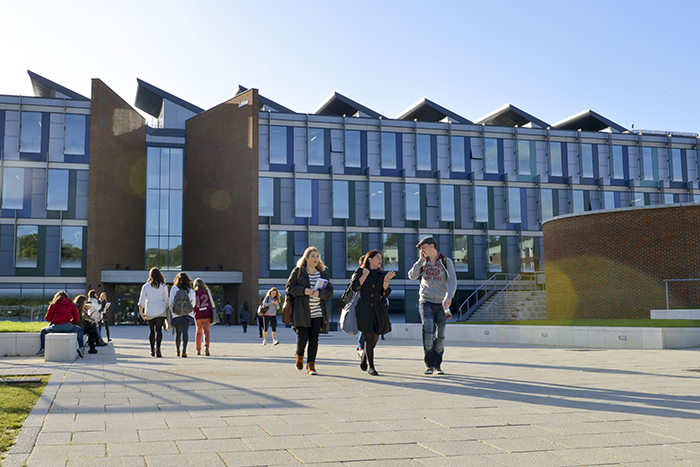 What is an undergraduate degree?
Undergraduate courses are usually the first degree you study, for example a BA or BSc.
If you don't have the qualifications to study an undergraduate degree, a Foundation Year helps prepare you for Year 1 of your chosen course.
Find out more about our undergraduate courses
---
What is an integrated Masters year?
Many of our undergraduate courses offer an additional research-focused year, where you work towards your integrated Masters degree.
Choosing an integrated Masters course is the easiest way to fund postgraduate study. You can apply for a student loan to guarantee you'll be covered for all years of your degree.
The award you'll graduate with depends on your subject area – integrated Masters awards include MSci, MEng and MPhys.
Discover our integrated Masters courses
---
What is a Masters?
Masters degrees are taught postgraduate courses, for example an MSc, MA or LLM. You usually study for a Masters degree after an undergraduate degree.
Many of our Masters courses are offered part time.
Find out more about our Masters courses
---
What is a PhD?
A PhD is a postgraduate research degree.
You work on a piece of research that must make an original contribution to knowledge or understanding in your chosen field.
See our guide to PhD study or explore the PhD prospectus
---
Learning and teaching methods
As part of your undergraduate and Masters modules, you learn using a range of methods, work independently on essays, projects and assignments, and conduct research.
Our learning methods include:
lectures – talk on a subject given to a group of students by an academic
seminars – small-group session where you, other students and a tutor discuss ideas and aspects of a particular topic in depth
tutorials – a session with you and a tutor (or a small group) where you can ask questions and discuss your work
laboratory and practical workshops – where you test concepts and methods introduced in lectures and tutorials
group work – where you work with other students on a project
field work – where you carry out practical work in the natural environment.
If you are a Masters student, you may also do research skills training and work with research groups.
You can find out more about study and assessment methods on your course in our undergraduate and Masters prospectus.
---
Assessment methods
You are assessed using methods including:
exams
coursework – including essays, reports, portfolios, diaries and posters
presentations – individual or group
placements – if your course includes a year-long professional or industrial placement, or summer placements.
---
You might also be interested in: