The Nexus Network has released its final project report – Sustainability in Turbulent Times – to coincide with its major conference and workshop, held on 16 and 17 March 2017.
Launched in June 2014, with funding from the ESRC, the Nexus Network brought together researchers, policymakers, business leaders and civil society to develop collaborative projects and improve decision making on food, energy, water and the environment. The report summarises the network's activities and conclusions from the last three years.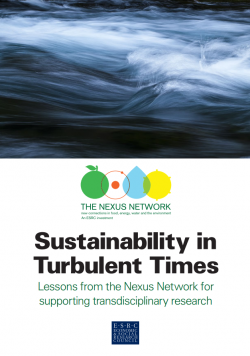 Addressing a number of the issues outlined in the UN's Global Goals for Sustainable Development, the Network focusses on the interdependencies, tensions and trade-offs between these goals, using the term "nexus" to refer to these connections. The report states:
"Efforts to improve the sustainability of one domain, without considering others, can fail or create vulnerabilities to shocks and feedback loops of various kinds. It is increasingly recognised that more integrated approaches are required."
Dr Cian O'Donovan (temporary Network Coordinator, maternity cover) elaborates:
"The Nexus Network has responded and critically engaged with longstanding calls for greater inter- and transdisciplinary research. However, beyond merely establishing new perspectives on empirical arenas and indeed methodological approaches, Network participants have illuminated the often partial and unequal terms on which interconnections between domains such as water, energy and food take place. These perspectives offer vital guidance if we are to take seriously future transdisciplinary research and indeed broader interventions and partnerships in directions towards social progress."
Over the last three years, the Nexus Network has worked to support transdisciplinary research across a range of platforms, including hosting a number events, fostering online awareness and debate, and running a small grants programme and fellowship scheme. Alongside developing tools and methodologies, it's worked with businesses and policymakers on addressing nexus issues and opportunities, provided advice for the ESRC and other funding bodies, and built capacity for future investment in nexus-related research.
The Network's final annual conference, also titled Sustainability in Turbulent Times, has been organised in collaboration with the Centre for Understanding Sustainable Prosperity and the Centre for Evaluating Complexity Across the Nexus. It brings together 350 professionals from a range of sectors to explore how research, policy and business can meet these universal challenges. With the global political environment facing such instability and uncertainty, the event addresses critical questions on the future of policy and governance, and their effects on the prospects for sustainability.
Professor James Wilsdon (Nexus Network Director; University of Sheffield and SPRU Associate faculty) opens the conference:
The following day, the Network held its Transforming Innovation workshop. Organised by Professor Andy Stirling, the workshop explores the innovations of various kinds (including social, institutional and technological changes) that are required to meet 'nexus challenges'.
Professor Stirling (Network Co-Investigator) comments:
"Few challenges are more formidable than addressing the interlinked problems posed in ensuring fair global provision of food, water and energy. It's been a privilege helping to run this network of dynamic and committed researchers. In the end, though, it seems clear the real solutions lie in emancipating the poorest and most vulnerable people – to be able to exercise more agency over the conditions affecting their own lives."
The Nexus Network was coordinated by a team from the University of Sussex: Dr Rose Cairns (Network Coordinator); Andy Stirling (Co-I); Dr Saurabh Arora (Co-I); Cian O'Donovan (acting Network Coordinator). Working alongside colleagues from the Universities of Cambridge, East Anglia, Exeter and Sheffield, the network was open to researchers from all disciplines and institutions, and to decision makers across government, business and civil society.
Further information
Read the Nexus Network's final report: Sustainability in Turbulent Times.
Find out more on the Nexus Network website.
Watch additional videos of the Sustainability in Turbulent Times conference sessions on the SPRU Youtube channel.