Professor Mariana Mazzucato launched the Greek edition of her book The Entrepreneurial State (Το επιχειρηματικό κράτος), published by Kritiki, at a standing room only event at the Hellenic Research Foundation in Athens on Thursday 19 May 2016. The event began with a speech on the relevance of the book for Greece's economy by the Greek Minister for Research & Innovation, Costas Fotakis.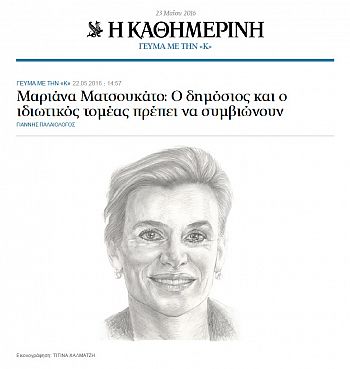 Other speakers discussing the book included Alexis Haritsis (Deputy Minister of Economy, Development and Tourism), Evi Sahinis (Director of the National Documentation Centre), Kostis Vaitsos (Emeritus Professor of the University of Athens) and Yannis Caloghirou (Professor at the National Technical University).
On Friday May 20th, Minister Costas Fotakis organised a workshop at the Ministry of Education, Research and Religious Affairs with directors from the Ministry of the Economy to discuss Mazzucato's book and current work on mission oriented innovation policy.
Professor Mazzucato also gave a talk at the National Technical University of Athens (NTUA) on "Innovating out of the Crisis in Europe: The role of public and private sector for promoting research and innovation" hosted by Professor Yannis Caloghirou (School of Chemical Engineering).
The Entrepreneurial State: debunking public vs. private sector myths – which is currently available in seven different languages – comprehensively debunks the myth of a lumbering, bureaucratic state versus a dynamic, innovative private sector, and reflects on the implications for policies aimed at growth that is smart, inclusive and sustainable. Professor Mazzucato has written extensively about the economic challenges in the Eurozone, arguing that the key problem in countries like Greece is not a liquidity crisis but a solvency crisis that can only be solved with a plan for investments that will enable long run growth.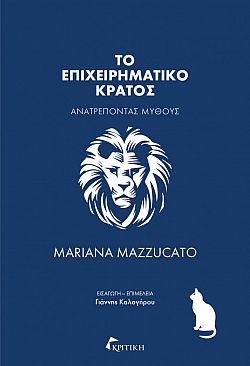 Further information:
Visit the official event page and press release, the Facebook event page and the Storify of the book launch.
Watch a video recording of the book presentation on the National Hellenic Research Foundation site.
View a photo gallery of the launch event.
Watch EKT's interview with Professor Mazzucato.
Read Professor Mazzucato's interviews with Fortune, Kathimerini and Capital (in English).
Read the press release on the Greek Ministry of Research & Education website, which was also published by: Esos, Edu4u, Ta Nea, Edunea, Greek School Network, Ipaideia.
Watch Professor Mazzucato speaking on Channel 4 news last year, about the Greek bailout.
Read more about the Greek edition of The Entrepreneurial State and Professor Mazzucato's other writings on Greece and the Eurozone.