On 15 June Dr James Revill participated in a two day EU Eastern European regional workshop on the Eighth Review Conference of the Biological Weapons Convention.
At the workshop, he gave a presentation on the topic of compliance and transparency. This is an ongoing area of research within the Harvard Sussex Program on Chemical and Biological Weapons (HSP) and Dr Revill has an article reviewing non-proliferation forthcoming.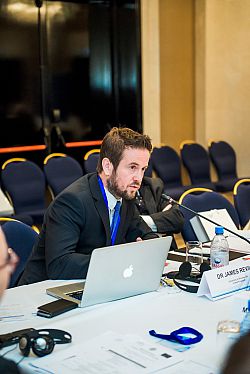 The workshop is part of a series of measures intended to enable a comprehensive dialogue on issues to be considered at the Eighth Review Conference. Dr Revill was one of two academics invited by the European Union, the Government of Kazakhstan, and the United Nations Office for Disarmament Affairs (UNODA) to the workshop, which was attended by the President-designate of the Eighth Biological Weapons Convention Review Conference, Ambassador György Molnár of Hungary, and other foreign affairs government officials from Eastern Europe.
The workshop was held in Astana. Kazakhstan ratified the BWC in 2007 and currently coordinates its Eastern European Group. The Biological Weapons Convention was the first multilateral disarmament treaty banning an entire category of weapons.
Dr Revill is a Research Fellow at SPRU and a researcher at HSP, an inter-university collaboration for research, communication and training in support of informed public policy towards chemical and biological weapons. The Program links research groups at Harvard University in the United States and the University of Sussex in the United Kingdom. It began formally in 1990, building on two decades of earlier collaboration between its co-directors.
See also:
The Biological Weapons Convention and The Geneva Protocol - compliance
The adoption of chemical and biological weapons by non-state actors