A new book co-authored by Sir Geoffrey Owen and Dr Michael Hopkins 'Science, the State and the City: Britain's Struggle to Succeed in Biotechnology' examines the evolution of one of the most important technologies that has emerged in the last fifty years: biotechnology - the use of living organisms, or parts thereof to create useful products and services.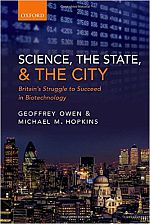 The most prominent application of biotechnology has been in medicine, in the development of new drugs. The central purpose of the book is to explain how firms based in the US took the lead in commercialising the technology, and why it has been so difficult for firms in other countries to match what the leading American companies have achieved.
The book looks at the institutions and policies that have underpinned US success in biotechnology - the US innovation "ecosystem". It is made up of several interlocking elements that constitute a powerful competitive advantage for US biotechnology firms. These include:
A higher education system which has close links with industry;
Massive support from the Federal government for biomedical research;
A financial system which is well equipped to support young entrepreneurial firms in a science-based industry.
In the light of US experience the book examines in detail the performance of UK biotechnology firms over the past forty years, starting with the creation of the UK's first dedicated biotech firm, Celltech, in 1980. The book shows how the UK made a promising start in the 1980s and 1990s but failed to build on it. Several leading firms failed, and after an initial burst of enthusiasm investors lost confidence in the British biotech sector.
Dr Hopkins said: "This is the first book to focus primarily on the history of the UK biotech industry. Many academic authors have written about the biotechnology industry before, particularly in the US, which is really an exceptional case. More countries find themselves in the UK position: trying to figure out how to emulate the USA without having its unique advantages."
It is only the last few years that the sector has staged a revival, attracting fresh investment from the US as well from the UK. The story told in this book, based on extensive interviews with industry participants, investors, and policy makers in the UK, Continental Europe, and the US, sheds new light on one of the central issues facing governments in the advanced industrial countries - how to create and sustain new science-based industries.
Sir Geoffrey Owen commented that: "At a time when governments are trying to promote the growth of new, science-based industries the biotechnology story provides a revealing illustration of the obstacles that policy makers face and how they can be removed. The book highlights the importance of institutions and policies as determinants of national competitiveness."
See also
Article in Financial Times by Sir Geoffrey Owen: The secret of a world-class biotech sector (19 April 2016)
Financial Times Review by David Edgerton
Order online via Oxford University Press and obtain a 30% discount with this flyer
Available for purchase on Amazon