All staff at SPRU are deeply saddened by the news of the death of Lord (Asa) Briggs, who died on 15 March 2016 at the age of 94.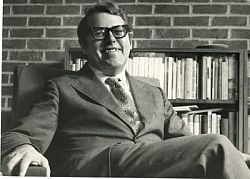 Lord Briggs was a key figure in the creation and development of the University of Sussex and SPRU owes its existence in large part to Lord Briggs, who had a strong commitment to establishing research units at the University. As Pro Vice-Chancellor, Lord Briggs persuaded Professor Chris Freeman to come to Sussex as SPRU's founding director in 1966.
Established as one of the world's first interdisciplinary research centres in the field of science, technology and innovation policy, Lord Briggs' innovative, interdisciplinary approach to teaching and research has been a key feature of SPRU's work ever since.
SPRU quickly became a pioneering institution, leading the field and breaking new ground throughout the 1970s and 1980s. Attracting grants both from the UK and internationally enabled SPRU to attract many leading researchers and thinkers from around the world.
The unit that Lord Briggs helped to establish became world renowned for multi-disciplinary research that has helped policy makers to address real-world problems for 50 years. The innovative and collaborative approach taken by the SPRU team has seen contributions to both theory and practice, and also inspired countless researchers and students. This combination of theory and practice, alongside a strong focus on external engagement within academia, the policy world and beyond, remains to this day.
Ahead of the recent SPRU 50th Anniversary launch event Lord Briggs remarked to Professor Roy MacLeod that: "establishing SPRU, with others at the University Sussex, was one of the achievements he was proudest of in his whole academic and public-service life".
Obituary: Lord (Asa) Briggs, former University of Sussex Vice-Chancellor