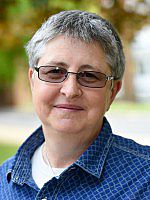 Prof
Sally Munt
Post:
Professor of Cultural Studies/Professor of Gender Studies (Sussex Centre for Cultural Studies, Media and Film, Sussex Centre for Migration Research)
Other posts:
Professor of Cultural Studies (Centre for Gender Studies)
Location:
Silverstone Sb 318
Email:
S.R.Munt@sussex.ac.uk

Telephone numbers
Internal:
8834
UK:
01273 678834
International:
+44 1273 678834

Research expertise:
download vCarddownload vCard to your mobile
Biography
BA Hons (First Class) English and Media Studies (Soton)
MA in Twentieth Century Literature and Culture (Sussex)
DPhil in English Literature/Cultural Studies (Sussex)
MSc in Cognitive Psychotherapy (Brighton)
Community and Business
Sally has been involved with the lesbian, gay, bisexual, trans and queer communities locally and nationally for 25 years.
Sally was a member of the Resilient Therapy Community of Practice, University of Brighton 2008-10. In 2009 she designed and delivered a Cognitive Behavioural Therapy course on resilience to women refugees, "Journeys of Resilience", which formed part of the university's knowledge transfer strategy, as a member of the South Coastal Communities Scheme. SECC is a university partnership with local communities. Sally continues to practice as a BABCP Accredited Cognitive Behavioural Psychotherapist.
MEMBERSHIP OF PROFESSIONAL BODIES
National Moderator: AHRC Research Networks Scheme 2010-on
International Board Member: IRCHSS - Irish Research Council for the Humanities and Social Sciences 2011-on
2012 AHRC Panel Member Panel D: Languages and Literature: Research Grants Scheme
2012 HERA (Humanities in the European Research Area) Joint Research Programme Review Panel "Cultural Encounters". 18.5 million EUR. The Programme is co-funded by the research funding agencies in 18 participating countries and the European Commission. The selection process is managed by the European Science Foundation (ESF)
2007-09 Member AHRC Postgraduate Panel Panel 2, Visual Arts and Media – national subject representative for area 'Cultural Studies'
Member: AHRC Peer Review College
Accredited Member: British Association for Behavioural and Cognitive Psychotherapies.
(Elected) Member of national executive committee of MeCCSA UK (Media, Communications & Cultural Studies Association) 1999-2006.
Member of MeCCSA Academic Development subcommittee 1999-2006.
Member of national Subject Reference Group for UK Higher Education Academy, for Art, Design & Media [HEA-ADC], to advise on learning and teaching in British HEIs, 2001-6. [5 years].
Member: Society of Authors
External Consultancy
External consultant for scoping study for Greater London Authority 'Supplementary Planning Guidance on meeting the needs of London's Diverse Communities' May 2003.