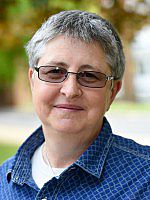 Prof
Sally Munt
Post:
Professor of Cultural Studies/Professor of Gender Studies (Sussex Centre for Cultural Studies, Media and Film, Sussex Centre for Migration Research)
Other posts:
Professor of Cultural Studies (Centre for Gender Studies)
Location:
Silverstone Sb 318
Email:
S.R.Munt@sussex.ac.uk

Telephone numbers
Internal:
8834
UK:
01273 678834
International:
+44 1273 678834

Research expertise:
download vCarddownload vCard to your mobile
Biography
BA Hons (First Class) English and Media Studies (Soton)
MA in Twentieth Century Literature and Culture (Sussex)
DPhil in English Literature/Cultural Studies (Sussex)
MSc in Cognitive Psychotherapy (Brighton)
Community and Business
Sally has been involved with the lesbian, gay, bisexual, trans and queer communities locally and nationally for 25 years.
Sally was a member of the Resilient Therapy Community of Practice, University of Brighton 2008-10. In 2009 she designed and delivered a Cognitive Behavioural Therapy course on resilience to women refugees, "Journeys of Resilience", which formed part of the university's knowledge transfer strategy, as a member of the South Coastal Communities Scheme. SECC is a university partnership with local communities. Sally continues to practice as a BABCP Accredited Cognitive Behavioural Psychotherapist.
MEMBERSHIP OF PROFESSIONAL BODIES
National Moderator: AHRC Research Networks Scheme 2010-on
International Board Member: IRCHSS - Irish Research Council for the Humanities and Social Sciences 2011-on
2012 AHRC Panel Member Panel D: Languages and Literature: Research Grants Scheme
2012 HERA (Humanities in the European Research Area) Joint Research Programme Review Panel "Cultural Encounters". 18.5 million EUR. The Programme is co-funded by the research funding agencies in 18 participating countries and the European Commission. The selection process is managed by the European Science Foundation (ESF)
2007-09 Member AHRC Postgraduate Panel Panel 2, Visual Arts and Media – national subject representative for area 'Cultural Studies'
Member: AHRC Peer Review College
Accredited Member: British Association for Behavioural and Cognitive Psychotherapies.
(Elected) Member of national executive committee of MeCCSA UK (Media, Communications & Cultural Studies Association) 1999-2006.
Member of MeCCSA Academic Development subcommittee 1999-2006.
Member of national Subject Reference Group for UK Higher Education Academy, for Art, Design & Media [HEA-ADC], to advise on learning and teaching in British HEIs, 2001-6. [5 years].
Member: Society of Authors
External Consultancy
External consultant for scoping study for Greater London Authority 'Supplementary Planning Guidance on meeting the needs of London's Diverse Communities' May 2003.
Sally's research has ranged over different contemporary themes of 'otherness', and cultures and identities of otherness. She has expertise in exclusion and its effects, social, emotional, and cultural.
Her main disciplinary focus lies in Cultural Studies - particularly in how social identities are experienced. She has strong interests in sexuality, gender, and class, narrative, space, spiritualities, shame, paranormality and resilience.
In 2008-9 Sally was the Principal Investigator for a significant AHRC/ESRC funded project in the Religion and Society Programme, called 'Queer Spiritual Space(s): An investigation into the practices of non-hegemonic queer spiritual communities using case studies, (Quakers, Buddhists, Findhorn Community (New Age), Muslims, Michigan Womyns Festival (Wiccan and others), and the 'non-aligned spiritually curious' online)'. The book was published in 2010 by Ashgate, co-authored with Kath Browne and Andrew Yip, as 'Queer Spiritual Spaces: Sexuality and Sacred Places'. The outcomes also included designing a community based resource, a conference, and an interactive web page, to stimulate inter-faith dialogue. See further queerspiritualspaces.com and Queer Spiritual Spaces
Sally also continues to write about popular narratives and identities following an early interest in crime fiction and feminist narratives.
Sally completed a 4 year MSc in Cognitive Psychotherapy at the University of Brighton, and she welcomes collaborative research projects in Psychosocial Studies, and the politics and culture of emotion, - particularly around issues of social exclusion.
2005-6 Helen Waddell Visiting Professorship, Queen's University, Belfast. Position held in Women's Studies, School of Sociology & Social Policy
Sally has taught over 40 courses in Media and Cultural Studies, currently she teaches undergraduate courses in Gender Studies, Cultural Studies, and Media Studies. Her courses include Class and Popular Culture; Gender, Space and Culture; Culture and the Everyday; Debating Gender: Representation (Feminist Approaches to Representation); and the MA courses Gender and Representation; Emotion, Representation and Culture. Sally has around 8-10 doctoral students working with her on a range of projects within Cultural Studies and Gender Studies.
She also has wider interests in teaching and quality: she was the External Examiner for the new BA Media, Culture and Society, University of Manchester, 2003-6. She is a qualified QAA Subject Reviewer, and Subject Specialist for university Internal Audit (Media, Cultural and Communication Studies, Film Studies). Sally was for many years a member of the national Subject Reference Group for the UK Learning and Teaching Support Network Subject Centre for Art, Design & Communication (LTSN-ADC), now the Higher Education Academy.
Related work
Sally directs the university interdisciplinary PHD in Gender Studies/Humanities programme.
Member of the National Executive Committee of MeCCSA UK (Media, Communications & Cultural Studies Association) from 1999-2006.
Conference Director of MeCCSA UK's annual international conference, University of Sussex, December 19th-21st 2003.
She has been a member of several editorial boards for international refereed journals, and writes book reviews for the Times Higher Education Supplement.
Munt, Sally and Jenzen, Olu, eds. (2013) The Ashgate research companion to paranormal cultures. Ashgate research companions . Ashgate, Farnham. ISBN 9781409444671
Munt, Sally R (2013) Queer quakers: negotiating post-Christian selfhoods within the liberal sphere. In: Social identities between the sacred and the secular. Ashgate AHRC/ESRC religion and society series . Ashgate Publishing, Farnham. ISBN 9781409456773 (In Press)
Munt, Sally R (2012) Journeys of resilience: the emotional geographies of refugee women. Gender, place and culture, 19 (5). pp. 555-577. ISSN 0966-369X
Munt, Sally and Jenzen, Olu (2012) Queer theory, sexuality and religion. In: The Ashgate research companion to contemporary sexuality and religion. Ashgate research companion . Ashgate Publishing, Aldershot. ISBN 9781409409496
Munt, Sally R (2011) Paranormal Cultures: from the Sublime to the Ridiculous. In: Staging Illusion: Digital and Cultural Fantasy, December 8-9th, 2011, University of Sussex, UK.
Munt, Sally R (2011) After the fall: queer heterotopias. In: Critical perspectives on Philip Pullman's 'His Dark Materials'. McFarland Publishing, Jefferson, pp. 202-218. ISBN 9780786440306
Munt, Sally (2010) Queer fish. In: Queer Manifestations: Literature, History, Theory, Culture, 26th June 2010, University of Chester.
Munt, Sally R (2010) Paranormality. In: Paranormal Cultures, 4th June 2010, University of Sussex, UK.
Browne, Kath, Munt, Sally R and Yip, Andrew K T (2010) Queer spiritual spaces: sexuality and sacred places. Ashgate Publishing, London and Burlington, VT. ISBN 9780754675273
Munt, Sally (2010) Socio-Queer. In: Exploring the 'socio' of socio-legal studies, 3rd November, 2010, Institute of Advanced Legal Studies, London.
Munt, Sally R and Smith, Sharon E (2010) Angels and the dragon king's daughter: gender, sexuality in Western Buddhist new religious movements. Theology and Sexuality, 16 (3). pp. 229-258. ISSN 1355-8358
Munt, Sally (2009) On shaking ground. In: Wrestling with God: The 13th ESWTR International Conference, 19-23rd August, 2009, University of Winchester, UK.
Munt, Sally (2009) Queer Quakers. In: Queer Spiritualities, 13th March, 2009, University of Sussex, UK.
Munt, Sally (2008) Queer spirituality - research paradigms. In: 3rd Annual Gender and Theory Seminar, 11th June, 2008, Goldsmiths, University of London, UK.
Munt, Sally (2008) Introduction: on lesbians and other animals. In: Sapphists and sexologists. Histories of sexualities, 2 . Cambridge Scholars Publishing, Cambridge, xvii-xxxi. ISBN 9781443801331
Munt, Sally R (2008) Queer attachments: the cultural politics of shame. Queer Interventions . Ashgate Publishers, Farnham. ISBN 9780754649236
Munt, Sally R and O'Donnell, Katherine (2007) Pride and Prejudice: Legalizing Compulsory Heterosexuality in New York's Annual St. Patrick's Day Parades. Space and Culture, 10 (1). pp. 94-114. ISSN 1206-3312
Munt, Sally R (2007) A seat at the table: some unpalatable thoughts on shame, envy and hate in institutional cultures. Journal of Lesbian Studies, 11 (1-2). pp. 53-67. ISSN 1089-4160
Munt, Sally and Halperin, David (2006) Shameless Futures. In: Future Queer: International Invited Seminar, 29-30th June, 2006, University College Dublin, Ireland.
Munt, Sally R (2006) A queer undertaking: anxiety and reparation in the HBO television drama series 'Six Feet Under'. Feminist Media Studies, 6 (3). pp. 263-279. ISSN 1468-0777
Munt, Sally (2005) Shame, hate and envy in institutional cultures. In: Lesbian Lives International Conference, 11-13th February, 2005, University College Dublin, Ireland.
Munt, Sally (2003) "Discourse is not life; its time is not yours": (Foucault): expanding spaces in the fiction of Philip Pullman. In: Sexualities, Cultures and Identities International Conference, 17th January 2003, University of Newcastle.
Munt, Sally (2002) Intelligibility and identity. In: Language - Communication - Culture 2nd International Conference: English in the World, 27-30th November, 2002, University of Évora, Portugal.
Munt, Sally R, Bassett, Elizabeth H and O'Riordan, Kate (2002) Virtually Belonging: Risk, Connectivity, and Coming Out On-Line. International Journal of Sexuality and Gender Studies, 7 (2-3). 125- 137. ISSN 1566-1768
Munt, Sally R (2002) Framing intelligibility, identity, and selfhood: a reconsideration of spatio-temporal models. Reconstruction : Studies in Contemporary Culture, 2 (3). ISSN 1547-4348
Munt, Sally R (2001) The butch body. In: Contested bodies. Routledge, London and New York, pp. 95-106. ISBN 9780415196369
Munt, Sally R, ed. (2001) Technospaces: Inside the New Media. Critical Research in Material Culture . Continuum, New York and London. ISBN 9780826450036
Munt, Sally (2001) The well of shame. In: Palatable poison: critical perspectives on "the well of loneliness". Columbia University Press, New York, pp. 199-215. ISBN 9780231118750
Munt, Sally (2001) The homosexual nation. In: Other(ing) England, 9 June 2001, University of Buckinghamshire..
Munt, Sally (2000) Challenging divisions: queer feminism. In: WERRC 10th Annual Conference: Trends in Feminist Thought, 1-2nd December, 2000, University College Dublin, Ireland.
Munt, Sally (2000) The lesbian flâneur. In: The unknown city: contesting architecture and social space. MIT Press, Cambridge, MA, pp. 247-262. ISBN 9780262024716
Munt, Sally, ed. (2000) Cultural Studies and the Working Class: Subject to Change. Cassell, London and New York. ISBN 9780304705498
Munt, Sally R (2000) Shame/pride dichotomies in 'Queer as Folk'. Textual Practice, 14 (3). pp. 531-546. ISSN 0950-236X
Munt, Sally (1999) Heroes and heroism; mystery & detective fiction; liberalism; subcultures. In: Encyclopedia of Lesbian Histories and Cultures. Encyclopedia of Lesbian and Gay Histories and Cultures, 1 (1). Routledge/ Taylor & Francis. ISBN 9780815319207
Munt, Sally R (1999) Power, pedagogy, and partiality. Feminism and Psychology, 9 (4). pp. 422-426. ISSN 0959-3535
Munt, Sally R, ed. (1998) Butch/Femme: Inside Lesbian Gender. Cassell, London. ISBN 9780304339594
Munt, Sally (1998) Sisters in exile: nationalism and sexuality. In: New frontiers of space, bodies and gender. Routledge, London and New York, pp. 1-19. ISBN 9780415154901
Munt, Sally (1998) Grief, doubt and nostalgia in detective fiction or... "death and the detective novel": a return. College Literature, 25 (3). pp. 133-145. ISSN 0093-3139
Munt, Sally R (1998) Heroic desire: lesbian identity and cultural space. Lesbian and Gay Studies . Cassell, London ; Washington, D.C.. ISBN 9780304334544
Medhurst, Andy and Munt, Sally, eds. (1997) Lesbian and Gay Studies: A Critical Introduction. Cassell, London and Washington. ISBN 9780304338825
Munt, Sally R (1997) 'I teach therefore I am': lesbian studies in the liberal academy. Feminist Review, 56 (1). pp. 85-99. ISSN 0141-7789
Munt, Sally (1997) The lesbian outlaw. New Formations: A Journal of Culture, Theory, Politics, 32. pp. 135-143. ISSN 0950-2378
Munt, Sally R (1996) Beyond backlash: lesbian studies in the United Kingdom. In: The new lesbian studies: into the twenty-first century. The Feminist Press, New York, pp. 234-239. ISBN 9781558611368
Munt, Sally (1994) In defence of heroes. In: Stonewall 25: the making of the lesbian and gay community in Britain. Virago Press, London, pp. 199-209. ISBN 9781853817724
Munt, Sally R (1994) Murder by the book? Feminism and the crime novel. Narrative Forms and Social Formations . Routledge, London and New York. ISBN 9780415109192
Munt, Sally (1992) Is there a feminist in this text? Ten years (1979–1989) of the lesbian novel: a retrospective. Women's Studies International Forum, 15 (2). pp. 281-291. ISSN 0277-5395
Munt, Sally R, ed. (1992) New Lesbian Criticism: Literary and Cultural Readings. Columbia University Press, New York. ISBN 978-0231080194
Munt, Sally (1992) Sex and sexuality. In: Sex and sexuality in broadcasting. Broadcasting Standards Council: Annual Review . John Libbey and Company Ltd, London, pp. 116-120. ISBN 9780861963935
Munt, Sally (1988) The inverstigators: lesbian crime fiction. In: Sweet dreams: sexuality, gender, and popular fiction. Lawrence and Wishart, London, pp. 91-120. ISBN 9780853156727