A degree in Physics and Astronomy from Sussex will equip you with a wide range of skills and we give you specialist support throughout your degree to help you prepare for your future career.
Why Sussex?
Our graduates are in high demand. Forge links with industry and benefit from our strong relationships with employers through the South East Physics Network (SEPnet).
you can see a Careers and Employability Adviser at any time during your course and for up to three years after you graduate.
---
Key skills
You will:
develop knowledge and understanding of fundamental physics laws and principals and the ability to apply them, an analytical approach to problem solving, and effective use of IT for analysing data
develop the ability to work independently, work to tight deadlines and develop skills to communicate scientific information. All of these are highly prized by employers
you'll get the opportunity to learn research skills which will help prepare you for a career in research.
---
Graduate destinations

Recent Physics and Astronomy graduates have started jobs as:
business consultant, IBM

instrumentation researcher and developer,

Pall Life Sciences

development engineer,

Torr Scientific

software developer, Arm

graduate financial software developer,

Aquaq Analytics

trainee solutions developer, Jhc

performance analyst, South East Water

industry data analyst,

Ovo Enegery

trainee project manager, Ghc

data analyst,

Iproov

business technologies associate,

Accenture

systems engineer, Mass

associate technologist,

Kroll Discovery
As a Physics graduate you can enter a wide variety of fields, including becoming a professional scientist in industry, government or academia, and your broad training means you can cross over into other scientific and technological disciplines.
Other career options include the financial sector, where physicists' ability to handle complex abstract models is particularly valued. Your analytical training also makes you suitable for careers in law, consultancy and business management.
Our MPhys degrees are perfect if you are planning a career in science or who want to go on to a higher research degree.
---
Hear from our students
---
Careers support
As a student, you can access a range of services through our Careers and Employability Centre. You can get individual career support or attend employer events and career talks specifically for Physics students, including:
Careers Fair: We organise an annual fair giving you the opportunity to meet and find out more about employers that are particularly interested in physics graduates as well as other mini careers fairs throughout the year.
our Career development course: we offer second year students a course on the fundamentals of successful career development.
in-house careers events: we organise numerous events throughout the year giving you the opportunity to hear from Sussex and non-Sussex graduates and employers about careers and job prospects.
advice and support from our in-house Employability advisor/SEPnet Employer Liaison Officer who has developed links with local employers and gives support in securing placements and internships. They also run events such as 'Meet the Employer' giving you the chance to network and build relationships with local employers, apply for placements and jobs. Other typical activities include competitions, mock webcam interviews and feedback, webinars and visits from local employers giving extracurricular presentations.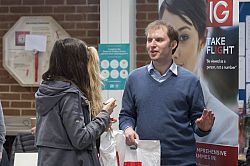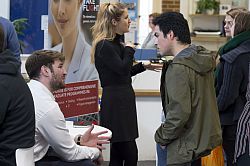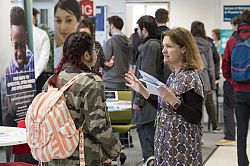 ---
Other opportunities:
our MPhys students can complete a research placement with Sussex researchers during the summer vacation, which provides a unique opportunity to learn about research methods and practices at the same time as developing your knowledge and understanding of Physics and/or Astrophysics.
extra-Curricular Activities. You can get involved in all the Student Union activity clubs and societies, and develop a range of skills that employers value.
career-related vacation work will enhance your future employment prospects. In addition, it offers other advantages such as finding out whether you really like a particular kind of work or company before you graduate. Work experience helps you get more out of your degree. It gives you a chance to see how your courses are relevant to the world of work, and can motivate the work you do at University.
---
You might also be interested in:
---
Contact us
Physics and Astronomy
ug.admissions@physics.sussex.ac.uk