A degree in Physics and Astronomy from Sussex will equip you with a wide range of skills and we give you specialist support throughout your degree to help you prepare for your future career.
Why Sussex?
Our graduates are in high demand. Forge links with industry and benefit from our strong relationships with employers through the South East Physics Network (SEPnet).
you can see a Careers and Employability Adviser at any time during your course and for up to three years after you graduate.
---
Key skills
You will:
develop knowledge and understanding of fundamental physics laws and principals and the ability to apply them, an analytical approach to problem solving, and effective use of IT for analysing data
develop the ability to work independently, work to tight deadlines and develop skills to communicate scientific information. All of these are highly prized by employers
you'll get the opportunity to learn research skills which will help prepare you for a career in research.
---
Graduate destinations

Recent Physics and Astronomy graduates have started jobs as:
geophysicist, CGG

business consultant, IBM

instrumentation researcher and developer,

Pall Life Sciences

development engineer,

Torr Scientific

software developer, Arm

graduate financial software developer,

Aquaq Analytics

trainee solutions developer, Jhc

performance analyst, South East Water

industry data analyst,

Ovo Enegery

trainee project manager, Ghc

data analyst,

Iproov

business technologies associate,

Accenture

systems engineer, Mass

associate technologist,

Kroll Discovery
As a Physics graduate you can enter a wide variety of fields, including becoming a professional scientist in industry, government or academia, and your broad training means you can cross over into other scientific and technological disciplines.
Other career options include the financial sector, where physicists' ability to handle complex abstract models is particularly valued. Your analytical training also makes you suitable for careers in law, consultancy and business management.
Our MPhys degrees are perfect if you are planning a career in science or who want to go on to a higher research degree.
What are some of our graduates doing now?
Sam, on working with Airbus on a new propulsion system

What was your first position after graduation and what did it involve?

I taught on the Physics International Summer School as well as some private teaching. I then joined Team Evolution spending several months in Austria skiing in the mornings and teaching physics in the afternoons.

I was then successful in joining the International Space University and part of this was to complete a placement. I completed mine at NASA in California where I was able to design a mission to Enceladus in search of life: www.newscientist.com/article/mg23631533-900-private-mission-may-get-us-back-to-enceladus-sooner-than-nasa/ . This was a fantastic opportunity to work with some of the world's best minds – I pitched the mission to NASA and it was successful.

What are you doing now and what does it involve?

I am currently working with Airbus on a new propulsion system. I have set up 8 Billion Minds with 22 volunteers, which is the first worldwide live learning platform, so people around the world can connect, learn and share information with each other. I am also developing a climate change app that will enable people worldwide to change their behaviour that will affect change.

Does your degree help you with your current career?

Being able to break down a very complex problem in to small manageable chunks. I learnt to believe that I could do this and this has helped me not be overwhelmed with huge problems since. I was able to learn theories and certain truths from physics and this helps to find answers. The degree course gave me a foundation that I have used since enabling me to progress, have the confidence to tackle the NASA work, and become trusted by experts.

Did you acquire other skills useful for your current career whilst a student?

I was not the best at physics and so the course had a good balance of soft skills development. The environment at Sussex and in Brighton is such a unique place. I have since travelled the world but Brighton is still, in my mind, such an amazing place. The University of Sussex attracts fantastic professors from all over the world. Sussex is diverse with a mix of arts and science with a real sense of community.

Would you recommend Physics at Sussex to someone else?

Yes, definitely. It was a perfect balance of science and social.

Would you recommend your line of work to someone else?

My work at Airbus is very interesting – working with laser satellites is a potentially growing field and so very exciting that I am a part of it. I am fortunate that the work with Airbus allows me to work on my own projects so from that perspective I would definitely recommend it. It is really hard work but the satisfaction and empowerment gained is very rewarding. I am proud that the work I do has the potential to impact communities and the world. I believe that if you are passionate about something, you do it!

Sam Naef
Physics BSc graduate

Mark, at BAE Systems Applied Intelligence as a Technical Consultant

What are you doing now and what does it involve?

I am a Technical Consultant at BAE Systems Applied Intelligence. I specifically work in a Business Unit called NetReveal which specialises in software to detect and prevent fraud. I am currently working on an installation for a major banking client which involves lots of programming and problem solving.


Why did you apply for the job you are in now?


My current company actively hire Physicists. This was a great opportunity for me as I wanted a technical role in IT.


Does your degree help you with your current career?


Definitely. Problem solving is the main thing that I took from my degree as I have to deal with new problems every day. Programming courses in Matlab and C++ at university helped me understand the logic of programming languages, and although I use different languages now, those courses helped me with the fundamentals.


Did you acquire other skills useful for your current career whilst a student?


I also have a lot of client interaction, so inter-personal skills I learnt at university, through things like working on open days and participating in various student committees, have put me in a good position for this.


Would you recommend Physics at Sussex to someone else?


I would. University is about so much more than just the academic side now. You need a good all-round department and university, and you certainly get that at Sussex. The social scene is great, there are lots of opportunities to get involved with committees and societies, and the careers advice and opportunities are great.


Would you recommend your line of work to someone else?


I would. I get to do many different things in a job I enjoy.

Mark Carter
Astrophysics MPhys graduate

Heather, on her career at the University of Surrey as an Outreach Officer

What was your first position after graduation and what did it involve?

I pursued a PhD at the University of Portsmouth on Gravitation and Cosmology. I worked on supernovae and my aim was to come up with a new way to classify them. I particularly worked with the Sloan Digital Sky Supernovae Survey, which discovered 10,000 of transient objects; these are astronomical objects that change brightness with time.

What are you doing now and what does it involve?

I am currently working in the University of Surrey as an Outreach Officer in the Physics department. My job is rather varied and I get to experience many different things. I go into schools and increase enthusiasm for STEM subjects, and for Physics in particular. I also organize events, stargazing sessions and science fairs to help showcase the department to the public.

Why did you apply for the job you are in now?

After my PhD, I worked as a post doctorate researcher at Cambridge for 2.5 years. While doing that, I spent a fair amount of time carrying out outreach. I realised that I really enjoyed outreach and decided to make a careers move. Every day is different and it's exciting, one day I can be giving a talk to a primary school and the next I could be giving a lecture to an astronomical society.

Does your degree help you with your current career?

When I was in Sussex doing my MPhys, I did summer research placements, which helped me, prepare for my PhD. The degree also helped me discover that I loved the astronomy side of physics.

Did you acquire other skills useful for your current career whilst a student?

I used to help on applicant days which taught me management skills and forced me to have to speak up which boosted my confidence when talking to the public. I was in the Wind Band and also took part in Ballet, both these activities helped develop my team building skills. In Ballet I was appointed the financial manager which aided me in budgeting in my day to day job.

Would you recommend Physics at Sussex to someone else?

Yes, I really enjoyed studying in Sussex. The department is really friendly and I felt that at Sussex the academics really cared about the students. Furthermore, Sussex is a great campus that really makes you feel at home.

Would you recommend your line of work to someone else?

Yes. My line is varied and interesting. I generally recommend anyone to pursue a science based job.

Heather Campbell
Physics MPhys graduate

Sam, as a Senior Radiation Environments Engineer at Surrey Satellite Technology Ltd

What are you doing now and what does it involve?

I'm working for Surrey Satellite Technology Ltd as a Senior Radiation Environments Engineer. Energetic charged particles in space can induce a variety of problems in spacecraft electronics and materials. The effects can range from temporary upsets to permanent damage and mission failure. I am responsible for the radiation hardness assurance of SSTL's spacecraft. This involves several tasks such as:
- The definition of the space radiation environment along a spacecrafts
orbit using established models
- Providing support with the design of the spacecraft and choice of
electronics and materials to withstand their environment. This normally
involves providing a minimum shielding level for the electronics and
ensuring the correct radiation verification tests have been performed on
the components and/or the correct mitigation techniques have been
considered in the design
- Review of subcontractor's analyses and test reports to determine
whether components meet customer/internal requirements and hence are
acceptable for the mission.

Is it what you expected? If not, is it better or worse, and would you recommend it to someone else?

I did some similar work in a previous company, however there were several more people on my team and I didn't have as much responsibility as I do now. It's a lot better than I expected; it is a pleasure to work with everyone in my team, across the company and several people from companies all over Europe. I enjoy travelling on a regular basis to visit customers and to attend conferences. I enjoy the fact that the work is technically and logistically challenging and each day is never the same. There are a lot of young, intelligent and motivated physicists and engineers at SSTL and you can tell we all have a passion for space! It's an inspiring place to be and everyone is a lot of fun.

Why did you apply for the job/course you are in/on now?

I saw the job advertised online; it was closer to home, better paid and was in the same technical area as my last job but with more responsibility and mission focus. It would have been silly not to go for it.

Did you acquire skills when studying for your undergraduate degree that help you with what you are doing now?

I do use things directly from my degree (such as particle physics knowledge and computing skills) but it's mainly the skills I learnt during the degree such as; problem solving, picking things up quickly and sorting through information efficiently that help me to succeed. Mphys labs and skills were very beneficial because you're not held by the hand, you're left on your own a bit more, which is closer to the situation at work or as a researcher.

Did you acquire other useful skills whilst an undergraduate?

Team work, communication and relationships with your colleagues are very important. To develop these sorts of skills experimental labs were good as we had to work with a partner. However I think that my time as a student mentor and representative of my year on the Departmental Joint Committee were invaluable; I am very confident in meetings because of the experiences I had in these roles at Sussex.

In hind sight, would you have done anything differently as an undergraduate?

The MPhys Physics with Astrophysics degree at Sussex was right for me. I have concentrated in particle astrophysics during my career directly as a result of the courses I specialised in. But a physics degree opens many doors and you never stop learning after your degree; I find that I am learning more in the areas of device physics and electronics now.

In hindsight I should have kept up my French and I would have liked the opportunity to do internships at several companies during my undergraduate degree. I think internships are really beneficial as they allow you to understand what it's like to work for a company, get good experience on your CV, improve your skills and you can become useful more quickly to an employer than a fresh graduate with no experience. The majority of graduates from Europe who work in the space industry
have several internships on their CV's and are fluent in several languages! In today's harsh climate for graduate jobs I think an internship can make all the difference.

Anthing else you'd like to mention?

Think about jobs long before you graduate! Make sure you have a good CV and send it out to every job that sounds interesting. Use your contacts! Attend lots of interviews, even if it's just for the practice and ask lots of questions so you get a good feel of the atmosphere of the company to see if you'd fit in.

Sam Rason
Astrophysics MPhys graduate

Mark, working as a data analyst for ThanksBox

What was your first position after graduation and what did it involve?

My first job after my degree was as a Catalyst team member for the Sussex Innovation Centre. I worked on various projects for the new centre; Sussex Innovation Croydon and multiple start-up companies including UKRIO, 3nStrategy, SME Needs and Thrivo.

What are you doing now and what does it involve?

I work for ThanksBox as a data analyst both internally and producing reports for clients. Internally this allows me to inform and own some decision making within inbound marketing, sales and product.

I'm working towards formalising some of the skills I've been developing and moving towards a product management style role in the analytics side of the ThanksBox app. the app.

Why did you apply for the job you are in now?

From my first job at the Sussex Innovation Centre, I worked with ThanksBox and really enjoyed the direction of the company, the people and decided to join them.

Does your degree help you with your current career?

A Physics degree teaches many skills that open up a wide range of job opportunities. I have really used the research methods and critical thinking skills gained on my degree. The analytical skills taught have also proved invaluable.

Did you acquire other skills useful for your current career whilst a student?


Having to work closely with my peers helped develop interpersonal and communication skills which are very useful for day-to-day life.

Would you recommend Physics at Sussex to someone else?

Yes. There are many extracurricular opportunities offered. I did a summer placement in my 1st year, an IOP research placement in my 2nd and taught in the summer school during my 3rd summer.

Furthermore, the environment is great! Very conducive for studies and collaboration.

Would you recommend your line of work to someone else?

Yes, the role is unusual but is very interesting. The career advisory team is incredible, approach them and they will definitely help you as much as possible.

Mark Davies
Theoretical Physics MPhys graduate
For further graduate career profiles see the Undergraduate Prospectus
---
Hear from our students
---
Careers support
As a student, you can access a range of services through our Careers and Employability Centre. You can get individual career support or attend employer events and career talks specifically for Physics students, including:
Careers Fair: We organise an annual fair giving you the opportunity to meet and find out more about employers that are particularly interested in physics graduates as well as other mini careers fairs throughout the year.
our Career development course: we offer second year students a course on the fundamentals of successful career development.
in-house careers events: we organise numerous events throughout the year giving you the opportunity to hear from Sussex and non-Sussex graduates and employers about careers and job prospects.
advice and support from our in-house Employability advisor/SEPnet Employer Liaison Officer who has developed links with local employers and gives support in securing placements and internships. They also run events such as 'Meet the Employer' giving you the chance to network and build relationships with local employers, apply for placements and jobs. Other typical activities include competitions, mock webcam interviews and feedback, webinars and visits from local employers giving extracurricular presentations.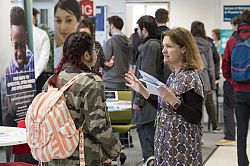 ---
Other opportunities:
our MPhys students can complete a research placement with Sussex researchers during the summer vacation, which provides a unique opportunity to learn about research methods and practices at the same time as developing your knowledge and understanding of Physics and/or Astrophysics.
extra-Curricular Activities. You can get involved in all the Student Union activity clubs and societies, and develop a range of skills that employers value.
career-related vacation work will enhance your future employment prospects. In addition, it offers other advantages such as finding out whether you really like a particular kind of work or company before you graduate. Work experience helps you get more out of your degree. It gives you a chance to see how your courses are relevant to the world of work, and can motivate the work you do at University.
---
You might also be interested in:
---
Contact us
Physics and Astronomy
ug.admissions@physics.sussex.ac.uk