To themselves they were forward-thinking creatives, making profound statements about art and society.
To the locals, they were often seen as outlandish outsiders, detached from Sussex customs and ways of living.
A major new exhibition, opening next week (28 January), brings together the work and lives of some of the most celebrated artists, writers, sculptors, architects, musicians, film-makers and designers to have trodden the Sussex soil during the last century.
Among those featured in Sussex Modernism: Rebellion and Retreat, are Ditchling's controversial sculptor Eric Gill, Rodmell's strident feminist author Virginia Woolf, Charleston Farmhouse's homo-erotic artist Duncan Grant, and West Dean's decadent patron of Surrealism Edward James.
Although now regarded as having a significant influence on British culture, their relationship with the rural and coastal communities they chose to inhabit was far from cosy.
Dr Hope Wolf, University of Sussex lecturer in British Modernist Literature and co-director of the university's Centre for Modernist Studies who has curated the exhibition in London, says this was an important part of the narrative.
"One of the main things I am trying to show is this friction between the Modernists and Sussex," she says. "What I am not doing is putting on a show of picturesque Sussex paintings. Modernists were often resistant to all of that."
For the free exhibition, which is at Two Temple Place until April 23, Dr Wolf worked with eleven museums and galleries across East and West Sussex to source more than 120 startling works and artefacts, as well some extraordinary stories.
She came across anecdotes such as how the head of the jam-making circle in Berwick, East Sussex, objected to murals painted in the local church by Duncan Grant and Vanessa Bell (Virginia Woolf's artist sister) and her son Quentin Bell during the Second World War.
The murals, depicting religious scenes often with a Sussex backdrop – and using friends and family as models – were commissioned by the Bishop of Chichester to foster a better relationship between the church and the arts.
But, says Dr Wolf, for some, the artists "did not play sufficiently by the rules". Quentin was (wrongly) accused of being a conscientious objector, and the locals would have been aware that Grant, a pacifist, had not fought in the First World War. "Sussex lost so many men in the First World War", she says, "and you can see how rifts might have arisen between those who fought and those who did not."
Patron of the Surrealists, Edward James, told a story of how, in 1934, in the West Sussex parish of West Dean, the locals objected to his wish to redesign their parish church. His 'Russian ballet fancy architecture' was not for them.
James had painted his home, Monkton House, the hunting lodge of his aristocratic family's home, a lurid shade of purple and had filled it with strange and fabulous furniture, such as Salvador Dali's famous 'Mae West' lips sofa (now owned by Brighton Museum and Art Gallery).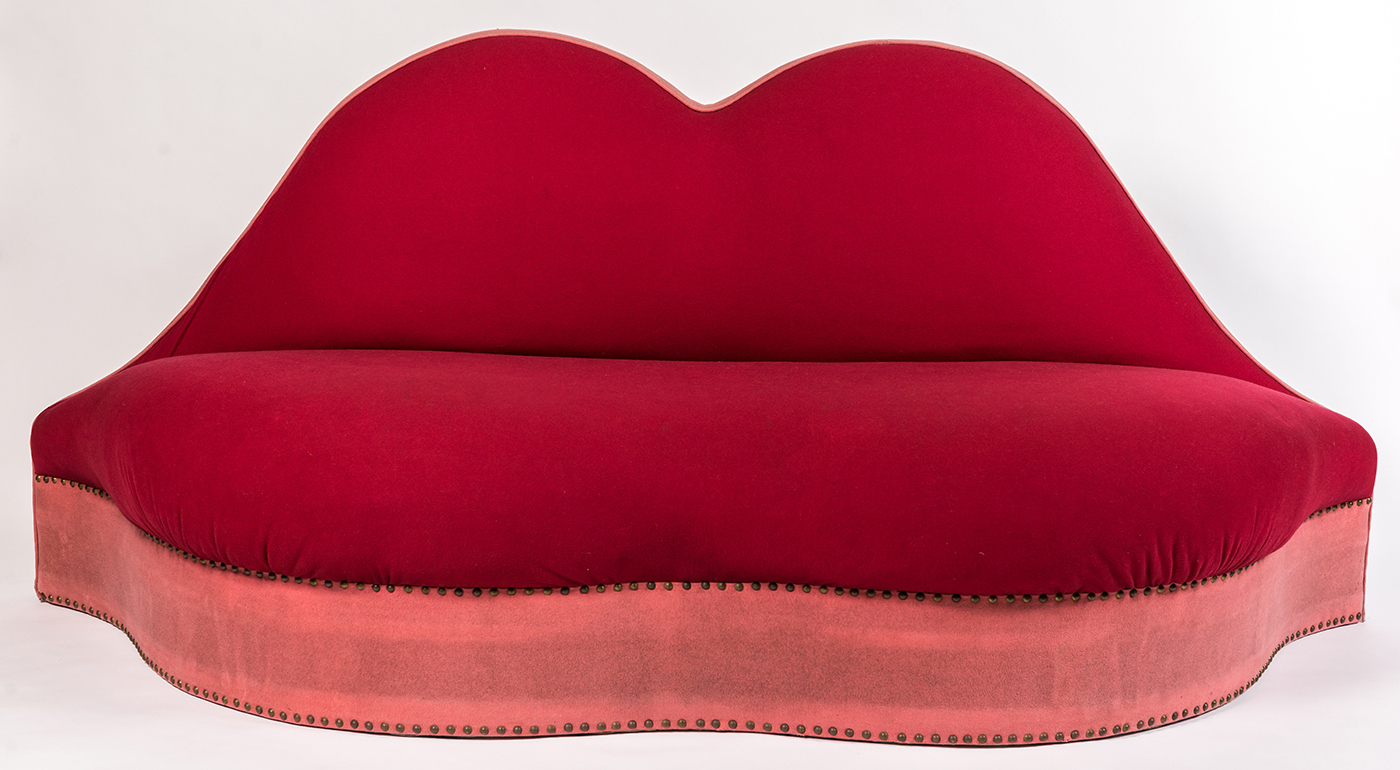 Edward James, Salvador Dali, Mae West lips sofa, 1938 - Royal Pavilion & Museums, Brighton & Hove
Although the item no longer seems shocking, Dr Wolf says that in a grand country house, "it would have stood out strikingly from the more prudish, tasteful decoration of the time."
Meanwhile, in Bexhill on Sea, the gleaming, shining De La Warr Pavilion, built in 1935 and now regarded as a jewel in the resort's crown, was met with similar antipathy – and xenophobia – because it was designed by German-Jewish émigré Erich Mendelsohn and Russian-born Serge Chermayeff.
A local resident is reported to have attacked the town clerk in protest against "the employment of an alien architect for the erection of a building buy a public body to the exclusion of British architects".
As Dr Wolf points out, Sussex's location between France and London was likely to have been a major factor for why the area became a haven for artists and European émigres between the wars.
The exhibition specifically focuses on the years 1910 to 1950 (although it also includes a few works from the 1960s), a period of great social, cultural and political upheaval across the Continent.
"Sussex was a threshold to Europe. The artists living in Sussex were influenced by European art – and it became a place for artists fleeing Europe to settle."
She references a scene in Virginia Woolf's last novel, Between The Acts, about a local amateur dramatic society in a rural village (believed to be based on Rodmell) that has the suitably foreign-sounding Miss La Trobe writing a play that unsettles the community.
One section of the exhibition looks at coastal art, but the pieces aren't calm and picturesque seascapes. Dr Wolf draws attention to John Piper's 1933 mixed media piece of Eastbourne's Seven Sister's Cliff, Beach and Starfish.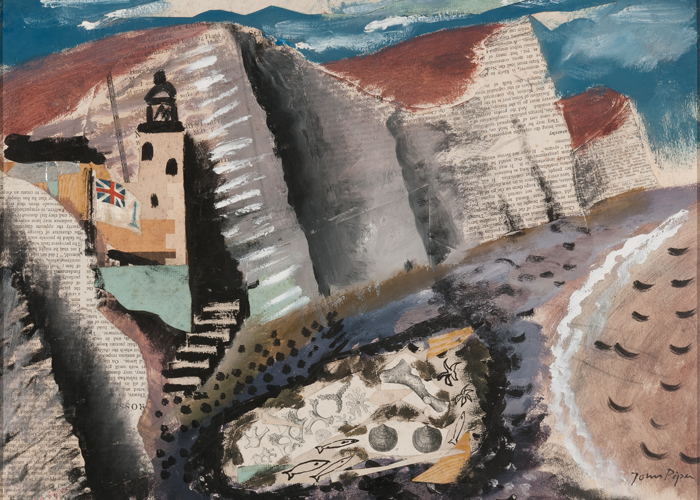 John Piper, Beach and Star Fish, Seven Sister's Cliff, Eastbourne, 1933-34 -¬ The Piper Estate DACS 2015

"At first glance if looks quite naive but when you look closely you seen it's very political. It incorporates a newspaper cutting about Nazism and socialism, and an advert for English private schools. And the technique of using collage is European. He's using the coast to think about Europe."
Another painting, Edward Wadsworth's Bronze Ballet, was based on a scene at Le Havre, but painted in Maresfield in 1940 to the "noisy accompaniment" of the bombardment of Abbeville, Boulogne and Calais.
While the Modernists may not have found the locals always warm and accommodating, Dr Wolf has plenty of evidence of them making connections with other like-minded individuals across Sussex.
Virginia and Leonard Woolf visited Eric Gill in Ditchling and his statues graced the gardens of the Bloomsbury group. Duncan Grant is said to have visited Farley Farm House in Muddles Green, the home of Surrealist artist Roland Penrose and his extraordinary photographer wife Lee Miller – herself once a model for the Surrealist photographer Man Ray.
Many of the artists used their rural retreats to entertain other artists. Pablo Picasso and Henry Moore were familiar faces at Farley Farm. And socialist artist Peggy Angus's idiosyncratically decorated home, Furlongs, in Beddingham, was often the scene of political debate with fellow industrial painter Eric Ravilious, and John Piper, to whom she wrote in 1942 "art in our time is so divorced from people's lives".
While the exhibition encompasses a wide range of people and stories, Dr Wolf sees this as being still just the surface of the Modernist landscape in Sussex.
"I want the project to continue, to find out more about what the local people really thought about these new arrivals," she says. "There are stories about locals enjoying the works, but the anecdotes that tend to get mentioned emphasise conflict and tension. There's a lot more exciting research to be done, connecting local history with the study of the Arts."
Sussex Modernism: Retreat and Rebellion, is at Two Temple Place, London, WC2R 3BD, from Saturday 28 January until Sunday 23 April. Open Monday to Saturday 10am to 4.30pm. Closed Tuesday. For more, visit www.twotempleplace.org
Dr Wolf will be giving talks both at the exhibition venue, and at galleries and museums in Sussex. The first will be on 16 February at Pallant House. Please see the Centre for Modernist Studies website for further information: https://centreformoderniststudiessussex.wordpress.com If you have stories to share about Modernists in Sussex, email Dr Wolf: h.wolf@sussex.ac.uk