Students from the University of Sussex will come together next week to graduate from a truly global institution.
More than 3,500 graduands will take to the stage at the Brighton Dome from 18-22 July, in a year that a greater proportion of students are set to graduate from across the globe than ever before – 32 per cent of graduands.
The University of Sussex places huge emphasis on its students becoming citizens of the world through the courses it offers, the opportunities to study abroad and the global perspective of its teaching. The research-led University now has a record number of students graduating from countries around the world, making it a truly multicultural community.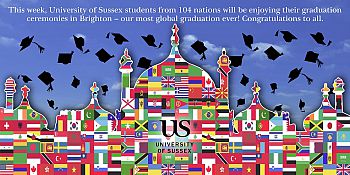 Professor Michael Farthing, the University's Vice-Chancellor, said:
"In this, my last graduation as Vice Chancellor, I am so very proud of all our students graduating this summer. We are honoured to be a University that encourages our students to look at the world through a global lens, and we will always place great emphasis on understanding different perspectives.
"With 104 nationalities graduating this week as well as boasting alumni from more than 190 countries and relationships with dozens of universities globally, internationalism is at our heart, and this will never change."


Student stories
Our Honoraries