"Untold Stories" is a supervised work experience project run by the University's School of Media, Film and Music. MA students team up with local charities, interviewing their volunteers and the families they support. The students then turn these 'frontline' stories into audio podcasts.
Through the interviews the students gain practical experience and the charities get a taste of working with the media. Both can use the podcast to promote what they do to potential employers, funding bodies or volunteers.
The charities can use the podcasts in different ways: to recruit and train volunteers, to raise funds and to promote their work generally.
The interviews are available here.
("Untold Stories" photo courtesy of Fun in Action for Children.)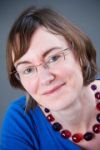 The project supervisor is Miranda Birch, whose background is in programme making at BBC, including "Woman's Hour" and "Desert Island Discs" on BBC Radio 4. The academic supervisor is Monika Metykova.