Like every other English speaker, you are already an expert on the English language. So why study it? The problem is: you probably don't know what you know – or what you don't know. That's the thing about language: it's a human phenomenon that comes as naturally to us as walking or humming a tune or recognizing faces – and just as hard to explain in terms of how we do it, how we learned to do it, and why we do it the way that we do.
The quality of our English Language degrees and our teaching has been recognised both nationally and internationally.
We feature in the UK's top 15 institutions for English across all major league tables:
19th, The Times and Sunday Times University Rankings 2019
16th, The Independent Complete University Guide 2019
19th, The Guardian University Guide 2019
Our courses

Explore our courses:
Here at Sussex, the study of English language is the linguistics of English. This involves studying all aspects of the language: its structure, its history, its use – how it exists in our individual minds, in our society, and crossculturally. Here are some of the questions we like to think about:
What do the ways in which we use English tell us about what it means to be members of an English-speaking culture?
What does it mean to be an 'English speaker' in these days of globalization?
Does globalization actually mean that 'Englishes' are becoming more alike?
How is it that we mean more than we say – and that others can understand the things we meant but didn't say?
How are belief systems created and reflected through language?
How is language used to persuade, to vilify, to forge bonds between us?
Do you use it differently from a politician, a nurse, a television presenter?
How and why?
The structure of human languages reveals much about what it means to be human. Is there anything special about the structure of English as compared with other languages? English has changed much since the days of Beowulf. You can hear English changing now.
The words that you use and that accent with which you say them has shifted even over the last few years. How did you get that accent? Why do languages change given that change makes effective communication so much harder? We go from being languageless infants to being experts in the use of a complex system of sounds, words, and rules.
Children learn their mother tongue so easily and without explicit instruction, yet it is so hard to learn a second language later in life, which we will probably never speak with the same fluency as our first language. How do humans learn language?
If you find these questions as interesting and exciting as we do, come and study English Language at Sussex.
'I'm currently in my second year studying English Language and Linguistics and I'm really enjoying it. Through the English department I was offered a job with Widening Participation where I spend one day a week in a secondary school as an English tutor. It's such a rewarding and eye-opening job and gives me the opportunity to share my passion with other young people. As well as this I am on the committee for the Show Choir society as their Promotions and Welfare officer. This has really enriched my University experience as it's provided me with a group of like-minded, loving people that all share the same interest as me.'
Rebecca Longhurst
English Language and Linguistics BA
Careers
We are 1st in the UK for career prospects (The Guardian University Guide 2018, The Complete University Guide 2018 and The Times and Sunday Times Good University Guide 2017).
'I chose to study at Sussex because as soon as I came to an open day, I felt at home. The campus itself felt extremely welcoming and is only a couple of minutes away from the exciting and vibrant city of Brighton, coupled with the fact that Sussex is academically renowned. The University has access to a wide range of journal articles as well as subscribes to a large amount of corpora. The highlight of the course for me has been developing a research project in dialectology. I designed an experiment focusing on the change in a linguistic variable and collected data from speakers to support my hypotheses.
'When I started I knew that I wanted to continue my education to gain a PGCE in secondary English (and I still do). I believe that the University's reputation has put me in great stead for applying to PGCE courses. I have acquired a breadth of skills during my education here that I feel will be advantageous in applying for positions.
'I doubt I would have been able to learn so much about myself at any other University or in any other city. Living in Brighton - this is a city that lives and breathes individuality and creativity. It's perfect for a student population in the fact that it is both cosmopolitan and alive with activity. Do it! You won't regret it.'
Christian Ilbury
Linguistics and Languages BA
Junior Research Associates
The University of Sussex Junior Research Associate (JRA) and Sussex Undergraduate Research Associate (SURA) are pioneering programmes which aim to develop future research leaders. They reward academic excellence by supporting high-achieving undergraduates to work alongside Sussex's top research faculty during the summer holiday. To find out more about these programmes, please visit our research pages.
In 2016-2017, ten English students were awarded these paid, eight-week long fellowships.
Linguistics student Eddie Brown (pictured below), exhibited her research, which sought to answer the question: 'How does compliment response correspond to compliment length?'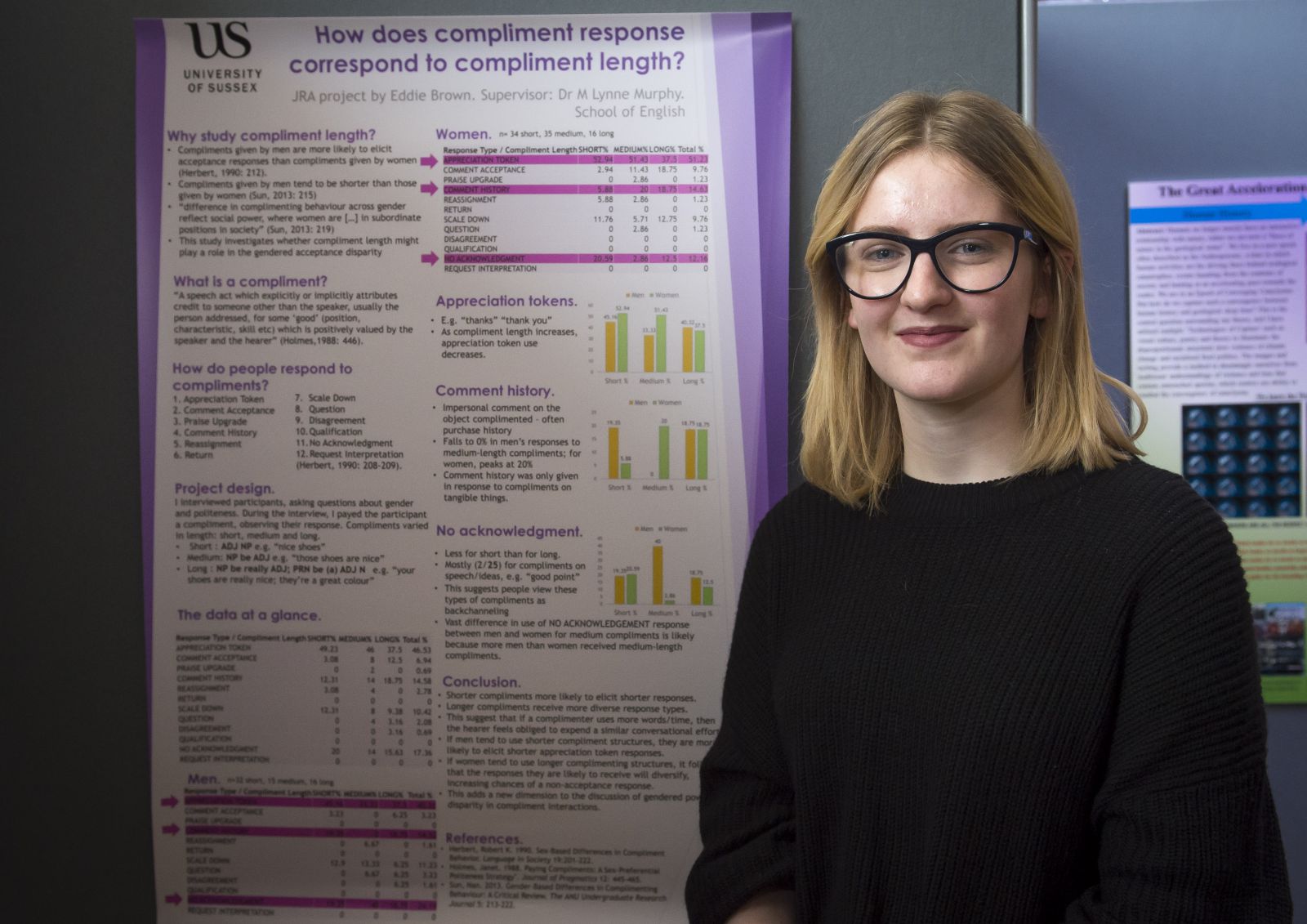 You can also read a past case study below:
Sarah Fitzgerald - Developing a parts-of-speech tagging system for Cameroon Pidgin English

Cameroon Pidgin English (CPE) is a poorly-documented creole variety spoken by up to 50% of Cameroon's 22,000,000 population. It is a stigmatised, unwritten language. The absence of written texts in CPE has until recently prevented the creation of a digital corpus, making quantitative empirical study of the structure of this language difficult. Dr Melanie Green and her colleagues have now collected and transcribed 120,000 words of spoken CPE.

Working over the summer of 2015 Sarah proposed to develop a system for labelling the words in this pilot digital corpus for their parts-of-speech (POS), or grammatical category (noun, verb, adjective etc.), a process known as 'tagging'. POS tags play two important roles in digital corpora: (i) enabling searches for frequently occurring grammatical patterns; and (ii) distinguishing between words with more than one meaning or function. For example, the CPE word de can be a definite article ('the'), a noun ('day'), a pronoun ('they'), or a locative adverb ('there'). This multifunctionality is a common feature of creole languages, which have relatively small vocabularies with which to express the richness of meaning characteristic of human language. The tagging of these multifunctional expressions cannot be done automatically.

As a creole, CPE contains many examples of such words, making a tagging system crucial for accurate description of the language. Sarah will also develop a set of rules for these ambiguous cases, allowing future CPE POS tagging to be carried out consistently and rapidly, as the digital corpus is expanded.

Sara has now completed her JRA project and has written about how it developed her knowledge and skills and provided a new opportunity for her. You can read about it here.
Contact us
For enquiries about undergraduate admissions:
Email: ug.enquiries@sussex.ac.uk
Telephone: +44 (0)1273 876787
You might also be interested in: