Our aims:
To promote research on the causes of terrorism and violent extremism and how to understand and counter these occurences;
To develop links and partnerships with experts, nationally and internationally, including research institutions, Non Government Organisations (NGOs), intergovernmental organisations and policy makers;
To generate research on policy, law and practice;
To inform teaching and learning on counter terrorism and violent extremism at undergraduate and postgraduate levels; and
To encourage and support combined research funding on terrorism and violent extremism projects.
Up coming seminars:
42nd Session of the United Nations Human Rights Council, "Terrorism Financing in South Asia"

Speakers:

Dr Dorothée Vandamme - Research Assistant and Visiting Lecturer at the University of Louvain, Centre for the Study of Crises and International Conflicts, the Genesys Network and EFSAS Research Fellow.
Dr Paul Stott - Research Fellow in the Centre for the Response to Radicalisation and Terrorism at the Henry Jackson Society, Tutor in the Centre for International Studies & Diplomacy at SOAS and EFSAS Research Fellow.
Mr Malaiz Daud - Former Chief of Staff of Afghanistan's President Ashraf Ghani, Research Fellow at the Barcelona Center for International Affairs and a Scholar at the Berghof Foundation.
Dr Matthew Garrod - Senior Lecturer in Law at the University of Sussex and Co-Director of the Sussex Terrorism and Extremism Research Network (STERN).
Moderator: Mr Junaid Qureshi - Director of the European Foundation for South Asian Studies.

Location: Room VIII, Palais des Nations, Geneva, Switzerland

Date/Time: Tuesday 24th September 2019, 10:00-11:00
Past Events:
Online Hate: From the Far-Right to the Alt-Right, and from the Margins to the Mainstream

Speaker: Dr Aaron Winter | Senior Lecturer in Criminology and Criminal Justice | University of East London

Title: "Online Hate: From the Far-Right to the Alt-Right, and from the Margins to the Mainstream"

Abstract: "In the late 1990s and early 2000s there was much discussion of both the democratizing and anti-democratic implications of the internet, in the absence of clear controls or regulations and boundaries. In relation to the former thesis were progressive social movements, and in the latter, the far-right using the internet to spread their racist hate, network and recruit both domestically and globally. Despite early fears and claims that the Americans were at the forefront of the far-right internet revolution, they did not harness or exploit this new technology quickly, effectively or widely. Many were still using printing presses and scanning material onto the web pages or 'cut and paste brochures'. Since the late 2000s, there has been an increased use of the internet by the far-right, which has led to greater attention paid to it by the media, monitoring organisations and researchers, the latter of which look at the far-right online in relation to everything from particular forms of hate and identity/community formation to monitoring, detection, radicalisation and CVE. This interest and attention have increased in the Trump era in response to the so-called 'Alt-Right' and proliferation of far-right and white identity and misogynistic movements and subcultures, as well as more general racism and misogyny, online. This paper will examine the history of the American far-right's use of the internet with respect to: 1. How this history developed in response to political changes and emerging technologies; 2. How it reflected and changed the status of such movements and their brand of hate; and 3. The relationship between online activity and traditional forms and methods of communication and activism. It will also look at how the online far-right and wider hate is being addressed by government, monitoring organisations, the private sector and anti-racist and anti-fascist activists, and the issues and tensions this produces."

Location: Ashdown AH-103 | University of Sussex

Date/Time: Wednesday 12th December 2018 | 13.00-14.30

Organised Crime / Terror Nexus Workshop

The organised crime/terror nexus manifests at various levels. Organised crime groups and terrorists may converge, permanently or opportunistically. For instance, terrorist groups such as the Kurdistan Worker's Party (PKK) are known to tax and extort drugs traffickers operating within the territory they control; and the Neapolitan Camorra were found to be supplying heavy weapons to ETA in return for shipments of drugs.

Furthermore, the use of criminal tactics by terrorists to further their activities financially and operationally is a recurrent phenomenon, ranging from the IRA's involvement in racketeering to drug dealing by members of European terror cells. These examples prompt reflection on the nature of the linkages between organised crime and terror.

As a result, the organised crime/terror nexus remains a subject of sustained concern for policy-makers and law enforcement agencies. However, the development of evidence-based policies is complicated by the challenges of researching the activities of criminal and terrorist networks. This is particularly so in a technology-driven age, with the opportunities that cyber space offers to terrorists and criminals.

This workshop is jointly organised by the Strategic Hub for Organised Crime Research (SHOC) at RUSI and the newly created Sussex Terrorism and Extremism Research Network (STERN) at the University of Sussex. It brings together representatives from government, law enforcement agencies and academia to take stock of the current state of knowledge on the terrorism/organised crime nexus and discuss its implications for law enforcement in Europe.

Speakers:

Matt Garrod, Lecturer in Law, University of Sussex, Director of Sussex Terrorism and Extremism Research Network (STERN)
John Jupp, Lecturer in Law, University of Sussex, Director of Sussex Terrorism and Extremism Research Network (STERN)
Dr Tamara Makarenko, Managing Director, West Sands Advisory
Tuesday Reitano, Deputy Director, Global Initiative against Transnational Organized Crime
Detective Constable Stephen Ward, Police Service Northern Ireland (PSNI)
Colonel Claudio Petrozziello, Guardia di Finanza
News
John Jupp
Conference: Exploring the Crime-Terror Nexus, 15-16 March 2019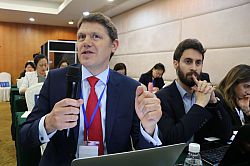 Shanghai, China
Paper: Legacies of the Troubles. The Links Between Organised Crime and Terrorism in Northern Ireland
"I was invited to participate in an Expert Working Group entitled Terrorism and National Security which took place in Shanghai on 15-16 March 2019. The aim of the meeting was to share with policy-oriented audiences (e.g., government representatives, policy makers and researchers) the latest ideas, innovative strategies and field research findings from scholars around the world.
I gave a talk entitled 'Legacies of the Troubles: The Links Between Organised Crime and Terrorism in Northern Ireland' based on an article by myself and Matthew Garrod that has been accepted for publication by Studies in Conflict and Terrorism."
Our projects:
Dr Suraj Lakhani:
Home Office – "Understanding How Terrorist/Extremist Groups Share Content, and where it Appears On-Line"
British Academy/Leverhulme Small Research Grant – "'Prevent Duty': Understanding the Effects of Counter-Terrorism Policy within Secondary and Further Education Institutions."
Dr John Jupp and Dr Matthew Garrod
Both appointed as counter-terrorism experts for the Education for Justice (E4J) project, UN Office on Drugs and Crime, in January 2017.
Co-Lead Investigators on a UNODC project entitled 'Strengthening Research and Evaluation Capacity on Linkages Between Organized Crime and Terrorism WithinTertiary Institutions Globally.' This project is part of the UNODC's Education for Justice (E4J) initiative which is designed to support the integration of crime and other rule of law aspects into all levels of education. At the university level, it aims to facilitate and promote teaching and research on issues related to UNODC mandate areas, including anti-corruption, organized crime, human trafficking, migrant smuggling, terrorism prevention, cybercrime, criminal justice and arms trafficking, as well as on integrity and ethics.
Previous Projects

Suraj Lakhani:

John Jupp:

ESRC GCRF IAA "Strengthening Legal Protections and Support for Victims of Terrorism During Criminal Proceedings in Afghanistan"

Matthew Garrod

Dr Garrod has acted as an independent expert legal advisor on counter terrorism at the United Nations, a role which includes: providing legal advice to the United Nations on the international legal framework for the countering of terrorism and review of national counter terrorism legislation; and providing recommendations and assistance to governments on legislative reform and drafting and good practice guidance on issues relating to substantive crimes; extraterritorial jurisdiction; terrorist financing; terrorist incitement; human rights and countering terrorism; and international cooperation, such as mutual legal assistance and extradition. Dr Garrod also contributes to high-level international conferences on counter terrorism.

Directors

Dr Suraj Lakhani Twitter: @surajlakhani