For students
Welcome to the School of Law, Politics and Sociology (LPS). We hope that your time here will be enjoyable as well as productive.
These pages aim to serve as a helpful resource for current students in LPS, whether you're new to the University or a returning undergraduate or postgraduate. We have tried to make all information as clear and easy to access as possible, but if you can't find what you're looking for here there are always people in LPS who can answer your queries.
LPS Final Year Results Day 2014 celebrations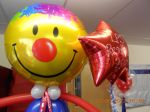 On Friday 13 June staff and students in the School of Law, Politics and Sociology will be celebrating the Final Year Results with a world cup party at the Friston Building. Our warm congratulations to all those who completed and best wishes
for your upcoming graduation ceremonies and for your future careers.
USSU Teaching Awards 2014
Useful information and links