About us
"We are dedicated to delivering high quality, innovative information services, which contribute to the successful learning, teaching and research of the University and the community."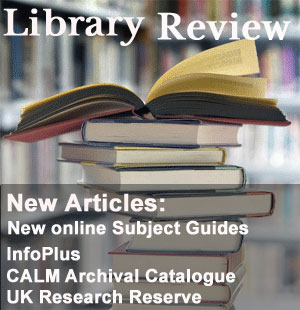 Key Documents and information
The Library conducted a survey in 2012, you can read the results of the survey: Library Survey 2012 [PDF 694.41KB]. You can also read a report on the 2011 survey: Library Survey 2011 [PDF 781.33KB] or see the original announcement.

Annual Reports
Since 2007 the Library has regularly published articles to the Library Review section of the website. Before this the Library produced an Annual Report.
Annual reports: 2000 - 2001 | 01 - 02 | 02 - 03 | 03 - 04 | 04 - 05 | 05 - 06 | 07 onwards
Documents on this page are in
PDF Format. some documents, especially the Annual reports, have a large file size and may take a while to load depending on your connection speed.