Russian Studies, including Soviet and East European Studies, was an integral part of the University's School of European Studies from its earliest days in 1962. Sadly, after more than forty years, in 2003 the decision was taken not to admit any further students. However, the Russian Society at Sussex lives on!
Continuing the tradition of the Russian Studies seminars, an occasional programme of talks and other events is organised, alongside an email list providing details of these events and other items of interest - please email Matthew Platts to be added to that list.
Thursday 6 December, from 5pm in the Language Learning Centre, Arts A:
A student in Leningrad, the Prague Spring and the BBC
Dr Elisabeth Robson Elliot (former Head of the Russian Service, BBC World Service)
A personal view of broadcasting and the invasion of Czechoslovakia in August 1968.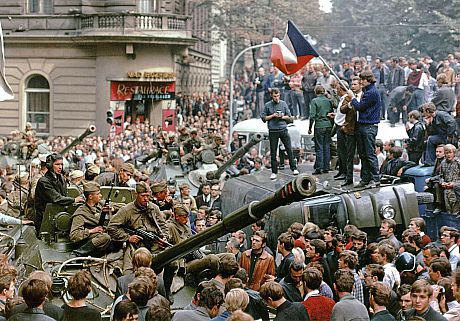 Previous speakers

Archive

A book of commemorative essays has been published about our late colleague the Rev Dr Sergei Hackel: East-West: In memory of Sergei Hackel - a Russian Priest and English Scholar edited by another former colleague, Faina Ianova.
And yet another bastion of Russian at Sussex, Colin Bearne, has published Polemic and Pastoral: Writing the countryside, a collection of his translated excerpts together with a commentary on them, by ten Russian writers.
Congratulations to the students of Russian language at the University of Sussex who have again triumphed at the National Russian Essay Competition: Harriet Cole, Victoria Sheridan and Francis Hodge, and to their teacher Natalia Tchalaia!
Olivia Lichtenstein (Sussex Russian alumna, 1975; and a BAFTA-winning documentary filmmaker) presented 'How to launch a documentary film project' on Tuesday 28 October 2014, 2-3pm in Fulton B Lecture Theatre.
Professor Robin Milner-Gulland co-presented an event at Russotrudnichestvo London in November 2013 for his translations of Oleg Tarasov's art history books Framing Russian Art and Icon and Devotion
Beryl Williams gave a GB-Russia lecture at Pushkin House on Art and Industrialists in late Tsarist Russia in October 2013, a reprise of the Founding Historians Lecture given earlier in the year here at the University.
The University of Sussex's 50th anniversary began with an informal invitation from Robin Milner-Gulland and Beryl Williams to alumni to catch them outside the Language Centre on the opening weekend of the celebrations - dozens turned up from around the world - and ended with both of them being awarded fellowships: "At the final celebration of its 50th anniversary this year, Sussex awarded fellowships to people associated with the University who have made a distinguished contribution in any field or activity since its foundation in 1961." Beryl is also one of the Fifty voices: Fifty faces chosen to contribute to the oral history of the university.
Our commemoration of Vaughan James was a great success, with scores of former students, staff, family and friends filling the Meeting House on 19th March 2010. Many thanks to all who attended a poignant yet thoroughly enjoyable evening. Especial thanks to Beryl Williams & Robin Milner-Gulland for organising it; to David James, John Langran, Terry Doyle, Andrew Whitley and Hywel Jones who all spoke eloquently of their memories of Vaughan; and to Polina Shepherd's 14-strong Brighton & Hove Russian Choir who performed a stunning set of five songs.
Sussex Russian alumni Hilary Benn and Olivia Lichtenstein returned to campus to give career advice for two schemes offered by the University's Career Development and Employment Centre: alumni careers week and PostGradPlus.

Рецепты Хлои Живаго is the Russian translation of Olivia Lichtenstein's debut novel known in English as Mrs Zhivago of Queens Park.

Sussex Russian alumni Olga Soboleva and Stella Rock have published books from their DPhil theses: The Silver Mask: Harlequinade in the Symbolist Poetry of Blok and Belyi and Popular Religion in Russia: 'Double Belief' and the Making of an Academic Myth (now in paperback and eBook) respectively.
Please note: the Russian Society is not officially affiliated with the Sussex Centre for Language Studies.