Browse some of the highlights of outstanding work by the Sussex Centre for Language Studies, providing insight into student and staff experiences at Sussex.
One World Week 2014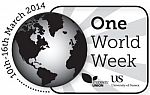 The Sussex Centre for Language Studies organised dozens of events for the campus One World Week, 10-16 March 2014. Photo gallery coming soon...
A short story in French for radio
Lucy Gray's short story 'Arc en Ciel', written and performed in French as her contribution to One World Week.
Listening stations! Sussex students broadcasting in French on French Radio London
First year students studying French as an elective created their own micro radio shows in French which were broadcast on French Radio London in December 2013.
Through this creative radio project students explored the production of a mini show from start to finish. Students worked in teams to decide a topic, design a concept, script, record, edit and enhance each show. French Radio London were impressed with the results and broadcast all three themes (click for podcasts):
The collaborative project was made possible thanks to the generosity of staff in Sussex's School of Media, Film and Music who provided access to recording facilities and gave up their time to induct and guide Patricia Couturas, Tutorial Fellow in French at the Sussex Centre for Language Studies, and the French for Professional Purposes students through the process.
Maintenant tous à l'écoute!
The French voice for London - La voix française de Londres - On London DAB, Internet & smartphone apps
Winner of the 2012 Intercultural Trophy awarded by the French Chamber of Commerce in Great Britain