Study in specialist facilities and access equipment 24 hours a day, seven days a week. At Sussex, whenever you want to study, you can access what you need, when you need it. Browse our facilities below:
News Studio
Our broadcast studio has a fully integrated newsroom, with HD TV and radio capability – equipped to latest broadcasting standards and inclusive of high definition multi-cameras, industry standard gallery with vision mixer, graphics and VT playout capability, Sonifex radio desk, plus lines and connectivity to facilitate outside broadcasts.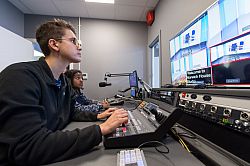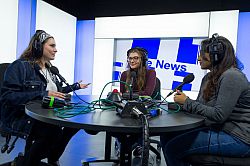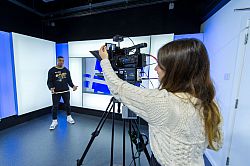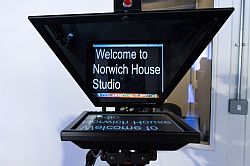 Audio/Foley Studio
The Foley studio has a dedicated control-room with a separate live-room, which can be used for different types of audio production. The control room is fitted with the Toft Audio ATB24 desk and Genelec 8040A monitors with subwoofer. The iMac is equipped with the full Adobe Creative Cloud Suite. The live room is spacious and offers a variety of surfaces and props to make Foley sounds.
Digital Print Room
Our digital print room houses a range of professional printers, so you can produce high quality projects throughout your degree.
Resource centre
All Media, Arts and Humanities students have access to our extensive resource library.
The library has a collection of more than 5,000 feature films, documentaries, television programmes and music CDs and scores.
Teaching labs
We have six teaching labs equipped with iMacs and PCs.
You have full access to the Adobe Creative Cloud (Photoshop, Illustrator, InDesign, Premiere Pro, Audition).
Video and Photography Studio
Our video and photography studio has a large green-screen facility, full 'cool light' video lighting rig and a control desk.
Our studio grip equipment includes dollies, tracks and jibs.
Photography students benefit from five Bowens 750w flash heads mounted on a pantograph rail system, an array of soft-boxes, a permanent white infinity curve and additional backdrops.
Video Edit Suites
We have seven editing booths and two editing workshops.
Each dual-monitor workstation is equipped with Adobe Creative Cloud, which includes Premiere Pro. You can also access Final Cut X and other software packages.
Voice over booths
We have three audio post-production booths used for voice-over work, radio documentary narration, or one to one interviews.
Each booth has a large diaphragm condenser microphone, high-quality channel strip, audio interface and iMac.
You can record directly to our media server, ready for instant editing access from any of our 108 computers.
Equipment and Store
We have a variety of equipment for you to use while you study with us.
You can book this equipment using our online booking system. We also have Media Stores which are open on weekdays and offer technical support for the equipment and our facilities.