A Masters in Economic Anthropology has helped Tim Perkin start a career fighting for social change.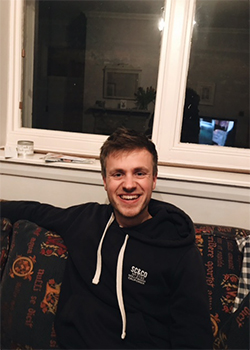 Tim Perkin grew up in a village in Gloucestershire and came to Sussex in 2013 for a BA in Anthropology. He found a home in the School of Global Studies and stayed for an MA in Social Anthropology of the Global Economy.
"Global Studies is one of the best places in the world to learn about international development and poverty, and the ways in which we can tackle these global issues. My tutors were fantastic – incredibly knowledgeable in their subject areas, and their passion to see change in this world was really inspiring.
"Sussex is such a special university experience. People really care about you and the world around you. It is a place fighting for social change, and it has been exciting to be a part of that community for 4 years!
"I chose my MA course because I wanted to understand the political and economic policies and decisions that are impacting poor communities around the world and consequently producing global inequality. The course gave me an opportunity to engage with these issues and anthropology in particular allows you to not just engage with theory and policy but with people's stories and individual lives."
Studying at Sussex led Tim to make connections with local companies interested in the same areas as him – which ultimately led to employment after he finished his course.
"For my dissertation I worked in Brighton with a social enterprise that works with people experiencing unemployment. I wanted to understand the role of the private and public sectors in alleviating poverty and/or unemployment.
"My placement gave me a great opportunity to be a bit more creative with my research and what I wrote for my dissertation, and also gave me some fantastic work experience.
"I am currently working for an international development company in Brighton which is giving me great insight into how the sector works. Ultimately I wish to be working to create a more environmentally and socially sustainable economy."
It was Tim's research into e-waste that particularly pushed him to want to see change in this area.
"In my first term I wrote a paper on the disposal of electronic items (such as fridges, phones, computers, and cables) from European countries in locations in the global South. In particular I researched into Agbogbloshie, an area of Accra in Ghana where it is estimated that 300 to 600 40ft-long containers filled with 'e-waste' is dumped.
"Whilst local inhabitants are doing some incredibly innovative and creative things with the e-waste that arrives on their doorstep, I found that more responsibility and pressure needs to be placed on governments and electronic companies to ensure that this does not continue!"
---
You might also be interested in: