Tessa Frank is using her pain as motivation to help find better treatments.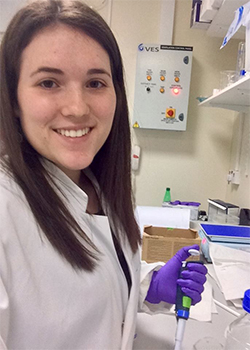 Tessa Frank always knew she wanted to work in healthcare but a life-changing moment at 16 gave her the specific direction that she would follow.
An avid soccer player at high school in her native North Carolina, USA, a minor injury developed into complex regional pain syndrome (CRPS) which began her journey as a chronic pain patient.
"During my time in the clinics working with chronic pain patients and in combination with my own experiences, I realised that there are not good non-opioid management options for chronic pain and that is when I knew that I wanted to dedicate my life to understanding the mechanisms of chronic pain so that newer, targeted treatments can be developed."
Tessa first came to Sussex as an overseas undergraduate while studying cellular/molecular biology at the University of North Carolina at Asheville (UNCA).
"I knew that I wanted to study in the UK and Sussex was excellent in the life sciences so it was a perfect fit. After I graduated from UNCA, I knew that I wanted to continue studying neuroscience at Sussex, but I wanted a rigorous research course so the MRes Neuroscience course was the obvious choice for me; it is the best decision that I have ever made. It did not take long for me to fall in love with research and confirm that I wanted to dedicate my life to it."
Balancing the academic demands of a masters while keeping her CRPS under control has required daily medications, a spinal cord stimulator, and prescription nasal ketamine along with relaxing activities, such as ballet, yoga and exercises classes and alternative therapies, such as meditation, mindfulness and essential oils.
"Getting through the day with chronic pain is not always easy. Most days, I would use up all of my energy in the lab and then crash as soon as I got home. On a bad day after a sleepless night of pain, I would often feel like I used up all of my energy for the day by 10 am.
"I have always been very open about my health and I think this communication is vital. All of my professors were very understanding and on the infrequent days when I was in so much pain that it was just too hard to get through the day, they were supportive of my decision to leave early to take care of my health."
This month, Tessa will start a PhD at Heidelberg University, Germany, in one of the top pain research labs in the world.
"I will be investigating peripheral mechanisms of chronic pain and will have the opportunity to develop my own CRPS study, bringing me one step closer to my goal of developing better treatments for chronic pain. There is not a single doubt in my mind that I would not be here without Sussex. Being at Sussex made me realise how important it is to be not only a global citizen, but also a global thinker and researcher."
---
You might also be interested in: